Tuesday primaries showcase bruising races for governor
It's all about the race for governor in Tuesday's primaries in Maine, Nevada and South Carolina.
While a couple Senate contests in states voting June 12 are considered competitive in November's general elections, the primaries for those seats aren't quite so dramatic.
In Nevada, for instance, Republican Sen. Dean Heller's seat is one of Democrats' biggest targets, with the state leaning blue, according Fox News' ratings. But he is expected to have an easy primary battle. And Rep. Jacky Rosen is the front-runner for the Democratic nomination to face Heller.
In North Dakota, incumbent Sen. Heidi Heitkamp is expected to hang onto the Democratic nomination -- though that race is considered a toss-up in the fall. Heitkamp, a one-term senator considered to be her party's most vulnerable in the 2018 midterms, is likely to face Republican Rep. Kevin Cramer in November.
The gubernatorial primary races, meanwhile, are stealing the Tuesday show. Read on for a look at how contentious the battles have become ahead of Tuesday's elections in Maine, Nevada and South Carolina.
South Carolina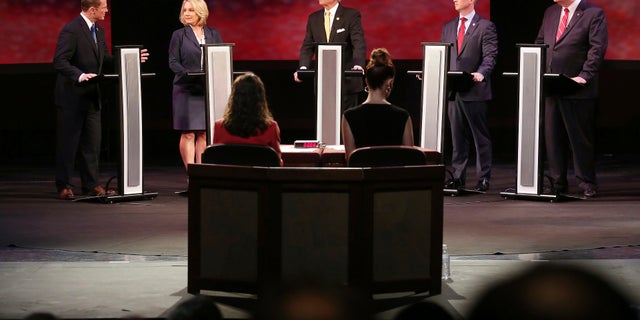 President Trump gave a boost to South Carolina Gov. Henry McMaster with a supportive tweet the Saturday before the primary, but the 71-year-old could still be headed for a runoff after Tuesday's election.
"Henry McMaster loves the people of South Carolina and was with me from the beginning," Trump said of one of his earliest backers in the Palmetto State. "He is strong on Crime and Borders, great for our Military and our Vets. He is doing a fantastic job as your Governor, and has my full endorsement, a special guy."
McMaster is the incumbent in the race, as he took over as South Carolina's governor in January 2017 when Nikki Haley was selected to be ambassador to the United Nations.
According to The State newspaper, no sitting governor -- from either party -- has ever been forced into a runoff in modern-day politics in South Carolina. But former Department of Health and Environmental Control (DHEC) leader Catherine Templeton and businessman John Warren could just make history.
Lt. Gov. Kevin Bryant and former state Sen. Yancey McGill are also vying for the nomination, but it's either Warren or Templeton who could take McMaster to a runoff election, according to the Charleston Post & Courier.
Templeton, an attorney, was offered a position within Trump's administration that she turned down, she said. She's faced questions about her leadership at DHEC and the state's Department of Licensing, Labor and Regulation -- and how she left those jobs -- during the campaign. Warren, a conservative businessman from Upstate South Carolina, doesn't have any experience in politics. But his service in the Marines after 9/11 and his "fresh face" look on politics could give him an advantage, according to the Post & Courier.
More on Tuesday's primaries...
The race has had plenty of twists and turns. McMaster has accused Templeton of wanting to be his running mate, a claim she's denied. And after an 18-year-old Templeton volunteer came home to about 30 McMaster campaign yard signs in her yard, Templeton campaign manager R.J. May III accused the governor's campaign of being behind the prank and asked him to apologize. McMaster's campaign has denied any involvement in the sign incident and a spokeswoman said they reached out to the teenager.
Democrats aren't immune to the possibility of a runoff either.
Longtime state Rep. James Smith is seen as the favorite to win the Democratic nomination -- but not before heading to a runoff, the Greenville News reported.
Smith, 50, was called the "golden boy of the South Carolina Democratic establishment" by The State last month. He's gotten the endorsement of former Vice President Joe Biden and Rep. Jim Clyburn. He is a combat veteran who earned a Purple Heart for his service in Afghanistan.
Smith faces Phil Noble, longtime community activist from Charleston, and Marguerite Willis, an attorney from Florence, in the primary.
Nevada
The race to be Nevada's first Democratic governor in two decades has made the Democratic gubernatorial primary a nasty one -- with Trump, the National Rifle Association and the Las Vegas concert shooting coming into play.
Clark County Commission colleagues Christina Giunchigliani and Steve Sisolak are facing off in a close battle for the Democratic nomination. Sisolak is the chair of the powerful governing body of Clark County, which includes the Las Vegas strip and about two-thirds of Nevada's residents. The 64-year-old became a prominent figure in the wake of the mass shooting at a Las Vegas concert in October.
But Giunchigliani -- who goes by "Chris G" -- has slammed Sisolak as being too moderate and has knocked him for receiving an "A-" rating from the NRA in 2012.
Campaign ads in the race also turned personal after a PAC associated with the Clark County Education Association, which endorsed Sisolak, criticized Giunchigliani for pushing through a 2005 amendment that curtailed a proposed expansion of the state's sex offender reporting laws that would have included certain people, including teachers, according to the Reno Gazette Journal. The ad accused Giunchigliani, who was the Nevada Assembly Ways and Means Committee vice chair at the time, of having "single-handedly protected perverts," the Las Vegas Review-Journal reported.
In response, Giunchigliani released her own ad, titled "Eight Year Old," in which she said she was sexually abused for more than a year as a child. She had reportedly never spoken publicly about the abuse until this time.
"As governor, I'll do everything I can to protect our children. I live with these memories. Steve Sisolak has to live with himself," she said.
Giunchigliani, 63, has gotten the support from 2016 Democratic presidential nominee Hillary Clinton, the Las Vegas Review-Journal reported. In a robocall released over the weekend by Giunchigliani's campaign, Clinton calls the state legislator "an extraordinary progressive leader."
Giunchigliani has said she would direct state funds to Planned Parenthood -- which would be a first for Nevada, according to the Review-Journal. She's also gotten backing from EMILY's List, a pro-choice women's group.
Sisolak, on the other hand, has gotten the support of former Sen. Harry Reid and Rep. Dina Titus, also a Democrat.
Republican state Attorney General Adam Laxalt is expected to face off with either Sisolak or Giunchigliani in the fall to replace term-limited Gov. Brian Sandoval, a Republican. Laxalt is a former U.S. Navy lieutenant who comes from a prominent political family. He is backed by billionaire casino owner Sheldon Adelson.
Trump praised Laxalt on social media on Tuesday, saying he is "smart, works hard and knows how to win." Trump said Laxalt would "fight hard to lower your taxes and is tough on crime."
Maine
All eyes, too, are on Maine's new ranked-choice voting system for Tuesday's primary. With this new voting system, where voters rank candidates in order of preference, don't expect to find out who won the primary the same night; state officials have warned it could be days before the primary results are finalized.
This new system also makes the gubernatorial primaries even more of a toss-up. Republican Gov. Paul LePage is prevented from running for re-election because of term limits.
On the Democrats' side, state Attorney General Janet Mills has been largely seen as the favored candidate to win, although attorney Adam Cote shouldn't be ruled out. Former House Speaker Mark Eves and well-known former Portland police officer Mark Dion are also in the race.
EMILY's List has already poured at least $300,000 into the race as it backs Mills over Cote, according to the Bangor Daily News. Cote, however, has led in fundraising.
As the Bangor Daily News reported, Cote and Mills have engaged in a war of campaign ads over recent weeks, each criticizing the other of being aligned with Republicans in some way or fashion. But the Republican gubernatorial candidates, too, have hit each other hard in campaign spots, according to the newspaper.
State Senate Majority Leader Garrett Mason, state House Minority Leader Ken Fredette, businessman Shawn Moody and former state Health and Human Services commissioner Mary Mayhew are all competing for the GOP nod. According to the Portland Press Herald, all four spent the last televised debate before the primary taking similar stances on key issues and making sure not to attack the governor.
Where the candidates have disagreed, however, is over the opioid epidemic. Mason said he would ensure naloxone, used to treat overdoses, is more readily available. And Fredette said he would increase the state's Drug Enforcement Agency and deploy the National Guard to help stop the flow of drugs into the state, according to the Press Herald. Moody, however, said the solution lies within more education.
LePage's daughter, Lauren LePage, and his longtime political consultant, Brent Littlefield, have joined Moody's campaign.
The Associated Press contributed to this report.