Trump's Twitter page commemorates his visit to the Western Wall
President Trump made history on Monday as the first sitting president of the United States to visit the Western Wall - and commemorated the special moment with an updated banner image on his personal Twitter account.
The new image shows Trump standing alone, wearing a traditional yarmulke, with his right hand placed on the Western Wall, before tucking a note between the cracks.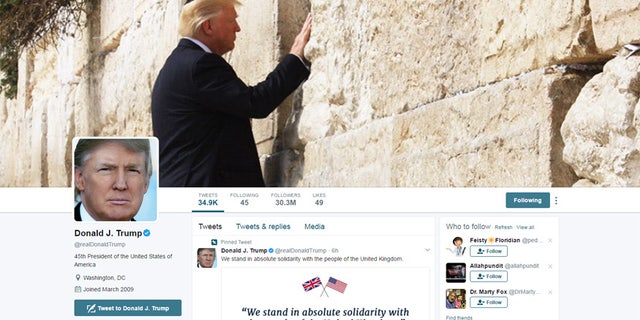 First Lady Melania Trump, the president's daughter Ivanka Trump, and son-in-law Jared Kushner joined the president at the Western Wall, as well as during a visit to the Church of the Holy Speulchre. The church was built to commemorate the location where most Christians believe Jesus was crucified and buried.
The president arrived in Israel after a weekend in Saudia Arabia, which was the first top on his week-long trip overseas spanning the Middle East and Europe. This is the president's first trip overseas as commander-in-chief.
Trump arrived in Rome, Italy on Tuesday. He will meet with Pope Francis at the Vatican on Wednesday.