Trump's Strength in Early Presidential Polls Defies Conventional Wisdom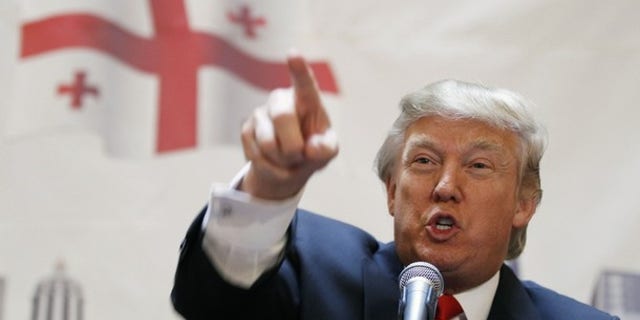 A top adviser for President Obama dismisses him as a "sideshow." Former Bush adviser Karl Rove calls him a "joke candidate."
But that hasn't stopped Donald Trump, who has captured national attention with his outspoken skepticism of Obama's citizenship, from surging in early presidential polls. He leads all potential GOP presidential candidates by nine points in a Public Policy Polling survey released Friday. He trailed only Mitt Romney in a NBC/Wall Street Journal poll released last week.
The real estate mogul and star of NBC's "The Apprentice" says he's encouraged by the polls, but won't make an announcement about his plans for a presidential bid until June. Yet he'll be in Florida this weekend to speak at a Tea Party Tax Day rally in his first political trip since he began making waves with talks of a possible presidential bid.
Despite Trump's early strong showing, many still aren't convinced of his electability and analysts say he will have to go beyond the so-called "birther" cause and define himself for Republican primary voters on social, fiscal and foreign policy issues.
Cary Covington, a political science professor at the University of Iowa, attributes Trump's high poll numbers more to a weak Republican field than to Trump's strengths as a potential candidate.
"The Republican Party right now hasn't found that resonant individual who speaks to the various bases the way a Bush or Reagan did and until they do…why not trust Trump?" he said.
While Trump's business success will appeal to fiscal conservatives, social conservatives will struggle to overlook his three marriages, he said.
"He's going to have a hard time making it in the social conservative ranks," he said. "Not sure serial monogamy is going to go over well with the social right."
Ultimately, he said, a Trump campaign likely won't succeed in the early nominating states of Iowa, New Hampshire and South Carolina.
"My intuition says the closer Republicans look at him, the less attractive he becomes," he said.
But GOP strategist Roger Stone, who worked as a lobbyist for Trump for 20 years and has launched a website in support of a Trump candidacy, says his former boss is the only one with the message and star power to defeat Obama.
"The question is why did his poll numbers change so rapidly," he said, noting that two months ago, he was bringing up the rear with single-digits."He's always been wealthy and outspoken. It's what he's been talking about. America getting ripped off by OPEC. America getting ripped off by China. America wasting billions of dollars. And he has the brand."
Stone says he sees a clear path to the nomination for Trump.
"You don't need 51 percent to win this race. You just need a plurality," he said. "There are a plurality of voters in Iowa and New Hampshire who like his message."
He also said Trump's celebrity will enable him to challenge Obama, who he called an "extraordinary, spellbinding speaker."
"If you're Tim Pawlenty, you've got to get people to know who you are and you do it on $10 million," he said. "It's so hard…Trump comes to the table well-known and he has a forum."
Trump has been on a media blitz in recent weeks, drawing attention by echoing the doubts of a fringe movement that doesn't believe Obama was born in the United States, despite the existence of official documents.
White House senior adviser David Plouffe said this week that he hopes Trump keeps surging in the polls because "there's zero chance that Donald Trump would ever be hired by the American people to do this job."
"There may be a small part of the country that believes these things, but mainstream Americans think it's a sideshow," he told ABC's "This Week."
Rove, a Fox News contributor, said Friday that Trump was an "interesting candidate who had a business background and could have contributed to the dialogue."
"But his full embrace of the birther issue means that he's off there in the nutty right and is now an inconsequential candidate," he told Fox News' Greta Van Susteren. "I'm shocked. The guy's smarter than this. And the idea that President Obama was not born in Hawaii, making that the centerpiece of his campaign, means that he's just a joke candidate."
Rove added that if Trump decides to run, "The American people aren't going to be hiring him, and certainly, the Republicans are not going to be hiring him in the Republican primary."
Trump told the Wall Street Journal this week that he will "probably" run as an independent candidate if he doesn't win the GOP nod.
Trump said he thinks he can win as an independent.
"I'm not doing it for any other reason," he told the newspaper. "I like winning."