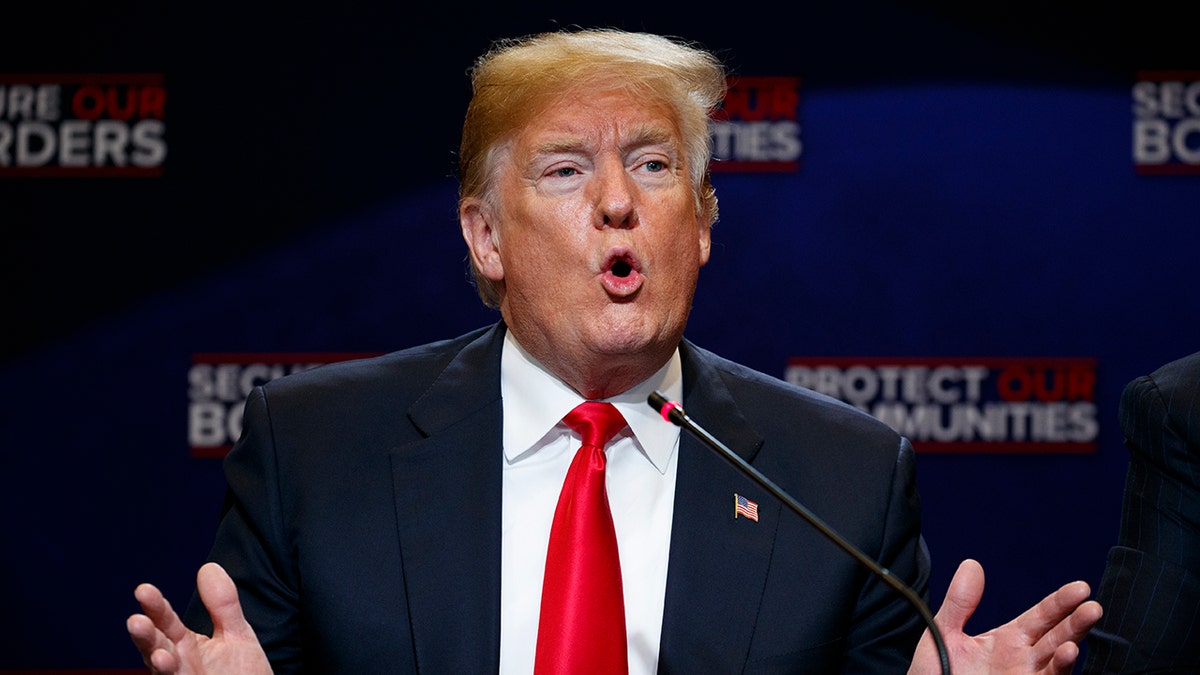 President Trump, in an exclusive interview with Fox News, said he believes NFL owners "did the right thing" by instituting a new policy mandating players and personnel stand for the national anthem or face a fine.
"You have to stand proudly for the national anthem and the NFL owners did the right thing with that if that's what they've done," Trump told "Fox & Friends'" Brian Kilmeade in an interview aired Thursday.
Trump credited the fans for pushing the NFL, while blasting players who don't stand and even suggesting they shouldn't be in the country.
"I don't think people should be staying in the locker rooms, but still I think it's good. You have to stand proudly for the national anthem. You shouldn't be playing, you shouldn't be there. Maybe they shouldn't be in the country," Trump said.
Trump's reaction was the president's first since NFL Commissioner Roger Goodell announced Wednesday the league would fine teams and league personnel who do not "stand and show respect for the flag and the anthem." Goodell said the league unanimously agreed to the vote, though San Francisco 49ers Jed York was the only owner who abstained.
"I think the people pushed it forward, this was not me. I brought it out. I think the people pushed it forward," Trump told Fox News. "This country is very smart. We have very smart people and that's something ideally could have been taken care of when it first started. It would have been a lot easier."
More on national anthem protests...
The NFL's decision prompted reaction from across the league.
"The NFL chose to not consult the union in the development of this new 'policy.' NFL players have shown their patriotism through their social activism, their community service, in support of our military and law enforcement and yes, through their protests to raise awareness about the issues they care about," the NFL players' union said in a statement.
New York Jets chairman Christopher Johnson told Newsday that he voted for the new policy because "I felt I had to support it from a membership standpoint."
[Y]ou have to understand that the plan we ended up with ... was vastly less onerous than the one that was presented to me late last week," said Johnson, who added that the team would not fine or suspend any players who choose to stay in the locker room while the anthem is played.
"I never want to put restrictions on the speech of our players," he said. "Do I prefer that they stand? Of course. But I understand if they felt the need to protest. There are some big, complicated issues that we're all struggling with, and our players are on the front lines. I don't want to come down on them like a ton of bricks, and I won't.
"If the team gets fined, that's just something I'll have to bear."
Johnson is the brother of Woody Johnson, who is currently serving at the U.S. ambassador to the United Kingdom in the Trump administration.
Philadelphia Eagles defensive end Chris Long, who donated his base salary last year to various educational charities, ripped the announcement on Twitter.
"This is fear of a diminished bottom line. It's also fear of a president turning his base against a corporation. This is not patriotism. Don't get it confused. These owners don't love American more than the players demonstrating and taking real action to improve it. It also lets you, the fan, know where our league stands," Long said. "I will continue to be committed to affecting change with my platform. I'm someone who's always looked at the anthem as a declaration of ideals, including the right to peaceful protest. Our league continues to fall short on the issue."
Fox News' Sam Chamberlain contributed to this report.