NFL owners are 'f-----g terrified' of Trump, report says
There's reportedly one big reason why the NFL took sweeping action Wednesday in adopting a new national anthem policy prior to the start of the 2018 season.
And he resides at 1600 Pennsylvania Ave. in Washington.
"Our league is f-----g terrified of Trump. We're scared of him," one unnamed source told Bleacher Report as reaction to the plan poured in.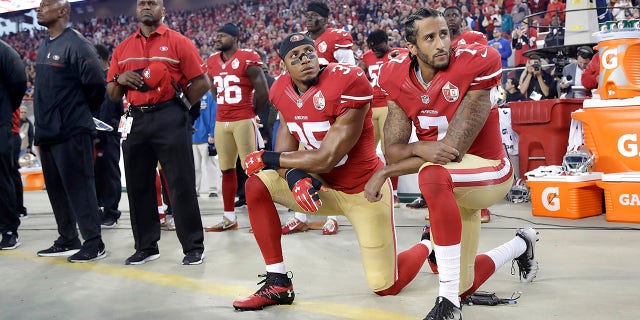 After a tumultuous 2017 season, which saw NFL attendance and TV ratings drop as President Trump and others criticized on-field protests by many of the league's players, NFL Commissioner Roger Goodell announced this week that the league would fine any team or league employee if they failed "to stand and show respect for the flag and the anthem."
Trump came out in support of the NFL's decision Thursday and blasted players who kneel during the anthem.
"I don't think people should be staying in the locker rooms, but still I think it's good," Trump told Fox News' Brian Kilmeade in an exclusive interview. "You have to stand proudly for the national anthem. You shouldn't be playing, you shouldn't be there. Maybe they shouldn't be in the country."
The move came more than a year after former San Francisco 49ers quarterback Colin Kaepernick ignited a firestorm when he decided to kneel for the national anthem before a preseason game and then before regular-season games throughout the 2016 season.
"This season, all league and team personnel shall stand and show respect for the flag and the Anthem. Personnel who choose not to stand for the Anthem may stay in the locker room until after the Anthem has been performed," Goodell said in a statement.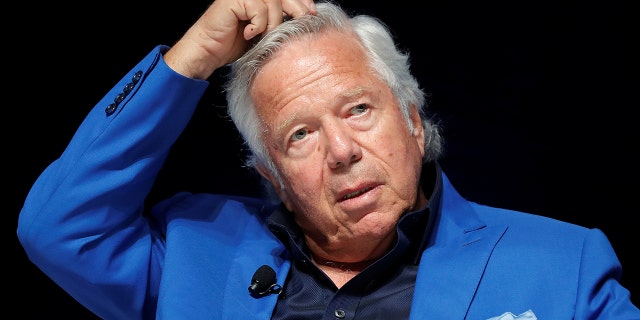 Trump railed against the league and team owners last year for not punishing players who showed "total disrespect" for the American flag. In September, he suggested that those who kneel should lose their spots on NFL rosters.
"Wouldn't you love to see one of these NFL owners, when somebody disrespects our flag, to say, 'Get that son of a b---- off the field right now, he's fired,'" Trump said in a highly criticized speech in Alabama while stumping for then-U.S. Sen. Luther Strange. "You know, some owner's going to do that."
Trump also told reporters that month that the league's business "would go to hell" if something didn't change.
The pressure was reportedly felt among the owners league wide.
NFL owners expressed their concerns in a secret meeting with players last fall, the New York Times reported. New England Patriots owner Robert Kraft, a noted Trump friend, was reportedly among those who were worried about how Trump's attacks would affect the league.
"The problem we have is, we have a president who will use that as fodder to do his mission that I don't feel is in the best interests of America," Kraft reportedly said in the meeting. "It's divisive and it's horrible."
"Maybe they shouldn't be in the country."
The protests led some to boycott watching NFL games last season and it appeared to have played a part in the NFL's ratings. Television viewership fell 9.7 percent across all networks last season, according to Nielsen data. An average NFL game was watched by 1.6 million fewer people compared to last year, declining overall from 16.5 million to 14.9 million, ESPN reported.
Even with the ratings dip, the NFL still signed a $1.5 billion deal with Verizon to stream games across the wireless carrier's platform, according to Recode. The NFL also reached a five-year, $3 billion deal to broadcast Thursday Night Football on Fox Sports, according to Reuters.