Trump Jr. interviewed by Senate panel in Russia probe for nine hours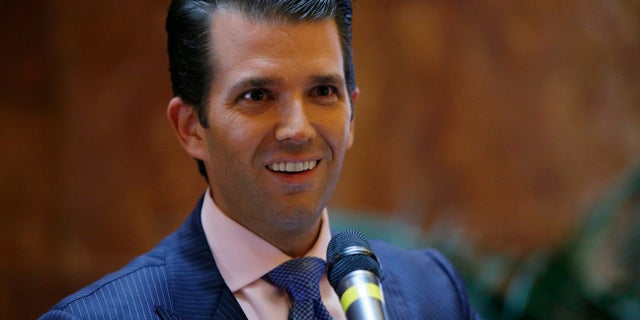 Donald Trump Jr. spoke to the Senate intelligence committee for nine hours Wednesday, concluding his third interview on Capitol Hill as part of probes into Russian interference in the 2016 election.
The closed-door meeting staff came a week after he spoke to lawmakers on the House intelligence committee. The Senate Judiciary Committee interviewed him in September.
TRUMP JR. ASKS FOR INVESTIGATION INTO LEAKS OF HOUSE PANEL INTERVIEW
All three panels are investigating the meddling and whether President Donald Trump's campaign was involved. Investigators have been looking into a June 2016 meeting with a Russian lawyer that Trump Jr. and other campaign officials attended.
The top Democrat on the Senate intelligence panel, Virginia Sen. Mark Warner, has said he wants Trump Jr. to return for a public hearing.
On Tuesday, Trump Jr.'s attorney asked the House Intelligence Committee to investigate how portions of his client's testimony were leaked to media outlets while Trump Jr. was still being interviewed.
The Associated Press contributed to this report.