Trump dares NY Gov. Cuomo to run against him in 2020, says 'anybody that runs against Trump suffers'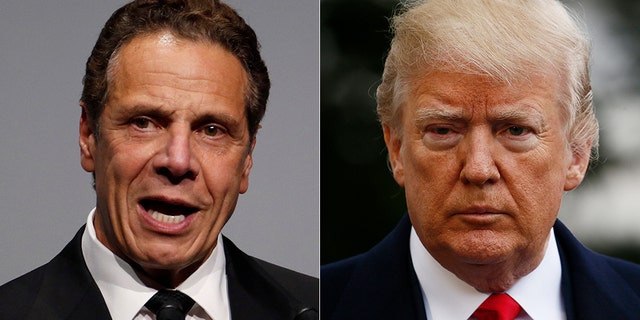 President Trump, speaking at a fundraiser Monday with New York Republicans, dared Democratic Gov. Andrew Cuomo to run against him for president in 2020, with Trump saying he welcomes the challenge.
"Please do it. Please," the president said in Utica, adding that "anybody that runs against Trump suffers."
Trump, during the event for GOP Rep. Claudia Tenney, who is running for re-election, told the crowd that Cuomo wants to "take away your Second Amendment more than anything."
'TRUMP 2020' FLAG ATOP FERRY LEADS TO SUSPENSIONS OF 2 STATE WORKERS
The president also claimed Cuomo called him "and said, 'I will never run for president against you.' But maybe he wants to." Cuomo is currently running for re-election as governor, facing a primary challenge from the left from actress Cynthia Nixon. He reportedly agreed Monday to debate her later this month.
Cuomo later slammed what he portrayed as Trump's cozy relations with the National Rifle Association in a tweet: "Donald Trump & the NRA – bankrupt bedfellows: literally and morally. Unlike Trump, I'm not afraid to take on the NRA."
Earlier, he said in a statement to the president: "Despite being a native New Yorker, since you took office, you have attacked our healthcare, passed a tax law that punished New York in order to fund corporate tax cuts, ripped immigrant New Yorkers from their families, launched an assault on our environment, and undermined the basic values on which this state and this nation were built."
During the fundraiser, which was opened to the media, Trump spoke on a wide range of topics and took aim at New York Democratic Sen. Kirsten Gillibrand, referencing his past donations to her.
"She's been up to my office looking for campaign contributions," Trump said. "She is very aggressive on contributions, but she's not very aggressive on getting things done."
And, ahead of the midterm elections, the president portrayed California Democratic Rep. Maxine Waters as the "new face of the Democratic Party."
"Maxine Waters," Trump said. "She's a real beauty."
Fox News' Kathleen Foster contributed to this report.