Trump Considering Kelly as Possible Candidate to Lead VA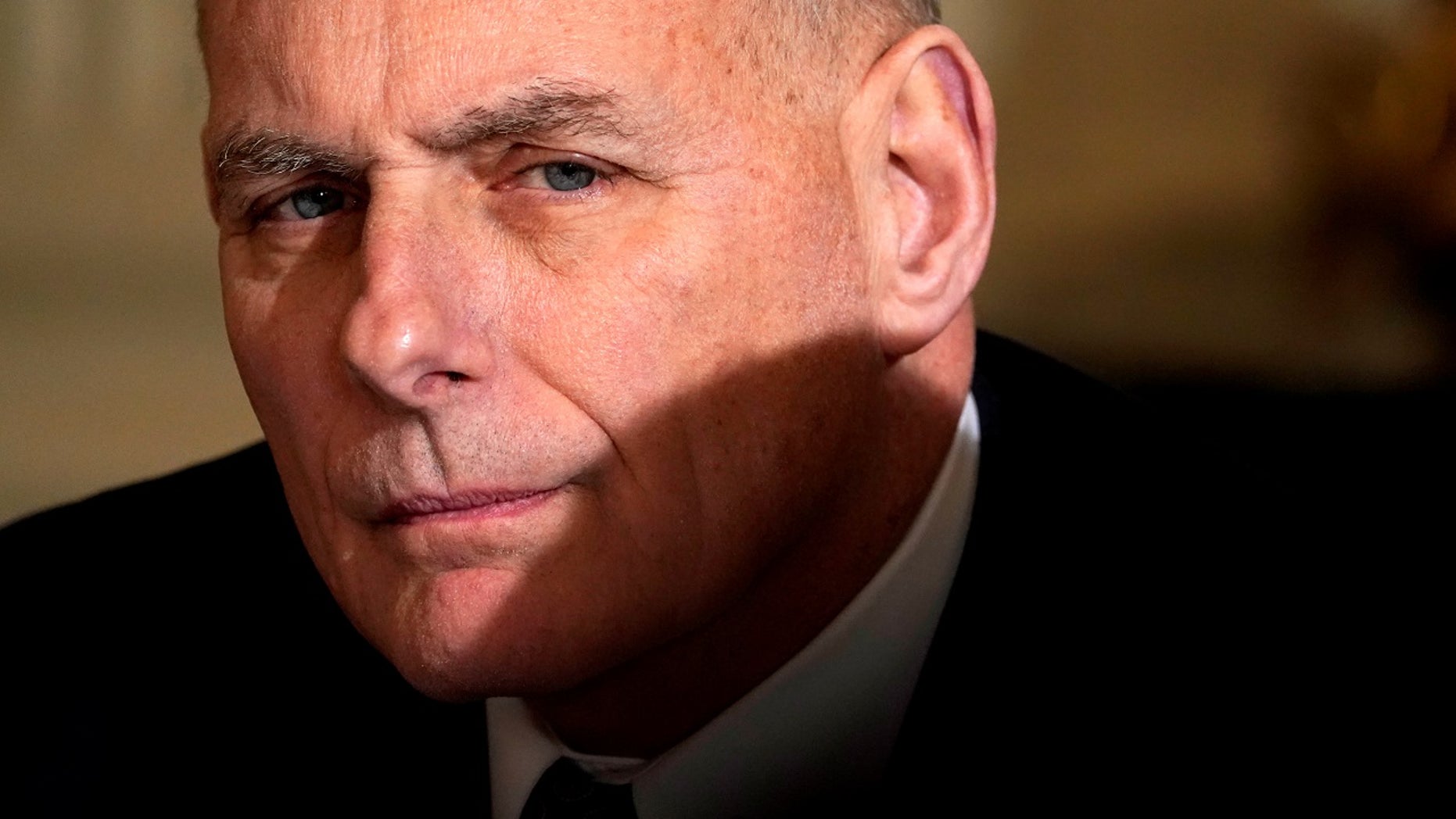 The search for a new Veterans Affairs chief is wide open, with President Donald Trump considering as potential nominees a former Republican congressman, a hospital executive and his White House chief of staff, John Kelly, people familiar with the matter said.
Dr. Ronny Jackson, the president's doctor, pulled out of the running last week amid allegations of misconduct, and Trump has publicly said he wants someone with "political capability" to run the 370,000-person department. But another priority is picking someone with a strong chance of winning Senate confirmation, a person close to the White House said.
Kelly, who took over as chief of staff last year with a mandate to bring discipline to a White House beset by infighting, is a retired Marine general who previously served as secretary of homeland security. The Senate confirmed him for the homeland security post 88-11.
"There have been discussions among the senior staff and the president directly about the possibility of Gen. Kelly going there [to the VA]," one person familiar with the matter said.
Trump has chafed at times under Kelly's methods, finding ways to bypass him when talking to other White House aides.
Yet moving Kelly to a cabinet post would add disruption to a White House marked by record-setting turnover.
The White House didn't immediately respond to a request for comment about whether the president might tap Kelly for the job.
On Monday, NBC News reported that Kelly had insulted the president's intelligence and called the president "an idiot." Kelly put out a rare statement calling the story "total BS."
"I spend more time with the president than anyone else and we have an incredibly candid and strong relationship," he said. "I am committed to the president, his agenda, and our country."
The president sent out a tweet Monday night that appeared to back up Kelly. He made reference to a CNN story that quoted Kelly as calling the president "unhinged."
"The Fake News is going crazy making up false stories and using only unnamed sources (who don't exist). They are totally unhinged ..." he wrote.
Another candidate in the mix for the VA post is  Anthony Tersigni, the president and chief executive of U.S. hospital giant Ascension, according to people familiar with the matter.
Tersigni, 68, has some backing inside the Trump administration. He was an early advocate of a program created by Congress in 2014 to allow veterans to get care outside VA facilities under some circumstances, following a scandal over wait times for veterans.
Tersigni called for "a solid public-private partnership" under the new program in The Hill days after former President Barack Obama signed the program into law. Ascension has since seen about 10,000 veterans through the program.
A spokesman for Ascension said Tersigni declined to comment. Tersigni's consideration for the job was first reported by Modern Healthcare.
Also on the shortlist is former Florida congressman Jeff Miller, who supported the president in the 2016 campaign. Miller chaired the House Veterans Affairs Committee before leaving Congress in 2017 and was one of the president's informal advisers on veterans' issues during the campaign.
Miller declined to comment.
Meantime, Jackson's future in the president's orbit is for now uncertain. He gave up his position as Trump's personal physician when he was nominated to be VA chief. Dr. Sean Conley, a Navy officer, took his place.
Jackson, after dropping his bid to win Senate confirmation, resumed his work at the White House Medical Unit, White House officials said. He has denied the allegations of misconduct, and aides said he planned to spend a few days discussing his future options with his family.
Before becoming the VA nominee, the Navy rear admiral had talked about retiring, officials said, and he could take that step. He could also ask to return to his role as the president's doctor, though officials didn't believe that to be a likely possibility.
Jackson has been nominated to the rank of two-star admiral. He remains a candidate for a second star, the Navy said, and is awaiting Senate confirmation.
The Jackson nomination fight has spilled into one of the battlegrounds in the midterm elections: the Montana senate race.
Democrat Jon Tester, who is up for reelection, first publicized allegations that Jackson had liberally dispensed prescription drugs, earning him the nickname, "The Candyman."
The White House on Friday said its own review of relevant audits and police records showed no support for the claims.
Trump has called for voters to punish Tester by voting him out of office. In the 2016 presidential race, Trump defeated Democrat Hillary Clinton in Montana by about 20 percentage points.
"Tester should lose race in Montana. Very dishonest and sick!" the president tweeted over the weekend.
Appearing at a rally in Michigan on Saturday night, Trump described Tester as someone who could "destroy a man with innuendo …"