Trump campaigning heavy in rural N.C., where immigrant farmworkers abound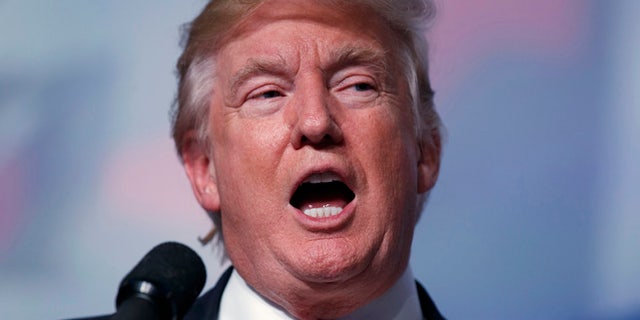 NEWYou can now listen to Fox News articles!
While campaigns generally favor bigger cities, in must-win North Carolina Donald Trump has decided to veer away from population centers and appeal to voters in small, rural counties.
At the Duplin County Events Center – a building that can hold 4,000 spectators on the outskirts of Kenansville – the GOP presidential hopeful will make his pitch Tuesday to the disaffected, working class white voters who have propelled his campaign.
The irony is that Trump is going to counties that owe its entire economy to the work of immigrant workers, some undocumented, almost entirely from Mexico and Central America — beyond the small downtown area's handful of restaurants, gas stations and a couple of grocery stores lie farms that are the area's major economic driver.
Justin Flores, a vice president of the Farm Labor Organizing Committee in Wayne County, said that many Latino farmworkers in the area are upset by Trump's comments, but many can't vote because they are either guest workers or immigrants not legally in the U.S.
State voter registration figures show that Duplin County has about 18,000 registered white voters. About 9,000 are black and only 1,200 are Hispanic.
In any event, Trump's strategy appears to be less about swaying undecided and more about making sure supporters don't stay home on Election Day — registered Democrats outnumber registered Republicans 2-1 in Duplin County, but voters there have chosen the GOP presidential candidate the past two elections by a wide margin.
North Carolina is dotted with left-leaning urban areas such as Raleigh and Charlotte, but it also has one of the country's largest rural populations.
Among those lifelong Democrats is James Teachey, a 78-year-old retired farmer, who said this year was the first he donated to a presidential campaign: $40 to Trump.
Trump's business background is a big draw for his supporters here in Kenansville.
"People are sick and tired of the way things are going in Washington and the way people are running it," he said. "I was born coming out of the Depression. We know what a dollar means, what leaving your door unlocked means. And all those things are gone."
In addition to the rally, he'll make a stop through High Point, a hub of the declining furniture industry that was hit hard by the loss of manufacturing jobs but brings billions to the state each year by hosting a world-renowned furniture market and trade show.
Not many political candidates have come through over the years. Asked if he could remember any other presidential campaign visits, Teachey laughed and said he thought Eleanor Roosevelt came decades ago.
Arthur Best, a black voter from Kenansville and U.S. Army veteran, is frustrated like many others by the lack of job opportunities, particularly for minorities. But for him, Trump is not the answer.
"I lost my father in Vietnam. He didn't die for the foolishness we're looking at today," said Best, a Democrat who has been offended by Trump's insults toward U.S. Sen. John McCain and the parents of a Muslim soldier killed while serving in Iraq.
Still, more than a quarter of Duplin County's roughly 60,000 residents live in poverty, and only a fraction have college degrees, according to 2014 Census estimate. For voters like Bill Link, a retired U.S. Marine officer from nearby Beulaville, Trump's promises to improve the economy are what really matter.
"The majority of people right now are leaning for Trump," said Link, who drives trucks and owns a carnival equipment rental business. "Because we're all working people. We all work for a living. We're blue-collar, and we believe that the country has gone the wrong way."
Based on reporting by the Associated Press.