Trump blasts athletes protesting national anthem -- here's what the NFL says
As President Donald Trump battled with athletes over their protests during the national anthem, some National Football League teams decided to stay in the locker room while the "Star-Spangled Banner" played on Sunday.
The Pittsburgh Steelers, Seattle Seahawks and Tennessee Titans all opted to come out to the field after the anthem was over. Steelers head coach Mike Tomlin said the decision was made by the team "not to be disrespectful to the anthem but to remove ourselves from this circumstance."
Even though the teams tried to take themselves out of the debate, many people on social media called for them to be punished by the NFL.
Trump said Friday that NFL players who do not stand for the national anthem should be fired and called on the league's commissioner, Roger Goodell, to make the players stand.
What do the NFL rules state about the anthem?
The NFL's 2017 rule book does not include guidelines – or any mention of – the national anthem. It does stipulate that both teams need to be on the field at least 10 minutes prior to the scheduled kickoff at the start of the game.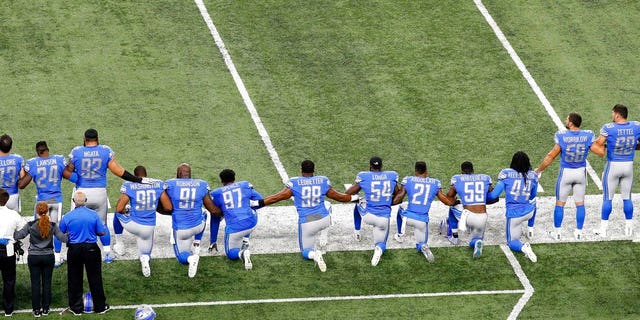 However, the NFL's game operations manual requires that "all players must be on the sideline for the National Anthem."
"Failure to be on the field by the start of the National Anthem may result in discipline, such as fines, suspensions, and/or the forfeiture of draft choice(s) for violations of the above, including first offenses," it says, according to the Washington Post.
JERSEY SALES OF STEELERS PLAYER WHO STOOD DURING NATIONAL ANTHEM SOAR
A viral social media post misattributes NFL "rules" that during the anthem, "players on the field and bench area should stand at attention, face the flag, hold helmets in their left hand and refrain from talking." The post cites pages A62-A63 of the rulebook but the distinction is actually made in the "NFL Game Operations Manual."
The manual, according to the NFL, operates as a "bible," with around "200 pages of procedures and policy for regular season games alone."
What has the NFL said?
The NFL said Monday that it would not punish teams that skipped the national anthem before their games Sunday.
"There will be no discipline handed down this week," spokesman Joe Lockhart told reporters Monday. He added that the NFL is not considering discontinuing playing the national anthem ahead of games.
"Players are encouraged but not required to stand during the playing of the National Anthem," the NFL said in 2016 when former San Francisco 49ers player Colin Kaepernick garnered national attention for kneeling in protest when the anthem was played.