Top VA official reportedly says agency flouts federal purchasing rules to tune of $6B per year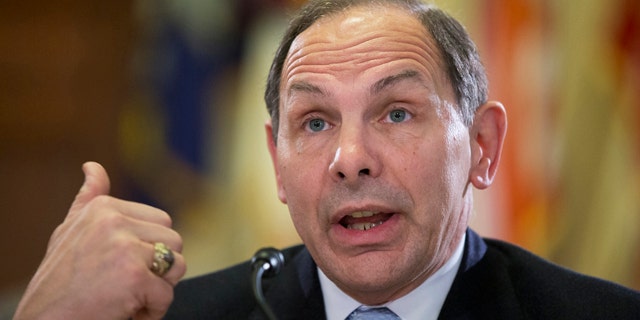 The senior official for procurement at the Department of Veterans Affairs has accused his own agency of violating federal contracting rules to the tune of at least $6 billion per year, according to a published report.
The Washington Post reported Thursday it had obtained a 35-page memo sent this past March by Jan Frye, the VA's deputy assistant secretary for acquisition and logistics. In it, Frye accuses other agency officials of "gross mismanagement" and making a "mockery" of federal laws that require competitive billing and contracts for various acquisitions.
"Doors are swung wide open for waste, fraud, and abuse." Frye writes, according to the Post. "I can state without reservation that VA has and continues to waste millions of dollars by paying excessive prices for goods and services due to breaches of Federal laws."
The memo is another blow for the VA, which is struggling to recover from a scandal in which employees covered up months-long hospital wait times for seriously ill veterans. The scandal ultimately resulted in the resignation of then-VA Secretary Eric Shinseki.
Among the improper practices Frye mentions in his memo is the use of purchase cards to pay for billions of dollars in medical supplies without contracts. In one case, Frye says $1.2 billion worth of prosthetics was bought over an 18-month period ending last year with cards only meant for minor purchases worth up to $3,000.
The Post reports that Frye suggests that use of the cards is an "easy button" way of making purchases. Ultimately, Frye says 2,000 purchase cards were issued to VA employees, not all of whom were qualified to buy certain items. At one point, Frye says a New York supervisor used $25,000 cards to purchase more than $50 million in prosthetics by charging increments of $24,999.
Frye also says that the VA has not engaged in competitive bidding or contracted with outside hospitals and health care providers that provide services that the agency can not, violating federal rules emphasized by the agency's own general counsel. He adds that similar problems affect the purchasing of medical and surgical supplies and such practices "extend back many years."
VA spokeswoman Victoria Dillon responded by telling the Post that some of the care paid for by the agency is not covered under federal laws governing acquisitions. She also noted that the agency has increased authorizations for outside medical care by 46 percent in the first four months of this year over the same period last year.
In the memo, Frye says he attempted to raise purchasing issues with senior VA officials, but was ignored. "These unlawful acts may potentially result in serious harm or death to America's veterans," Frye writes. "Collectively, I believe they serve to decay the entire VA health-care system."
The paper reports that Frye is scheduled to testify before the House Veterans Affairs Committee Thursday about his allegations of fraud and waste in the purchasing card program. The 64-year-old is a retired Army colonel who the Post says has overseen the VA's acquisition and logistics program since 2005.