Tight Finish Likely in Race for U.S. House Seat in California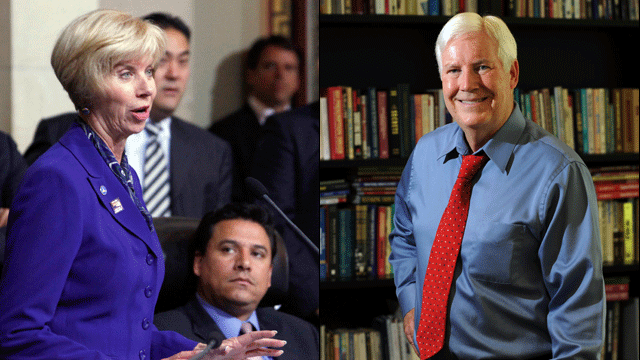 NEWYou can now listen to Fox News articles!
Democrat Janice Hahn is the favorite in a California congressional election Tuesday, but the likelihood of a meager turnout, combined with widespread voter anxiety over the economy, could make for a tight finish.
Republican businessman Craig Huey has been attacking President Obama relentlessly, arguing the nation needs deep tax, debt and spending cuts to drive job growth.
But he starts at a disadvantage: Democrats hold a commanding 18-point registration edge in the coastal 36th Congressional District, a party stronghold where Obama notched a 31-point win in 2008.
Despite the registration edge for Democrats, tallies of mail-in ballots suggest a potentially close finish. In a little-noticed election on a mid-summer day, turnout will be the key to winning the seat vacated when longtime Democratic Rep. Jane Harman resigned to run a nonpartisan think tank in Washington.
"Our primary focus is on knocking on doors," said Huey campaign manager Jimmy Camp. "There are enough voters who are with Craig. It's literally getting them out to vote."
Each campaign has pooled over $1 million for the contest and plowed much of it into sharp-edged advertising: Hahn has sought to link Huey to Sarah Palin and refers to his agenda as "extremist," while Huey has derided Hahn as a career politician with ties to a troubled gang-intervention program.
There are other signs of a tight contest in the district, which runs from the famous Venice boardwalk through the beaches south of Los Angeles International Airport.
Bill Clinton recorded automated phone messages for Hahn. Organizing for America, the group that provides Democratic Party's foot-soldiers, asked supporters to make thousands of phone calls.
One unknown factor is the role of independent voters, who account for 22 percent of the district's electorate. Statewide, voters who decline to state a party preference typically side slightly more with Democrats than Republicans, but also tend to be unpredictable and more fiscally conservative than typical Democrats.
Hahn, a Los Angeles councilwoman, is counting on a strong push from organized labor. Huey, who owns marketing and advertising companies and has largely bankrolled his campaign with personal funds, has tea-party activists working on his behalf.
In May, Democrats snatched a New York congressional seat in a heavily Republican district after capitalizing on fears over a Republican plan to roll back Medicare and Social Security benefits. That has made the GOP eager to turn the tables in California, a reliably Democratic state in national elections.
GOP activists say a Huey upset could be a signpost for U.S. national elections next year, but it's likely to have little meaning for 2012 in California because legislative and congressional districts are being redrawn by an independent commission.
Hahn, 59, supports abortion rights; is eager to see the end of the wars in Iraq and Afghanistan; and supports growth in the alternative-energy industry. Huey, 61, opposes abortion rights and gay marriage, and wants government regulation rolled back.
Hahn's campaign suffered a shock it didn't expect Monday: the death of the candidate's 86-year-old mother. She abruptly suspended her schedule to join her grieving family, but staffers said it would not change the campaign's long-set plans to get voters to the polls.
But the campaign said it would scale back her public appearances.
"We understand that Janice needs to be with her family but the campaign will move forward -- as her mother would have wanted," senior adviser John Shallman said.
Her mother, Ramona Hahn, "was looking forward to seeing her daughter sworn in as the next congresswoman of the 36th District. We will work very hard to make that dream a reality," Shallman said.
Staffers in both campaigns said the death was unlikely to have any political ramifications on election day. As of Friday, nearly 40,000 mail-in ballots had been received, which could be as much as half the vote.
Hahn and her brother, former Los Angeles Mayor James Hahn, said they were devastated by Ramona Hahn's death.
"Continuing without her will be difficult," they said in a statement, which did not mention Tuesday's congressional election.