Tensions run high as venue downsize, security upgrade cause convention chaos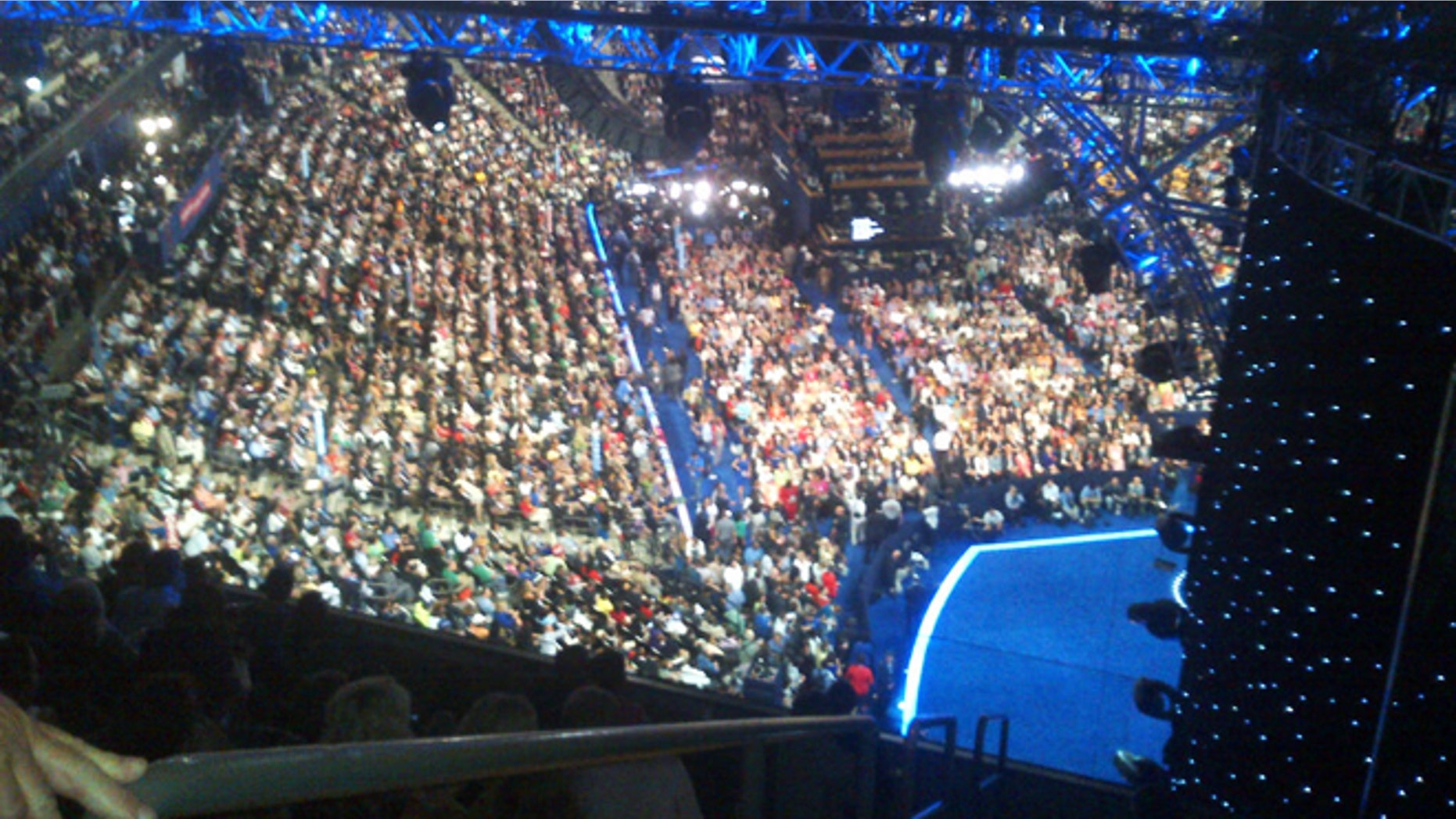 Charlotte, N.C. – The final night of the Democratic National Convention brought anger and frustration to thousands of people inside and outside the arena in Charlotte, N.C., after security was ramped up to levels many people apparently were not expecting.
Delegates and other spectators found themselves blocked from where they needed to go in the hours before President Obama's speech.
With 50,000 fewer seats inside the arena than in the outdoor stadium initially chosen to host the event, those with anything less than "bowl-level" seating were told they would not find seats anywhere but behind the stage -- if they were lucky.
Early in the evening, fire marshals locked down the floor, leaving delegates who had left their seats to find food or use the bathroom unable to get back in. While delegates were allowed to go back in after a while, nobody else was allowed in -- including some press, among them FoxNews.com, despite having passes to access the bowl area.
Those with bowl seating who were not delegates were told to find seats on the second-floor level -- though the second-floor level had 100 seats behind the stage with no view of speakers or the giant TV screen inside the stadium.
On the second floor, people were directed to one section behind the stage. "There are 100 seats left -- that's it -- with obstructed view," a Time Warner arena worker told those trying to enter. Even then, only those with certain passes were allowed in.
Charlotte native Crystal Anthony and her sister and friends -- all decked out in Obama shirts, buttons and other items -- had orange stadium vendor passes but weren't allowed in to the seats behind the stage.
"I wouldn't have come if I'd known orange couldn't get in," she told FoxNews.com. "I would've stayed at home. This is terrible. We may have to watch on screen or just walk around here (in the concourse)."
She added: "This is ridiculous. We can't even hear out here."
Adding insult to injury, those denied seats behind the stage later tried to use the ATM outside the nearby gate but found it out of order.
"Really? Really?" a man wearing a tall Obama hat said to no one in particular before running down the concourse. "No seat, no cash," he said.
Inside the section, the few people with green passes who didn't mind having no view listened to former Rep. Gabrielle Gifford lead the crowd in the Pledge of Allegiance -- but looked at one another confused when the crowd went wild afterward and couldn't see what was happening.
On the bowl level, delegates screamed at those guarding the path to their seats when they were told they couldn't bring their soda -- only water -- back to their seats.
Outside, hundreds screamed at security when the building was locked down and nobody was allowed inside. Delegates and others weren't allowed past the magnetometers at the security check point.
Thousands of people with passes ended up locked out when the building reached capacity. They screamed: "We want an explanation!"
One woman in a wheelchair, after getting jostled and sitting among a pressing crowd, finally gave up and had a friend push her out, saying "enough is enough."
FoxNews.com's Joe Weber contributed to this report.