Tempest In The Tea Party: Ted Cruz And Rand Paul Trade Barbs Over Foreign Policy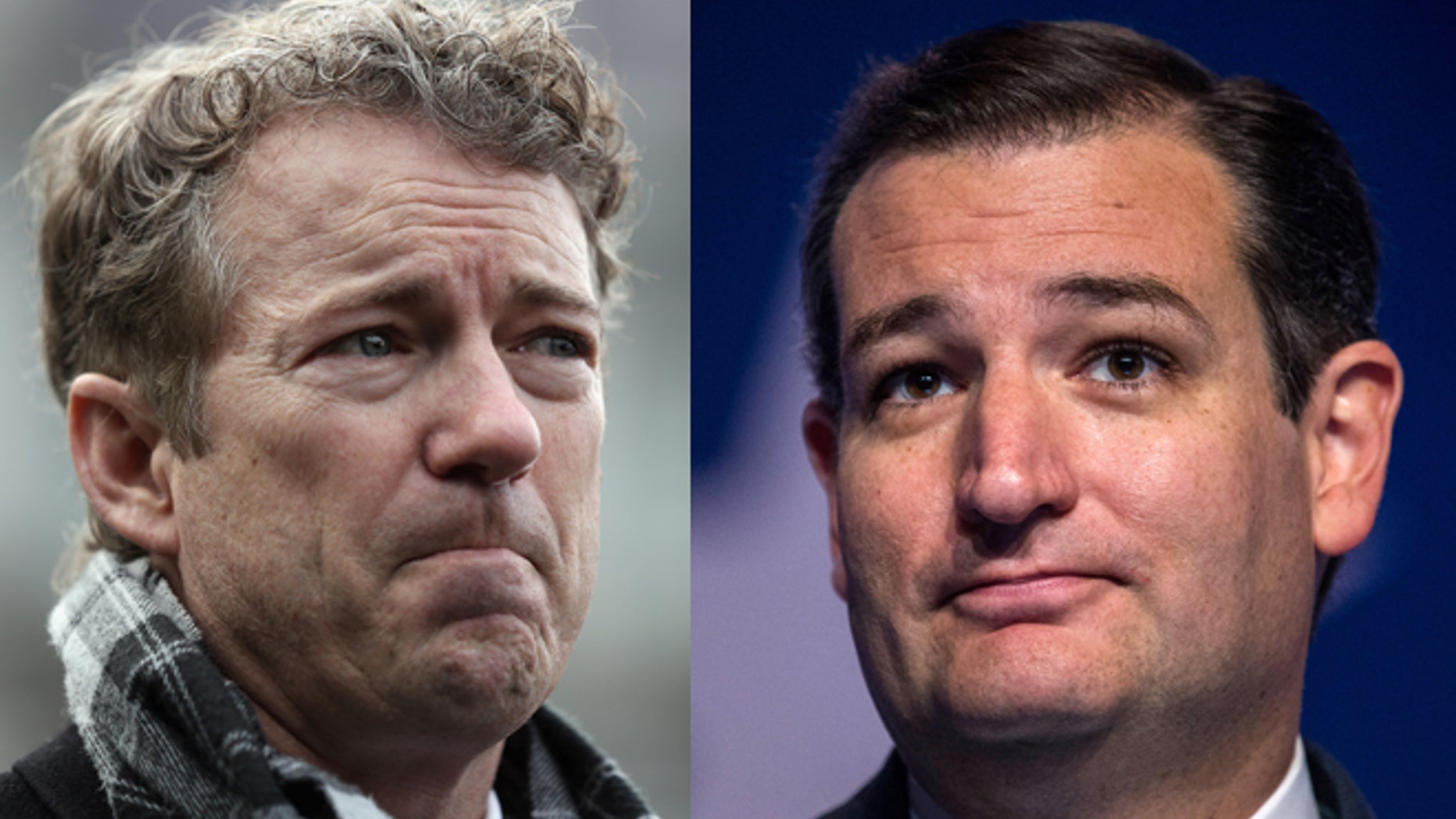 Are the two most libertarian-leaning U.S. senators parting ways?
Ted Cruz of Texas has attempted to smooth over tensions with fellow Tea Party favorite, Sen. Rand Paul of Kentucky, after the two quite publicly disagreed over foreign policy, in particular the U.S. role in the ongoing crisis in Ukraine.
But apparently, Paul isn't taking the peace offering.
In an interview over the weekend with ABC, Cruz said he disagreed with Paul on foreign policy matters, noting that he prefers that the United States take a leadership role instead of opting for non-intervention.
"I'm a big fan of Rand Paul," Cruz told ABC. "He and I are good friends. But I don't agree with him on foreign policy. I think U.S. leadership is critical in the world. And I agree with him that we should be very reluctant to deploy military force abroad. But I think there is a vital role, just as Ronald Reagan did… The United States has a responsibility to defend our values."
Cruz said that too many make the mistake, for instance, of seeing the Cold War as being over, wrongly assuming there's no longer anything to be worried about.
"We keep making that mistake with Putin," he said. "Putin is a KGB thug…When the protests began in Ukraine, the president should have stood unapologetically, emphatically for freedom…When the United States doesn't speak for freedom, tyrants notice."
Paul, who along with Cruz, is considered a presidential contender for 2016, didn't take well to his fellow senator's swipe.
In an op-ed for Breitbart.com, Paul wrote: "I will remind anyone who thinks we will win elections by trashing previous Republican nominees or holding oneself out as some paragon in the mold of (Ronald) Reagan, that splintering the party is not the route to victory."
Paul added: "Today, we forget that some of the Republican hawks of his time criticized Reagan harshly … calling him an appeaser."
And he didn't leave it at that. He went on to take one more shot at Cruz.
"Some politicians," he wrote, "have used this time to beat their chest. What we don't need right now is politicians who have never seen war talking tough for the sake of their political careers."
Monday night, Cruz apparently sought to soften the damage by issuing a statement praising Paul.
"Although some would like to play up divisions among Republicans, I have no desire to play their game," Cruz said. "Rand Paul is a courageous voice for liberty, and I'm honored to call him my friend. We do not agree on everything, especially regarding foreign policy, but we have agreed on the vast majority of issues, and I am sure we will continue to do so. Substantive policy disagreements are a positive aspect of the political discourse, but in the fight for liberty, I am proud to stand with Rand."
Cruz may have decided to try to end the spat, but, from what he said in an interview with Fox News on Tuesday, Paul was still having none of it. Apparently, he was deeply hurt.
"We always have been good friends," Paul said in response to a question about Cruz's olive-branch offering. "I'm not real excited about him mischaracterizing my views and won't let that pass…."I think that sometimes people want to stand up and say, 'Hey, look at me, I'm the next Ronald Reagan.' "For people to characterize (my position) as somehow not being the Reagan position -- I think they need to have a re-reading of Reagan, frankly."
Meanwhile, also this week, Cruz said he is taking a leave from his post as vice chairman of the National Republican Senatorial Committee. The post requires being a liaison between Tea Party members and other Republicans. But Cruz has taken aim at "establishment Republicans," to the very public chagrin of GOP leaders.
Sen. John Cornyn, who is also from Texas and whom Cruz did not endorse in the recent primary – though he congratulated him after his win – said in reference to the leave of absence that there are other Tea Party members who could the job, and even better.
"He is not the only one that is providing that kind of outreach and connection," Cornyn said, according to published reports. "There are a number of other senators that enjoy Tea Party support who are actively engaged in helping incumbent Republican senators. I'm thinking of Rand Paul in Kentucky, Marco Rubio, just to name a couple."
Follow us on twitter.com/foxnewslatino
Like us at facebook.com/foxnewslatino