Ted Cruz warns against lame-duck confirmation of new AG, confident about regaining Senate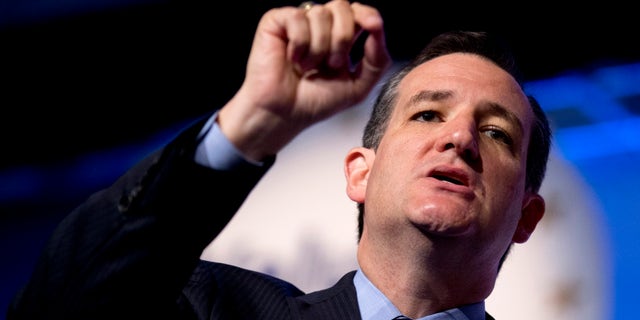 NEWYou can now listen to Fox News articles!
U.S. Sen. Ted Cruz expressed certainty over the weekend that Republicans will win enough seats on Nov. 4 to become the majority in the Senate.
In TV appearances and an op-ed that ran in USA Today, Cruz described Republicans, who are the majority in the House but the minority in the Senate, as "poised to take control of Congress."
Cruz also warned in a CNN interview that the Obama administration better not try to push through the nomination and confirmation of a new attorney general during the lame-duck session.
Several news reports quoting anonymous sources have indicated that President Obama is likely to nominate a successor to Eric Holder, who recently said he was stepping down, before the end of the year.
Republicans need to win at least six new Senate seats to get control of the chamber.
"By all signs, Americans are preparing to send Washington a clear message in the 2014 elections," Cruz wrote in USA Today. "The question is, will Washington listen?"
"Republicans — poised to take control of Congress — should set our sights on three big goals to make Americans feel confident in their futures once again: jump-start the economy, safeguard constitutional liberties, and strengthen our national security."
In a list of priorities Cruz outlined for the next Congress, he included doing away with the Internal Revenue Service and the Affordable Care Act. He also called for tightening security at the border and for putting an end to giving breaks to undocumented immigrants.
"We should welcome and celebrate legal immigrants who follow the rules, and at the same time honor the will of the people and prevent any more illegal amnesty," Cruz said.
In an interview with CNN on Sunday, Cruz firmly opposed the idea of confirming a new attorney general during the lame-duck session, which is the period between the Nov. 4 election and when the next Congress convenes in January.
"Under no circumstances should a partisan attorney general be confirmed during a lame-duck session," Cruz said. "We should not be confirming an attorney general during a lame-duck session with a bunch of senators who have just been voted out of office."
"The confirmation should occur in January or February, when we have the new Senate where every senator will be accountable to the voters. I don't think we should meet for a lame duck at all, because lame ducks are really where Washington imposes its agenda instead of listening to the American people."
Earlier this month, the New York Times, citing unidentified sources, reported that the front-runner for attorney general apparently was U.S. Labor Secretary Thomas E. Perez.
But days later, the Associated Press reported that a White House official said that the president had not yet decided who he wants to replace Holder, a longtime friend and political ally who announced last month he will step down whenever a new attorney general is confirmed.
The White House is preparing for the prospect of trying to push through a nominee in the year-end congressional session while Democrats still have a 10-seat majority in the Senate.
Obama faces the likelihood of an even tougher challenge to win confirmation if he waits until the new Senate is seated early next year, since Republicans are expected to pick up seats in the midterm, if not to win outright control.
In addition to Cruz, other Senate Republicans have called on Obama to wait until the new Senate is seated in January to make the nomination.
The lame duck timetable is compressed into just seven legislative calendar weeks, not counting time off for holiday recesses. But the White House has pointed out that there is precedent for such a move. The day after the 2006 midterm, President George W. Bush nominated Robert Gates as secretary of defense and he was confirmed in less than a month with bipartisan support.
Perez, who is 53 and is the son of Dominican immigrants, had been considered by political observers an ideal nominee, given his background as a Justice Department civil rights official.
The Associated Press contributed to this report.
Follow us on twitter.com/foxnewslatino
Like us at facebook.com/foxnewslatino