Tea Party Activists Defend Rand Paul Amid Civil Rights Controversy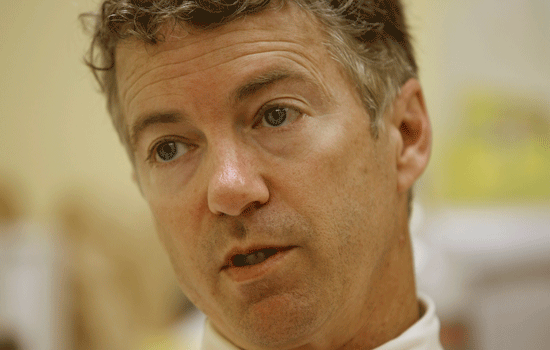 Tea Partiers had barely started their victory lap for propelling Rand Paul to triumph Tuesday in Kentucky's GOP Senate primary, when a controversy over the new nominee's criticism of the Civil Rights Act threatened to rain on the parade.
Paul was criticized Wednesday for saying in a series of interviews that he would have opposed forcing private businesses to integrate under the landmark 1964 law that banned racial discrimination. Paul clarified his remarks Thursday, saying he agrees with the goals of the law but questions the federal government imposing its will on businesses – a view consistent with his long-held libertarian beliefs but leaving him open to criticisms that he would allow racial discrimination.
The Tea Party movement faces a dilemma. The conservative grassroots phenomenon that has shaken up the political landscape in the past year has faced accusations from the left of racism. Now it must decide how to deal with the fallout over Paul's comments, which have given Democrats more ammunition for November's midterm elections.
And as Paul tried to explain his take on the civil rights law Friday, he has added fuel to the fire with criticism of President Obama for being too tough on oil company BP PLC in his handling of the spill in the Gulf of Mexico.
Tea Party activists told FoxNews.com that they plan to keep supporting Paul in his race against Democrat Jack Conway, but they made clear that their platform opposes discrimination and condemned Democrats for seizing on Paul's comments.
"The people in the Tea Party movement oppose racism," said Debbie Dooley, a Tea Party Patriots organizer and FreedomWorks volunteer outside of Atlanta, "We don't believe private businesses should be allowed to discriminate."
Dooley said she doesn't believe Paul is a racist and that she's satisfied with his clarification. "Do I believe he lost support? No," she said. "I don't believe he lost the Tea Party."
But Lenny McAllister, a black syndicated political commentator who has spoken at a number of Tea Party events in Georgia, said he believes Paul went too far with his belief in free market principles.
"Unfortunately, in his interpretation of what America is supposed to be, he's forgotten there's also a constitutional freedom that needs to be guaranteed," he told FoxNews.com, adding that Paul doesn't represent everyone in the Tea Party.
"The movement is one that has leaders like this but also understands that the Constitution is the law of the land and makes sure it's honored and ensures that civil rights are guaranteed," he said.
McAllister said he was not a "big supporter nor a basher" of Paul before the controversy and that he will continue to support the Tea Party.
"I think the main point is that we as conservatives and even Tea Party folks understand the balance," he said. "They're not anti-government. They want proper restraint of government and in this instance that means ensuring civil rights is protected for all Americans."
The Civil Rights Act was landmark legislation that outlawed racial segregation in schools, workplaces and other public places. It also banned unequal application of voter registration requirements.
Paul is an eye doctor who had never run for elective office before the Senate primary. He says he shares many of the libertarian views of his father, Republican Rep. Ron Paul, who represents a Texas district and was a presidential candidate in 2008.
In his primary victory on Tuesday, Paul had strong support from Tea Party activists, who believe that government spending and influence should be curbed. Paul also had the backing of some key conservatives, including former vice presidential candidate Sarah Palin.
But Paul's comments to The Louisville (Kentucky) Courier-Journal last month challenging the Civil Rights Act went viral after he was asked about them in separate interviews with National Public Radio and MSNBC's "The Rachel Maddow Show."
"It's Rand Paul's view," said William Owens, a black Tea Party activist in Nevada. "It's a libertarian view. It doesn't have any reflection on the Tea Party at all."
"His position is not racially inspired. It's libertarian inspired," he said. "He is welcome to that view."
Owens added that he believes Democrats who are criticizing Paul are doing so because they fear the ground they are losing.
"It's simply a distraction from the lack of government leadership they have shown," he said. "It's simply another attempt to malign relevant issues they they refuse to address."
Democrats said they believed Paul's remarks were out of line even in conservative Kentucky.
"I think the notion that in 2010 we're debating whether or not all of our citizens ought to enjoy equal opportunity is something that many believe was rightly settled in 1964, 1965, 1968, shouldn't have any place in our debate right now," White House spokesman Robert Gibbs said Friday.
Paul's Democratic opponent, Jack Conway, said in a statement that Paul has a "narrow political philosophy that has dangerous consequences for working families, veterans, students, the disabled, and those without a voice in the halls of power."
And Democratic Rep. John Yarmuth of Kentucky called Paul's comments appalling. "He has not place holding public office in Kentucky in the 21st century," he said.
But Tea Party members fired back at Democrats.
"I just feel like it's another day in the political arena where the left is frantic because all indicators are they are going to lose big and they know the one big hot-button thing they've got is race," said Gina Loudon, a volunteer and member of the St. Louis Tea Party.
Loudon said the controversy is an attempt by Democrats to distract voters away from other issues, such as border security and growing deficits. She said that race has never been a problem for the Tea Party, which she says takes pride in having a "place in the platform for all races, parties and genders."
She also expressed skepticism of the mainstream media's coverage of the controversy.
"I have so little trust with the mainstream media," she said. "I think this is more about a leftist agenda to erode the support that conservative groups have in November."
Dooley said she was amused by the "double standard" Democrats use for racism.
"They didn't have an issue with Rev. [Jeremiah] Wright," she said, referring to Obama's former pastor who ignited a firestorm of controversy when his racially-charged sermons came to light during the last presidential campaign. "You didn't see an uproar about racism. I think there's a double standard."
Dooley added, "The civil rights struggle during the '60s, they were heroes and I was a child in the '60s. It's disgusting to see the way things were done and the discrimination that was allowed."
The Associated Press contributed to this report.