Tea Partiers Looking to Build Conservative Coalition on Capitol Hill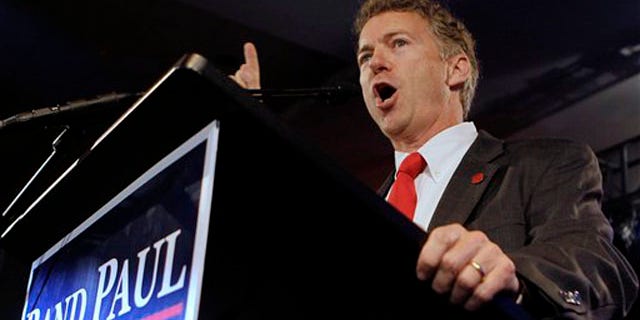 The Tea Party movement has earned a sizeable voice in Congress after two tumultuous years in the making, and it's moving quickly to carve out a foothold in Washington before the next session begins in January.
Minnesota Republican Rep. Michele Bachmann, a Tea Party darling who moved to create a House caucus for the movement over the summer, is planning to run for a top-ranking leadership position, according to a colleague. Rand Paul, the winner of the Kentucky Senate contest, said Wednesday that he wants to form a bicameral Tea Party caucus.
The developments signal that the Tea Party's congressional stewards are looking to expand the movement's reach as soon as possible, though it's unclear whether the contingent will complement or combat the Republican Party as a whole.
While some party leaders on both sides of the aisle said they would welcome and work with the new class of lawmakers, Tea Party-aligned Sen. Jim DeMint on Wednesday suggested the incoming members wage a battle against the party infrastructure. But the Tea Party candidates as well as the veteran GOP legislators were all talking about the same thing in the wake of their historic gains in the midterm elections -- cutting spending, cutting government and spurring economic growth.
"Americans don't understand why we have to balance our own family budget and Congress doesn't. It just doesn't make any sense to us," Paul told Fox News. "We have to do something to get our fiscal house in order."
Paul said he'll push these goals by forming a Tea Party caucus made up of both House and Senate members. "I think there's a lot of potential members in the House and a few members in the Senate as well," he said.
Though the Tea Party suffered a couple big losses on Tuesday -- most notably with Christine O'Donnell in the Delaware Senate race and Sharron Angle in the Nevada Senate race -- their favored candidates sailed to victory in dozens of other races.
In the Senate, Tea Party-backed Marco Rubio in Florida, Pat Toomey in Pennsylvania, Mike Lee in Utah, Ron Johnson in Wisconsin and Paul in Kentucky all won their races.
At least two-dozen Tea Party candidates scored victories on the House side. Among them were Jon Runyan in New Jersey and Kristi Noem in South Dakota.
Republican National Committee Chairman Michael Steele said "the establishment is going to have to deal" with the new generation of political figures. He described that development as a positive thing.
"What you saw, in my estimation ... was the Grand Old Party evolving into the great opportunity party, where we are now not only getting outside of our comfort zone but going out and touching people in a way in which our message is resonating," Steele told Fox News. "We've got to now govern and we've got to govern on some very difficult issues in a very difficult time, and the expectation bar set by the people last night is very high."
But DeMint, R-S.C., suggested the coming session could be the scene of an internal party struggle -- kind of like the GOP primary season.
"The next campaign begins today. Because you must now overcome determined party insiders if this nation is going to be spared from fiscal disaster," he wrote in a Wall Street Journal column.
"Tea party Republicans were elected to go to Washington and save the country -- not be co-opted by the club. So put on your boxing gloves. The fight begins today."
He suggested incoming members hire conservative staff and be cautious about accepting titles or committee assignments because other lawmakers may expect compromises in return.
DeMint, asked on Fox News about his column, clarified that there's still a "big tent out there." He nevertheless predicted a "tussle" as Tea Party candidates arrive in Washington "to help save our country."
One of the first congressional battles between outsiders and establishment could come in Bachmann's expected run for House GOP Conference chairwoman. Rep. Mike Pence, R-Ind., announced that he would leave that post, and Rep. Steve King, R-Iowa, a close friend to Bachmann, said the firebrand congresswoman would run for the fourth-highest position in the House GOP hierarchy.
But Republican Whip Eric Cantor, R-Va., who is seeking the post of majority leader, has already endorsed somebody else for that job --- Texas Republican Rep. Jeb Hensarling.