Tax reform plan needed by Thanksgiving, Freedom Caucus leader says
The U.S. House must pass a "bold" tax reform plan by Thanksgiving -- or Washington will have nothing to be thankful for in the new year, a top Republican warned Wednesday.
Rep. Mark Meadows, of North Carolina, predicted that no reform would happen at all if negotiations go past November, saying his fellow lawmakers could get skittish about rocking the boat during an election year if the debate continues into 2018, the Washington Times reported.
"If it doesn't get to the president's desk by Thanksgiving … it isn't going to happen," Meadows, chairman of the conservative House Freedom Caucus, said at an event at the Newseum in Washington. "The minute we go past January, everybody starts saying, 'Well, we can't do anything too bold.'
"It's the political reality in those midterm years. Everything starts to slow down and you do things around the edges."
Meadows said he would like to see Congress aim for a corporate tax rate that's lower than 20 percent instead of the current rate of 35 percent. He also rejected the notion of accepting a higher rate for a smooth passage of a final plan.
"Go bold, and the minute you start negotiating like that you're negotiating against yourself," he told reporters after his speech. "I made a very good living negotiating. I would never agree to that."
A new tax reform plan is just one item on an already packed schedule for Congress when it returns from recess in the fall. Lawmakers will need to immediately pass legislation to fund the federal government past Sept. 30, and Treasury Secretary Steven Mnuchin recently gave Congress a Sept. 29 deadline to raise the debt ceiling.
The Freedom Caucus has demanded that any increase in the debt ceiling should be coupled with spending cuts, but Meadows said it will ultimately get raised one way or another.
"We will raise the debt ceiling, and there shouldn't be any fear of that," he said.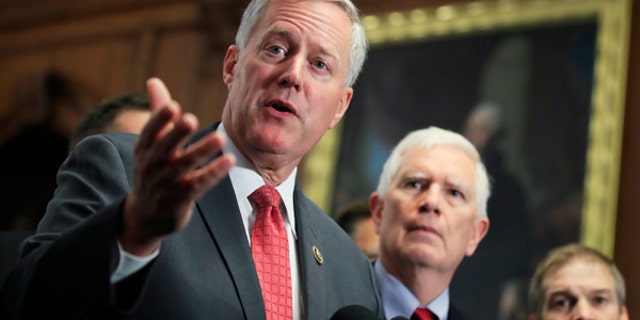 Meadows and his caucus of nearly three-dozen conservatives have a strong influence on the House. With no Democratic support, opposition from enough members of the Freedom Caucus would be sufficient to sink any tax reform plan.
"We actually need the text of what we're talking about so that we can start going through that and figure out what's good and bad," he said.
Other conservative groups are pushing for a tax reform plan to be approved before the end of the year.
Matt Schlapp, chairman of the American Conservative Union (ACU), told Fox Business in an exclusive interview Wednesday that his organization will hit the road from the August recess through the end of the year to help promote the president's lawmaking priorities, including tax reform and health care.