Stormy Daniels defends Melania Trump, says 'people should stop speaking for her'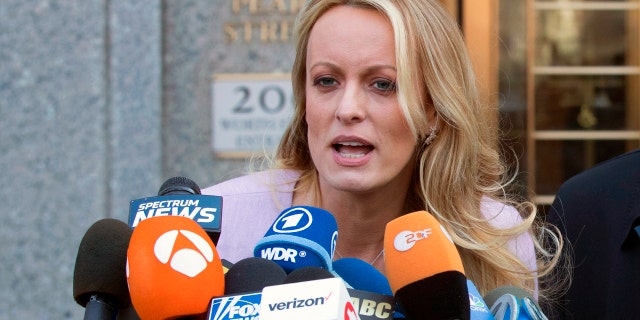 NEWYou can now listen to Fox News articles!
Adult film star Stormy Daniels came to the defense of First Lady Melania Trump over the weekend, saying "people should stop speaking for her" and making speculations about her feelings.
Daniels, whose real name is Stephanie Clifford, told the British tabloid The Mirror: "Everything we say about her is a projection. Some people misplace sorrow and pity on another person," while noting that maybe the first lady is "happy."
The media has drummed up rumors and conjecture regarding the first lady's feelings toward her marriage with President Donald Trump since she was thrusted into the national spotlight during the 2016 presidential election.
"The entire world would be interested to know what she feels," Daniels told the outlet. "But if we never know, that is her right and I support it."
Daniels is suing the president and his former personal lawyer Michael Cohen over a nondisclosure agreement she signed to keep mum about an alleged affair she claims to have had with Trump in 2006.
Trump has denied the accusation.
Omarosa Manigault-Newman claimed in her tell-all book "Unhinged: An Insider's Account of the Trump White House," that Melania Trump wants a divorce when he is out of office, among other accusations against the first lady.
The first lady's spokeswoman, Stephanie Grisham, called the former White House aide's claims "disappointing" and said that the duo "rarely, if ever, interacted" during her time at the White House.
"It's disappointing to her that she is lashing out and retaliating in such a self-serving way, especially after all the opportunities given to her by the President," Grisham said, according to The Hill.