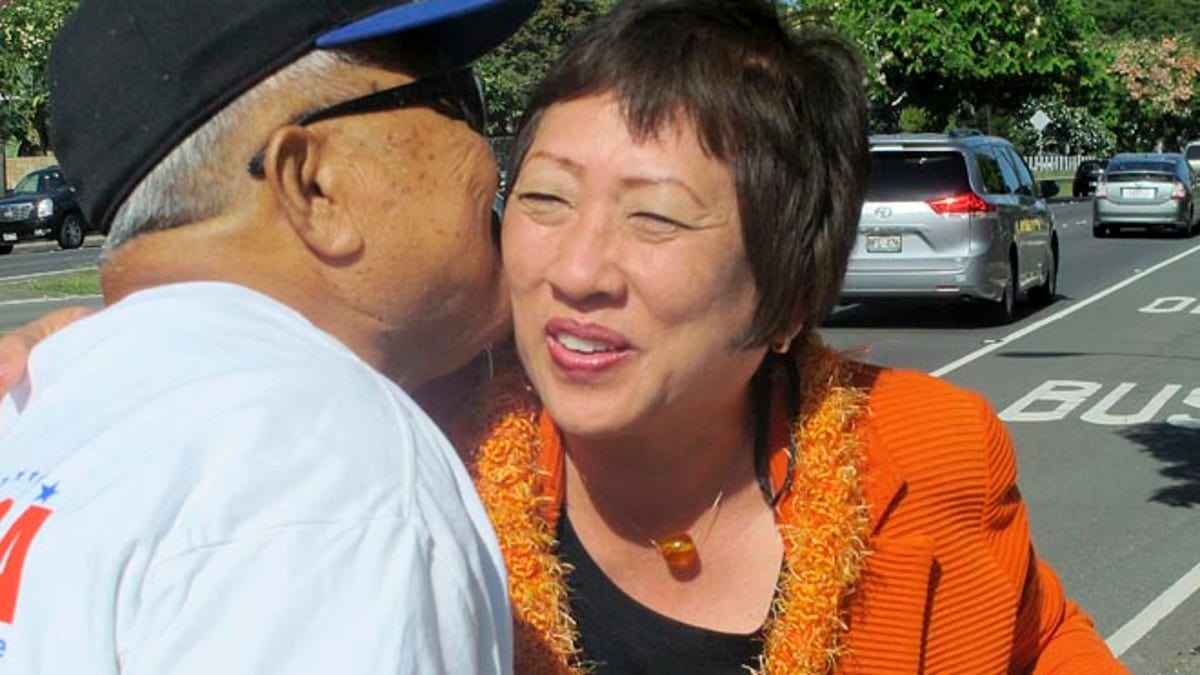 Hawaii residents go to the polls Saturday to vote in key primary races including hotly-contested Senate and gubernatorial contests, as the worst of a tropical storm that pounded the island state for several days has passed.
The National Weather Service in Honolulu canceled a tropical storm warning for all Hawaiian Islands now that Iselle has passed, said state officials, who scrambled Saturday to set up polling stations. They have already postponed voting in two precincts on the Big Island amid power outages and debris-strewn roads.
At least half of Hawaii voters were expected to cast early ballots, and about 8,000 affected voters will be able to cast absentee ballots later, with a lower-than-usual Election Day turnout possible.
In the Democratic primary race for Senate, incumbent Sen. Brian Schatz faces Rep. Colleen Hanabusa to serve the remainder of Democratic Sen. Daniel Inouye's term.
The race is dividing Democrats because Democratic Gov. Neil Abercrombie nominated Schatz, his lieutenant governor, after Inouye's death in 2012, despite Inouye saying he wanted Hanabusa to succeed him.
Some think the move was disrespectful to Inouye, a World War II hero, whose legacy hovers over the tight race in which Hanabusa now has a 50-to-42 percent lead over Schatz, according to a recent poll for Hawaii News Now/Star Advertiser.
Schatz points to several other polls that show him in the lead, including at least one in which he reportedly has a 10-point lead.
Abercrombie, a Democrat, also faces a strong primary challenge, from state Sen. David Ige.
Though the storms have given the governor free and unexpected TV time, Abercrombie stressed that he has removed himself from election conversations as he deals with the storm.
"I have absented myself from that completely," he said.
Still, his extra TV time could provide a boost after a recent poll showed him trailing Ige, who has offered himself as an alternative to voters unhappy with Abercrombie's perceived confrontational style.
The winner of the Democratic Senate primary will in November face the top vote-getter in the Republican primary that includes businessman and former state lawmaker Cam Cavasso, in the Democrat-leaning state.
Hanabusa, who like Inouye is Japanese-American, has attracted many of his dedicated supporters, while other voters have been attracted to Schatz's more progressive message.
Throughout the campaign, Hanabusa has played up her connections to Inouye and doesn't shy away from bringing up his name. One campaign ad, titled "Inouye," features photos of her with him.
Schatz, meanwhile, has downplayed how he got his Senate promotion, instead touting his endorsement earlier this year from another Hawaii heavyweight, President Obama, and his work in Senate since joining 20 months ago.
Both Schatz, 41, and Hanabusa, 62, have emphasized something else Inouye was known for doing -- bringing federal money back to the islands.
In addition the Senate and gubernatorial races, seven Democrats are competing to replace Hanabusa in her congressional seat.
Voters are also weighing contests in the Legislature, where both the Senate and House of Representatives are controlled by Democrats, and mayoral contests in Maui and Kauai.
The Associated Press contributed to this report.