Steve Bannon, Corey Lewandowski to testify this week at House Intel Committee
Former White House chief strategist and ex-Trump campaign manager Steve Bannon will testify before the House Intelligence Committee Tuesday as part of its Russia probe, in what will be his first appearance on Capitol Hill since the Michael Wolff book firestorm.
Bannon, who stepped down as executive chairman of Breitbart News last week following a dramatic falling out with the president over Wolff's anti-Trump book, "Fire and Fury: Inside the Trump White House," will be interviewed behind closed doors by congressional investigators probing Russian meddling and potential collusion with Trump campaign associates during the 2016 presidential election.
A source close to the committee told Fox News that Bannon would likely be questioned over information in Wolff's book.
In the book, Bannon slams the president's eldest son, Donald Trump Jr., son-in-law Jared Kushner and campaign chairman Paul Manafort. Bannon called their infamous June 2016 meeting in Trump Tower with Russian attorney Natalia Veselnitskaya during the campaign "treasonous" and "unpatriotic."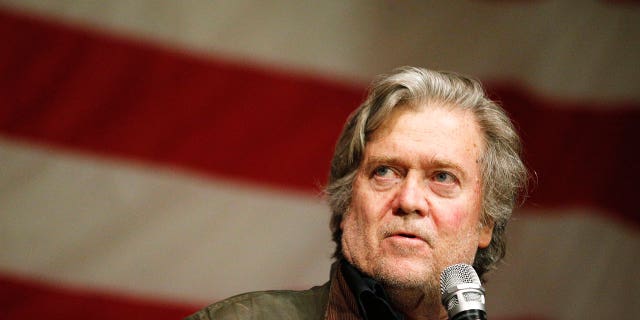 RUSSIAN LOBBYIST, UNNAMED TRANSLATOR ATTENDED TRUMP TOWER MEETING WITH RUSSIAN LAWYER
"Even if you thought that was not treasonous, or unpatriotic, or bad s**t, and I happen to think it's all of that, you should have called the FBI immediately," Bannon said in the book.
Bannon also said Trump Jr. would "crack like an egg" in any possible public testimony about the situation.
RUSSIAN LAWYER WHO MET TRUMP JR.: 'I WOULD HAVE' CONTACTED CLINTON, TOO, IF SHE COULD HELP
Trump Jr. fired back on Twitter, calling Bannon an "opportunist" who brought "a nightmare of backstabbing, harassing, leaking [and] lying" to the White House.
Bannon, who left his post at the White House in August, was a dominant figure in the novel -- which enraged the president enough to have his personal attorneys demand the publisher halt the book's publication -- a request that was ultimately rejected. The lawyers also sent a "cease and desist" notice to Bannon, arguing he violated a non-disclosure agreement signed during the campaign by disclosing confidential information in speaking to the media about the campaign, and disparaging members of the Trump family.
The president issued a multi-paragraph blistering takedown of "sloppy Steve" Bannon, after excerpts released early revealed the information in the Wolff book.
"Steve Bannon has nothing to do with me or my presidency," Trump said in the statement. "When he was fired, he not only lost his job, he lost his mind."
STEVE BANNON STEPS DOWN AS EXECUTIVE CHAIRMAN OF BREITBART NEWS
Former Trump campaign manager Corey Lewandowski also is expected to testify this week before the House Intelligence Committee.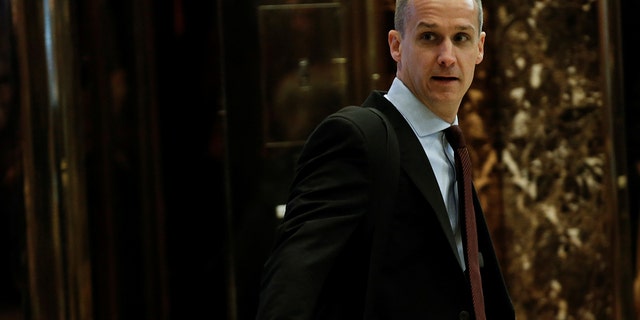 "I have nothing to hide. I didn't collude or cooperate or coordinate with any Russian, Russian agency, Russian government or anybody else, to try and impact this election," Lewandowski said on WABC's "The Rita Cosby Show." "I'll be happy to come out and set the record straight about my lack of involvement with any type of foreign entity."
Lewandowski was replaced by Manafort in June 2016 ahead of the Republican National Convention. Manafort has been indicted on money laundering charges as part of Special Counsel Robert Mueller's investigation.
The former top Trump campaign officials are testifying before the committee, as Democrats, like committee Ranking Member Adam Schiff, D-Calif., claimed that Republicans would prematurely "shut down" the investigation.
"It appears Republicans want to conduct just enough interviews to give the impression of a serious investigation," Schiff said last month.
A source close to the committee's majority told Fox News that it was "funny" that Schiff has accused Republicans of "prematurely ending the investigation at the behest of Trump and Bannon."
"New witnesses are still being interviewed," the source told Fox News Monday. "It's almost as if Schiff prematurely launched this critique, whose purpose is to provide an excuse for why Democrats, after a full year of investigating, can't prove any of the collusion allegations they've been making."
Schiff has called for at least a dozen more witnesses to testify before the committee, including Ivanka Trump and Jared Kushner.