Spending bill in limbo, Congress at odds over who owns border crisis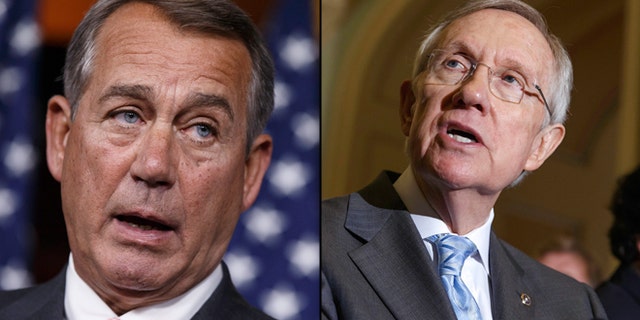 The congressional strife over trying to approve President Obama's supplemental spending request to combat the border crisis boils down to one thing: ownership of the issue.
Ownership is easy to define in most instances. There's a deed for a lot. A title to a car. A Coca-Cola bottle with your name emblazoned on the side.
But "ownership" of the border issue is more complex. Is "ownership" passing a bill to tackle the disaster? Or is "ownership" failing to advance any measure at all before a yawning, five-week congressional summer recess? And is "ownership" a good thing? In other words, to some conservatives, isn't this Obama's problem? Do they truly want to "own" it? To other Republicans, failing to address the issue could mean the GOP "owns" it because they stumbled. That already plays into the narrative that the party opposes immigration reform and has completely alienated minority voters.
Both House Republican and Senate Democratic leaders know the race is on to knock out a bill before Congress tentatively abandons Washington late next week. The Department of Homeland Security (DHS) is staring at a fiscal shortfall next month as it detains, processes, houses and feeds thousands of unaccompanied minors who arrived on the border. The House Republican brass backs a proposal to spend $1.5 billion for the border and alter some policies to help DHS deport some of the children more expeditiously. The Senate's cracking on a $2.7 billion border package which doesn't alter any of the polices. The House mitigates its spending proposals with matching offsets. The Senate plan offers no offsets.
"I'd like to act. We've got a humanitarian crisis on the border that has to be dealt with," said House Speaker John Boehner, R-Ohio.
"The world is watching how we respond to this crisis. Congress must act now and give the administration the funding it needs to temporarily house and feed these boys and girls," said Senate Majority Leader Harry Reid, D-Nev.
But here are the problems: House Republicans desperately need Democrats to help back their plan because conservatives and Tea Party loyalists don't want to touch the measure. The GOP appears to be well short on votes and could need assistance from the other side of the aisle -- de rigueur for the House Republicans on major issues over the past several years. Senate Democrats appear to be in slightly better shape but face likely filibusters from conservative senators. Senate rules would subject a border spending package to a pair of procedural votes entailing 60 yeas. If filibustered, Senate rules would require the exercise to burn close to a week on the calendar -- time the body doesn't seem to have.
With radically different positions, there's chatter that one body would love to advance their plan and then skip town. Having taken action, the "faster" chamber can jam the other with a "take-it-or-leave-it" option.
"Whether that's the intent or not, that's what that would do," said House Minority Whip Steny Hoyer, D-Md.
"I know they'd never try to do anything like that," said a sarcastic Rep. Tom Cole, R-Okla., of the Senate.
But such a scenario would involve steering a bill to passage right away. And the parliamentary shipping lanes through which to pilot such a measure are growing increasingly treacherous.
Rank-and-file House Republicans listened to a presentation of the plan at a closed-door session Wednesday morning. One senior House GOP leadership source indicated the reception was good.
"But that's a lot different from a whip count," cautioned the source.
The problem for many Republicans is that the border crisis fuses three combustible issues into a toxic, political alloy. First there's the fact that this is the president's spending request and everyone in Washington knows how Republicans feel about Obama. Secondly, the issue involves more spending, anathema to most GOPers. Third, the debate centers on illegal immigration, a bane for the Republican Party.
This amalgam forms the most unholy of trinities in Republican circles.
"The president of the United States is the world's sugar daddy and that has to stop. That's the incentive for those kids to come here" protested Rep. Mo Brooks, R-Ala., one of the most-conservative voices in the House. "To spend billions of dollars on foreign children that we don't have is financial insanity."
"My constituents say 'Don't give the president any more money.' I don't trust anything this administration comes up with," said Rep. Tim Huelskamp, R-Kan. "I think they have plenty of resources to handle [the border] effectively."
To further complicate matters, the House Republican leadership is in the middle of a major transition. In a few days, House Majority Leader Eric Cantor, R-Va., will step aside from his post to make way for House Majority Whip Kevin McCarthy, R-Calif. Rep. Steve Scalise, R-La., will emerge as the whip. Multiple sources signaled it would be McCarthy's responsibility to whip the vote since for the moment, he still holds the vote-counting position. But observers will watch to see Scalise's involvement and if he's capable of producing the necessary votes. Whether it's on his watch or not, this will spell one of Scalise's first tests as whip. Meantime, the House leadership is tasking a group of lawmakers to see if they can figure out a way to solve the border puzzle.
"It's not the first time we've faced a difficult chore. But we've done that before," said House Appropriations Committee Chairman Hal Rogers, R-Ky., the man charged with crafting the spending proposal.
When asked if the House could complete the measure before the August recess, Rogers was less than certain.
"We'll sure find out," the Kentucky Republican replied.
Of course, the worst case scenario is if DHS's coffers bleed dry in August as Secretary Jeh Johnson has repeatedly predicted. Then Republicans worry they may "own" the border calamity by moving a bill which can't be resolved with the Senate or failing to pass a bill at all. Democrats could face serious consequences too if they don't show some give on changing a 2008 statute which is believed to hinder DHS from speedy deportations. That stance could impede passage of legislation in either body, leaving DHS broke.
"I think there would be huge ramifications if we run out of money, and in August there is certainly that possibility," said Rep. Jeff Denham, R-Calif.
Sen. John McCain, R-Ariz., fretted lawmakers might not find accord.
"We're going to be at an impasse and we will have earned even greater disdain from the American people than we already have," said McCain. "I'm not sure who will receive more blame."
This is why "ownership" of the issue is so critical. Not just making sure that one side or the other "owns" it if there's a solution but because equal buy-in is required to engineer a coalition to pass the plan. And if it fails, "ownership" applies there, too. That's why there's risk for Democrats.
"You can't let the people who vote no veto the bill without consequences," said Cole.
Republicans are apoplectic at the Obama administration for what they perceive as a lack of elbow grease to find the votes. Many Republicans say Democrats need to show flexibility and alter a 2008 statute which is believed to hinder DHS from speedy deportations. The '08 law permits youths from nations besides Canada and Mexico to remain in the U.S. for longer periods of time while awaiting immigration court proceedings.
"Frankly it is difficult to see how we can make progress on this issue without strong, public support from the White House for much-needed reforms, including changes to the 2008 law," implored Boehner in a letter to Obama. "Working together, we can help provide crucial humanitarian relief, and work to secure our nation's borders."
Privately, lawmakers of both parties worried that a failure to act could boomerang -- especially if there were some sort of "incident" involving the nearly 65,000 children during the August break. It could be an accident. Rape. Child abuse. People suffering at the border or dying at the border or in U.S. custody. Take your pick. It won't take much to further conflagrate this tinderbox. But at least lawmakers have a fig leaf, attempting to address the problem.
"I think it's going to be hard to say, 'I'm conservative but I'm going to vote no on the type of legislation that was outlined today,'" said Cole.
The clock is ticking. Leadership in neither body has any plans to stick around into August to resolve this if there isn't an agreement soon. That's why everyone wants to make sure someone "owns" this issue. Especially if things spill out of control next month.
This is an enormous issue which doesn't lend itself to quick fixes.
"Nobody believes that we are going to complete that debate in the next eight days," said Hoyer.
Capitol Attitude is a weekly column written by members of the Fox News Capitol Hill team. Their articles take you inside the halls of Congress, and cover the spectrum of policy issues being introduced, debated and voted on there.