Speaker John Boehner Closes Window On Immigration Reform This Year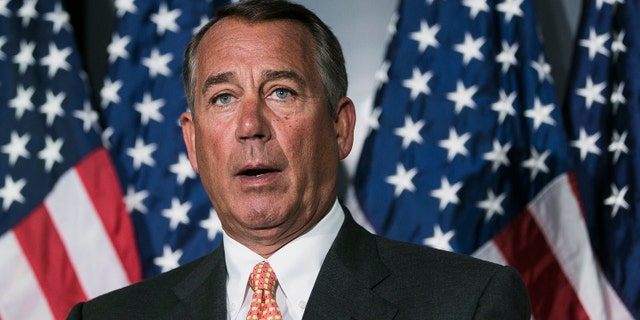 Speaker John Boehner dashed hopes on Wednesday for quick action on immigration reform, at least for the remainder of this year.
Boehner said the House will not hold formal compromise talks on the comprehensive immigration bill that was passed by the Senate in June, a fresh signal from the Republican leadership that the issue is dead for the year.
Boehner, R-Ohio, insisted that the House is focused on a piecemeal approach, but he declined to say whether lawmakers will consider any legislation this year or whether the issue will slip entirely to 2014.
The No. 3 House Republican, Rep. Kevin McCarthy of California, had told immigration advocates last week that the House won't vote this year.
"The idea that we're going to take up a 1,300-page bill that no one had ever read, which is what the Senate did, is not going to happen in the House and frankly I'll make clear we have no intention of ever going to conference on the Senate bill," Boehner told reporters at a Capitol Hill news conference.
He said Rep. Robert Goodlatte, R-Va., the chairman of the House Judiciary Committee, is working on "a set of principles to help guide us as we deal with this issue."
The Senate bill would tighten border security and provide a path to citizenship for the 11 million immigrants living in the country illegally.
The House Judiciary Committee has approved smaller bills, but they have languished since the summer despite intense pressure from religious groups, business, labor and immigration advocates.
Although House GOP leaders say they want to resolve the issue, many rank-and-file Republicans have shown little inclination to deal with immigration.
The bitter standoff with President Barack Obama on the budget further angered House Republicans, who have resisted administration moves to overhaul immigration, the top item on President Obama's second-term domestic agenda.
Before Boehner's news conference, several immigrant children approached the speaker as he sat down for breakfast at a Capitol Hill diner and described how they could lose parents to deportation. The children were in Washington as several organizations maintain their pressure on the House to act on immigration.
Carmen Lima, a 13-year-old from California, told Boehner that she feared never she would never see her father again and asked if the group could count on his vote.
"Well, I'm trying to find some way to get this thing done," Boehner said. "It's ... not easy — not gonna be an easy path forward. But I've made it clear since the day after the election that it's time to get this done."
Democrats expressed frustration over the House's lack of action at a House Judiciary Committee hearing on how to enforce laws to deal with legal immigrants who overstay their visas.
"If we can vote 45 times to gut Obamacare and have another vote scheduled this week, why can the Republican leadership not find the time to schedule one vote on immigration?" asked Rep. Luis Gutiérrez, D-Ill. "They say that where there is a will, there is a way, and I think there is time to get something done, but I don't believe the Republican Party has the will to do it."
Sen. Robert Menendez, a New Jersey Democrat who was part of the bipartisan group that worked on the Senate's immigration bill, criticized Boehner's statement.
"Speaker Boehner's comments are insulting to the majority of Americans who want to see comprehensive immigration reform," he said in a statement. "It has been over six months since Democrats and Republicans in the Senate joined forces, negotiated and passed an immigration bill that was approved by a supermajority. The House of Representatives has irresponsibly voted over 45 times to defund the Affordable Care Act, yet Speaker Boehner now claims there is no time for one single vote on common-sense immigration reform."
The Associated Press contributed to this story.