Some Trump lawyers wanted Kushner out, report says
NEWYou can now listen to Fox News articles!
Some of President Donald Trump's lawyers earlier this summer concluded that Jared Kushner should step down as senior White House adviser because of possible legal complications related to a probe of Russia's involvement in the 2016 presidential election and aired concerns about him to the president, people familiar with the matter said.
Among their concerns was that Mr. Kushner was the adviser closest to the president who had the most dealings with Russian officials and businesspeople during the campaign and transition, some of which are currently being examined by federal investigators and congressional oversight panels. Mr. Kushner, Mr. Trump's son-in-law and confidant, has said he had four such meetings or interactions.
Another issue was Mr. Kushner's initial omission of any contacts with foreign officials from the form required to obtain a security clearance. He later updated the form several times to include what he has said were more than 100 contacts with foreign officials.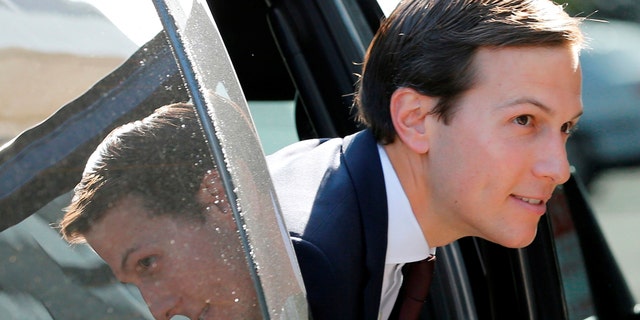 The president's lawyers were not united in the view that Mr. Kushner should step down.
TRUMP AND RUSSIA INVESTIGATION: WHAT TO KNOW
John Dowd, who first joined the legal team in June and now heads it, said in an interview Monday that "to my knowledge" the proposal wasn't taken to Mr. Trump. Mr. Dowd also said he did not side with some of his colleagues who believed Mr. Kushner needed to go.
"I didn't agree with that view at all. I thought it was absurd," Mr. Dowd said. "I made my views known." He called Mr. Kushner "absolutely terrific" and "a great asset, real gentleman, a pleasure to work with."
TRUMP JR. SAID HE WANTED TO KNOW CLINTON'S 'FITNESS' FOR OFFICE IN MEETING
After some members of the legal team aired their concerns to Mr. Trump in June, including in at least one meeting in the White House, press aides to the legal team began to prepare for the possibility that Mr. Kushner would step down, drafting a statement explaining his departure, said people familiar with the matter.
Mr. Trump wasn't persuaded that Mr. Kushner needed to leave. One person said Mr. Trump's view was that Mr. Kushner hadn't done anything wrong and that there was no need for him to step down.