Snowden Charade: Why the fugitive leaker got softball treatment at conference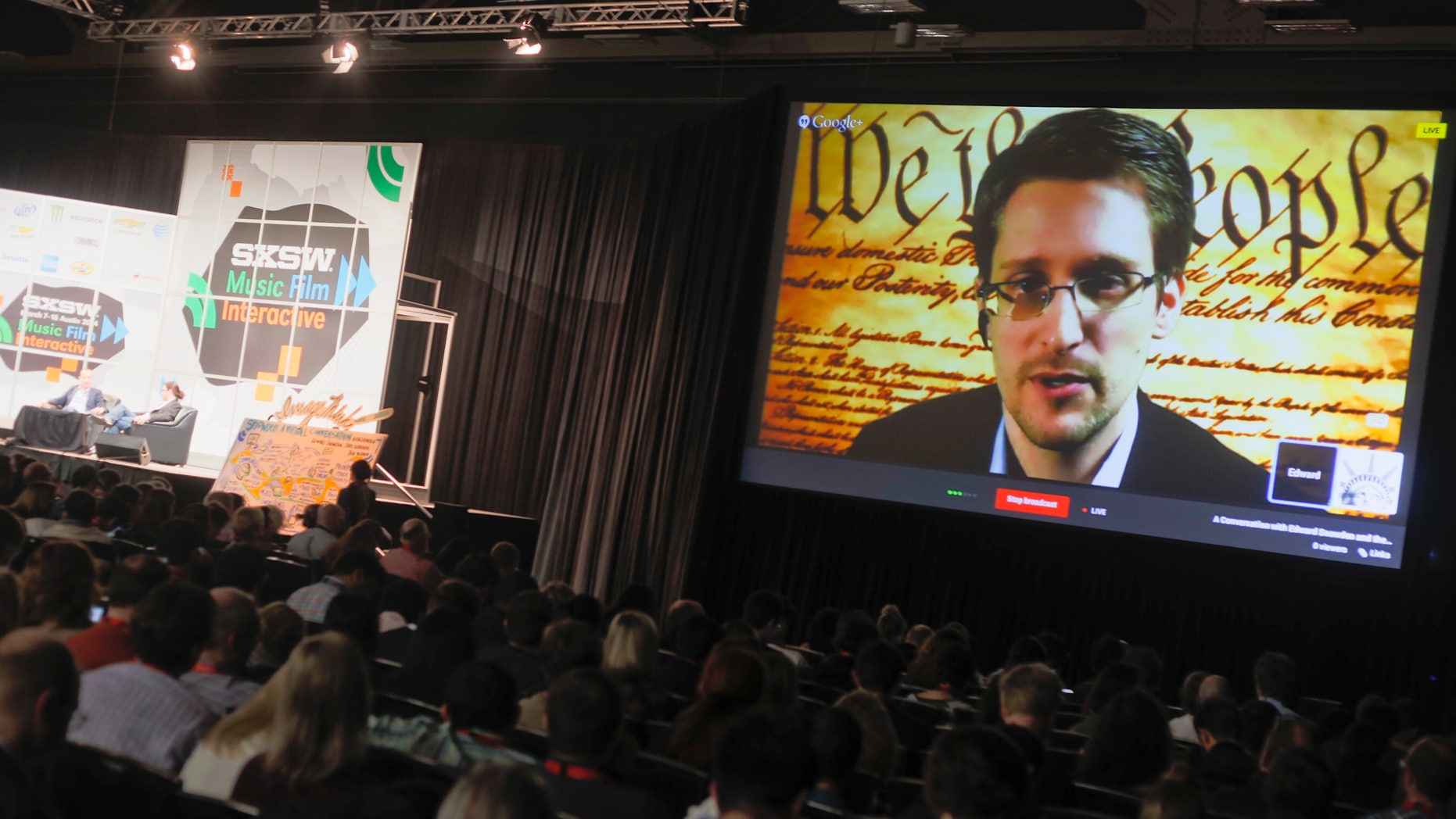 Also...
Atkisson Bolts CBS News
The Bitcoin Mystery
Katie Goes Global
Snowden Charade: Why the Fugitive Leaker Got Softball Treatment at Conference
Put aside that Ed Snowden did the interview against the backdrop of an oversized Constitution, holding forth about the evils of American spying and the mendacity of top U.S. officials.
Put aside that the man interviewing him, Ben Wizner, is an ACLU official.
He is also Snowden's legal adviser.
Why on earth would the South by Southwest conference allow this charade?
Can you imagine: Next up at SXSW, Barack Obama, interviewed by the White House counsel.
Bill Gates, interviewed by Microsoft's top lawyer?
George Zimmerman, interviewed by the lawyer that helped him beat a murder rap?
What an embarrassment.
I understand that Snowden is a big "get" for the Austin conclave. Whatever you think of Snowden, he's a newsworthy figure. And it's fair to assume he wouldn't have appeared by video otherwise.
But the man is a fugitive from justice, holed up in Moscow. And his legal adviser interviews him, makes no explicit reference to the criminal charges against him, and doesn't even include a skeptical question from those submitted online?
Nothing about fleeing to Russia, whose commitment to freedom was just demonstrated anew by the invasion of Crimea?
It doesn't pass the laugh test. But it passed the applause test at South by Southwest yesterday.
Snowden used his time to attack the current and former directors of the NSA, Keith Alexander and Michael Hayden, for damaging national security. He also assailed Director of National Intelligence James Clapper for lying to Congress (as have a number of lawmakers; President Obama says Clapper should have been more careful in his testimony when he denied the government was conducting massive surveillance).
The former NSA contractor argued that we've gotten nothing out of this sweeping surveillance, and given other countries the "green light" to spy on us.
Snowden got something of a hero's welcome in Austin, and there is no question that he sparked a national debate over surveillance. Others are convinced he's a traitor. But given the puffball questions, Snowden never really had to explain himself. 
Atkisson Bolts CBS News
Sharyl Atkisson's decision to leave CBS before her contract expires comes against the backdrop of her investigative reports on various Obama administration failures, including Benghazi.
It's been an open secret in Washington that Atkisson has been frustrated with the difficulties of getting her stories on the air—and that the CBS brass was frustrated by her as well. She was being featured on the "CBS Evening News" less and less frequently.
Atkisson told Politico her departure was "amicable." But the title of the book she is working on captures her view of her embattled situation:
"Stonewalled: One Reporter's Fight for Truth in Obama's Washington."
She has been part of the CBS News team for two decades. And while she has reported on Republican problems, Atkisson is perhaps most closely identified with the Benghazi story and her reporting on the botched Fast and Furious scandal. Her doggedness has won her praise from some conservatives and an award from Accuracy in Media.
As for the internal battles at CBS, conspiracy-minded critics note that CBS News President David Rhodes is the brother of White House deputy national security adviser Ben Rhodes.
Atkisson said last year that her computers had been compromised, a mystery that has never been publicly resolved.
It is not unusual for tenacious investigative reporters to clash with their bosses over what can and should be published. But things at CBS deteriorated to the point that the two sides have now agreed to divorce.
The Bitcoin Mystery
Did the revived Newsweek, in its first print edition, blow it with a wildly controversial story about Bitcoin?
The "founder" fingered by Newsweek denies it's him, and the magazine stands by its story. I haven't had time to delve into it, but Reuters' Felix Salmon delivers a nuanced and skeptical account:
"I had a 2-hour phone conversation with Leah McGrath Goodman yesterday. Goodman wrote the now-notorious Newsweek cover story about Dorian Nakamoto, which purported to out him as the inventor of bitcoin. At this point, it's pretty obvious that the world is not convinced: in that sense, the story did not do its job…
"Goodman…is a proud journalist, who gets personally offended whenever anybody raises questions about her journalism, her techniques, or her reporting."
Meanwhile, Newsweek Editor-in-Chief Jim Impoco tells Pando Daily that he finds criticism of the story "phenomenally offensive"—and has hired security for his reporter.
Katie Goes Global
Katie Couric is ramping up her new gig as Yahoo's global news anchor with a Tumblr site and a chat with Mike Bloomberg.
"Newsmaker interviews, such as those with Bloomberg and Gates, will make up a good deal of Couric's programming for the site," says Capital New York. "Her staff will also create live events and forums, based on input from viewers, and segments based on viral content and trending topics 'in an entertaining and highly shareable format,' Yahoo says.
"Shareable content is what tends to do well online at sites like Yahoo, while big interviews lend credibility and prestige. Couric's interview with Bloomberg is a test of whether the formula Couric is trying out can hang together coherently."
Top Twitter Talk
Dems rip climate change skeptics in all-night gabfest