Several GOP Senate, House incumbents vulnerable to Super Tuesday upset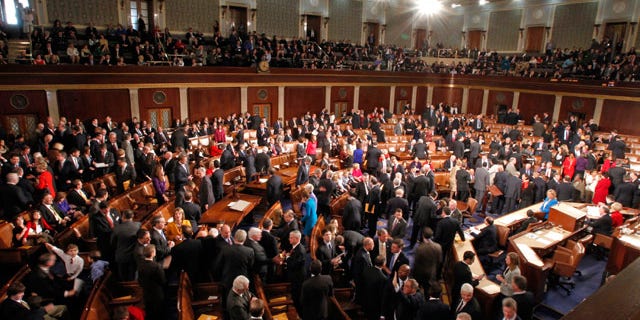 NEWYou can now listen to Fox News articles!
Remember in June 2014 when House Majority Leader Rep. Eric Cantor was upset by a Virginia college professor named Dave Brat?
Well, the Super Tuesday balloting has the potential to produce a few more "Dave Brats," or at least force some well-established Republican lawmakers like Cantor was into runoffs if they fail to get more than 50 percent of the vote.
Many of the races are in Texas, which because of its size has 38 House members -- 27 Republicans and 11 Democrats.
Their outcomes could be influenced by the GOP presidential primary turnout for Sen. Ted Cruz, trying to win his home state and close on front-runner Donald Trump, to say nothing of the general animus toward Washington.
And groups aligned with Cruz have gone after several House GOP incumbents since he came to Capitol Hill in 2013.
Three chairmen of GOP-led House committees, who are all from Texas, are in competitive races: Reps. Lamar Smith at Science; Pete Sessions at House Rules and Kevin Brady at House Ways and Means, who took the gavel just months ago when Wisconsin Rep. Paul Ryan became House speaker.
GOP Rep. John Culberson, another Texan, also faces a primary challenge.
He isn't a full committee chairman. He's known on Capitol Hill as a "cardinal" because he's chairman of the influential House Appropriations Subcommittee, which funds Commerce, Justice & Science programs (CJS).
Appropriations subcommittee chairmen are referred to as cardinals because they wield particular eminence over that section of federal spending.
Even Texas GOP Rep. Louie Gohmert, one of the most-conservative House members, faces a primary challenge Tuesday.
GOP incumbents from Alabama are also in close races.
At the top of the list is Senate Banking Committee Chairman Sen. Richard Shelby. He came to Washington as a Democrat, then switched to a Republican after the GOP took control of the upper chamber in 1994.
His record is being criticized amid the Supreme Court debate about whether President Obama should make a nomination to replace the late Antonin Scalia, and whether the GOP-led Senate should block such an effort.
Shelby has been criticized for holding up the nomination of Robert Bork to the Supreme Court (who ultimately wasn't confirmed) in 1987 when Shelby was a Democrat.
Unlike fellow Alabama GOP Sen. Jeff Sessions, Shelby has not endorsed Trump.
Two House GOP members could face challenges tonight -- Reps. Martha Roby and Bradley Byrne.
At least one of the races not going to a runoff would be a surprise.
In 2014, Texas GOP Rep. Ralph Hall, then the oldest member of Congress, was forced into a runoff by John Ratcliffe, who eventually defeated Hall.
Runoff elections are frequently more challenging to incumbents because the challengers' supporters are more energized and go to the polls.