Sessions reverses Obama-era policy on marijuana, unleashes prosecutors
Attorney General Jeff Sessions on Thursday rolled back an Obama-era policy that allowed legal marijuana to thrive without federal intervention.
The move effectively unleashes federal prosecutors to consider bringing marijuana cases, while stopping short of ordering them to do so.
"U.S. attorneys need to make decisions in these cases as they do in other drugs cases," a senior DOJ official told Fox News.
The Obama administration back in 2013 announced via a memo from then-Deputy Attorney General James Cole that it would not obstruct states that legalized marijuana, on the condition the drug was regulated so as not to hinder key federal enforcement priorities. This included preventing the drug from being distributed to minors, preventing its movement to other states, and preventing it from being used as a cover for the trafficking of other drugs.
The Department of Justice announced Thursday that it had rescinded that memo, as well as related guidance from 2009.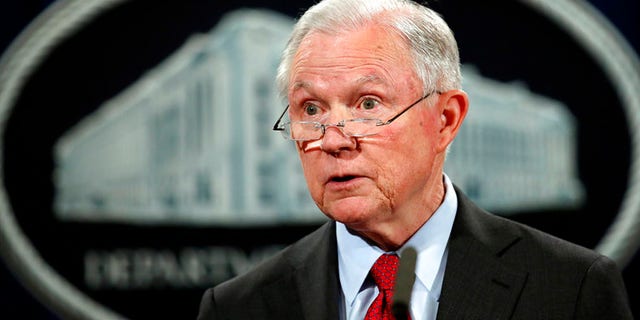 "Give the Department's well-established general principles, previous nationwide guidance specific to marijuana enforcement is unnecessary and is rescinded, effective immediately," Sessions said in a new memo.
The move takes aim at the budding mainstream marijuana industry, even as it leaves up to U.S. attorneys to what extent to enforce federal law on marijuana.
As for how the reversal will affect states where recreational pot use is legal and the marijuana industry as a whole, the situation is unclear.
When asked if the DOJ would be bringing suit against states like California and Colorado, a senior DOJ official said only: "Further steps are still under consideration."
Jim Borghesani, a spokesman for the Yes on 4 Coalition that supported legalizing marijuana, told MassLive.com that he could not tell what impact Sessions' decision will have on Massachusetts -- where the drug was legalized via a 2016 referendum.
"Jeff Sessions is revoking the Cole memo, but he's not saying prosecutions are going to start," Borghesani said. "I think it's going to come down to how individual U.S. attorneys move forward in the regions that they operate."
Ahead of the announcement, Sen. Cory Gardner, R-Colo., accused his fellow Republican of trampling "on the will of voters in [Colorado] and other states" and of contradicting what he told Gardner during his confirmation hearing. Gardner also threatened to withhold support for DOJ nominees until Sessions changes course.
Such a change would appear unlikely. Sessions has blamed the increased use of the drug for spikes in violence in the U.S. and has been an outspoken critic of efforts to make its use more acceptable.
"I reject the idea that America will be a better place if marijuana is sold in every corner store. And I am astonished to hear people suggest that we can solve our heroin crisis by legalizing marijuana – so people can trade one life-wrecking dependency for another that's only slightly less awful," he told law enforcement officials in March. "Our nation needs to say clearly once again that using drugs will destroy your life."
In a letter to congressional leaders in May, he asked them to ditch language that prevents the DOJ from spending money preventing states from implementing their own laws on medical marijuana.
"I believe it would be unwise for Congress to restrict the discretion of the Department to fund particular prosecutions, particularly in the midst of an historic drug epidemic and potentially long-term uptick in violent crime," Sessions wrote. "The Department must be in a position to use all laws available to combat the transnational drug organizations and dangerous drug traffickers who threaten American lives."
Advocates for marijuana legalization argue that banning the substance only serves to beef up the black market and allows criminals to control distribution.
Sessions' announcement came just days after California joined states such as Colorado in permitting pot for recreational purposes. The drug will be legal for adults 21 and older, and residents will be allowed to grow up to six plants and possess up to an ounce of marijuana.
Reports of Sessions' move sparked anger from Rep. Ted Lieu, D-Calif., who said on Twitter that "basically anything" was more important than cracking down on pot use.
Twenty-nine states have adopted medical marijuana laws, while seven other states have legalized the drug for recreational purposes.
The Associated Press contributed to this report.