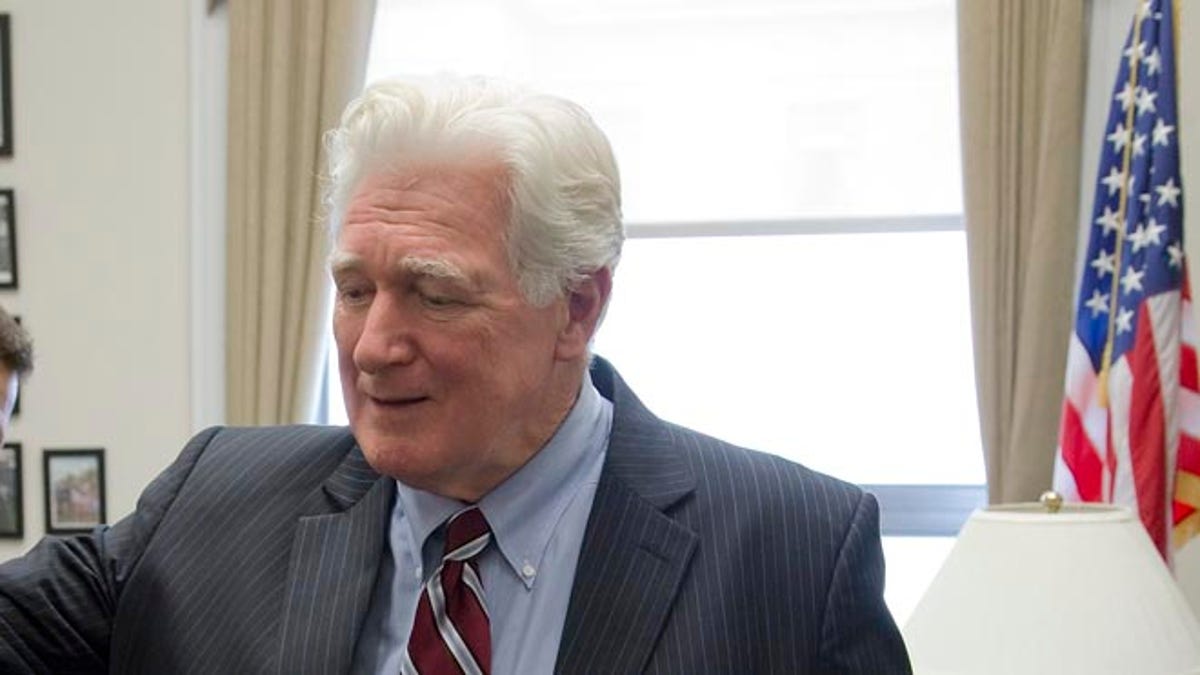 Russia on Saturday barred U.S. Congressman Jim Moran and 12 others from entering the country -- the latest round of largely symbolic bans issued by both countries over the past several months.
The Russian Foreign Ministry said Moran, a Virginia Democrat, was banned for alleged financial misdeeds and in response to the United States last month banning Russian parliament member Adam Delimkhanov.
However, Moran said within hours of the notice that he was likely banned because of his amendment to fiscal 2013 and 2014 appropriations bills that prohibit the Defense Department from spending money to train the Afghans to operate or maintain Russian-made Rosoboronexport Mi-17 helicopters.
Moran, a member of the House Defense Appropriations Subcommittee, said Rosoboronexport, the Russian state arms dealer, also is a principal weapons supplier to the Assad regime in Syria.
His response followed the downing Thursday of a Malaysian commercial airliner over Ukraine, apparently by Russian separatists, and included the sort of sharp retort that others banned in recent months have given.
"While this does clarify my overseas travel plans, it seems that the Putin regime would be better served by addressing the consequences of encouraging and enabling Donetsk separatists to perform such a heinous act of cold-blooded cruelty or utter incompetence that resulted in the mass murder of nearly 300 innocent civilians," Moran said.
The 12 others banned Saturday are connected with the U.S. detention facility in Guantanamo Bay, Cuba, and the Abu Ghraib prison in Iraq. They include Guantanamo commander Rear Adm. Richard Butler and Lynndie England, a former soldier convicted of abusing prisoners in Abu Ghraib.
They were banned in response to the U.S. adding 12 names in May to the so-called Magnitsky List of Russians sanctioned for human rights abuses.
Also on the list are retired Brig. Gen. Ricardo Sanchez, who commanded U.S. ground forces in Iraq in 2003-2004, retired Col. Janis Karpinsky, whose command included the Abu Ghraib prison, and Gladys Kessler, a federal judge who rejected a Guantanamo inmate's complaint of being force-fed while on hunger strike.
Moran, who is not seeking reelection in November, also made clear he has "no plans to travel to Russia."
During a round of bans in March, Kremlin official Vladislav Surkov reportedly said: "The only things that interest me in the U.S. are Tupac Shakur, Allen Ginsberg and Jackson Pollock. I don't need a visa to access their work."
Russia responded by issuing sanctions against such Capitol Hill leaders as House Speaker John Boehner, Senate Majority Leader Harry Reid and Arizona GOP Sen. John McCain.
"I guess this means my spring break in Siberia is off," McCain tweeted. "Nonetheless, I will never cease my efforts on behalf of the freedom, independence, and territorial integrity of Ukraine, including Crimea."