Russia, China expand ties with largest naval exercise yet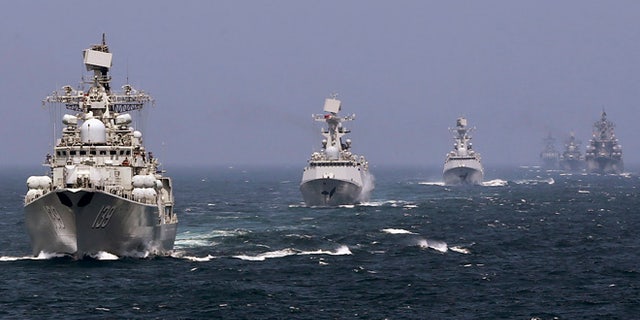 NEWYou can now listen to Fox News articles!
The Russian and Chinese militaries recently completed the largest combined naval exercise ever conducted between the two nations, building on cooperation that has been expanding over the past decade.
Designated Joint Sea II and held in the Sea of Japan and off Vladivostok, the exercise was a continuation of Joint Sea I, an April joint exercise held in the Mediterranean Sea. Some 22 warships, submarines, and other vessels; 20 aircraft; and at least 500 hundred marines took part. The Russian large guided-missile cruiser Varyag led the Russian side.
The two nations have been holding joint naval exercises since 2005. Joint Sea II focused on amphibious assault drills, anti-submarine combat, and air defense tactics.
The Chinese state-controlled media agency Xinhua downplayed any suggestion that the exercise was designed to make a political point, claiming that it "was not targeted to any third party."
A different interpretation of growing Russian-Chinese military cooperation was provided late last year by Sergei Shoigu, Russia's defense minister, who said, "We believe the main goal of pooling our efforts is to shape a regional security system."
That sentiment represents a major shift since the Soviet era, when Russia routinely trained to attack Chinese forces, including with tactical nuclear weapons.
Enhanced military cooperation is also an extension of bilateral cooperation between the two major powers that has reached new levels over the past year. A 30-year, $400 billion energy deal was signed in 2014 for Russia to provide China oil and gas through a major pipeline to be developed jointly.