Rubio clashes in hall with InfoWars' Alex Jones, warns him: 'I'll take care of you myself'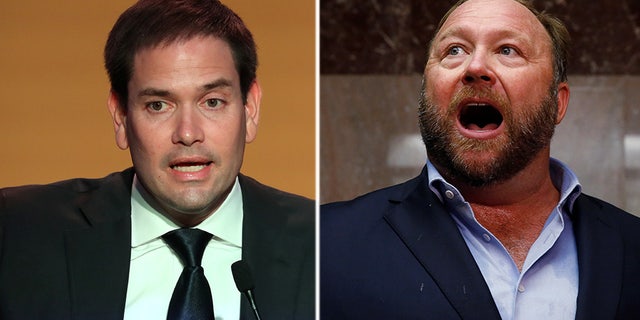 Republican Sen. Marco Rubio pointedly warned InfoWars host Alex Jones "I'll take care of you myself," during a stunning clash Wednesday ahead of a Capitol Hill hearing on social media.
The warning came after the right-wing conspiracy theorist interrupted an interview, heckling the Florida senator and patting him on the back.
Rubio had been talking to reporters in the hall about his concerns that China and other governments could demand social media platforms like Facebook and Twitter crack down on dissidents ahead of the Senate Intelligence Committee hearing.
Jones, who has spread conspiracy theories about the Sandy Hook Elementary School shooting, has been banned from sites including Facebook and YouTube for violations of their terms of service. Facebook said it had removed four pages related to InfoWars for violating hate speech and bullying policies. Jones claims he is being politically targeted
"The Democrats are doing what you say China does," Jones yelled as he stood next to Rubio, saying tech companies and Democrats are "purging" and shadow banning conservatives. "Republicans are acting like it isn't happening. Thank God [President] Trump is."
A visibly irritated Rubio objected to the interruptions: "I just don't know who you are, man."
Jones accused Rubio of playing dumb and called him a "snake" and a "little frat boy."
"Alright man, who are you? Who is this guy? I swear to God I don't know who you are," a smiling Rubio shot back.
During the altercation, Jones patted Rubio on the back, at which point the Florida senator took a more serious tone and security closed in.
"Hey don't touch me again, man, I'm asking you not to touch me," Rubio said, to which Jones said he "just patted you nicely."
"I know, but I don't want to be touched by you, I don't know who you are." Rubio said.
At that point, Jones said Rubio wanted him arrested.
"You're not going to get arrested man, you're not going to get arrested, I'll take care of you myself," Rubio warned Jones, which set the InfoWars host off.
"Oh, he'll beat me up? You're not going to silence me, you're not going to silence America," he told Rubio. "You are literally like a little gangster thug, Rubio just threatened to physically take care of me."
Rubio ignored Jones for the rest of the gaggle with reporters, as Jones continued to heckle him and pose questions to the media: "I wonder why Rubio got so mad and physically threatened me?"
Rubio eventually headed to the hearing, but had one more parting shot for Jones.
"We gotta go to the committee, you guys can talk to this clown," he said.
Jones has won some limited backing from Sen. Ted Cruz, R-Texas, who said Jones had slandered his father by claiming he killed President John F. Kennedy, "but who the hell made Facebook the arbiter of political speech?"
"Free speech includes views you disagree with," he tweeted.