Republican Party Closely Monitors Tuesday Primaries, All Eyes On North Carolina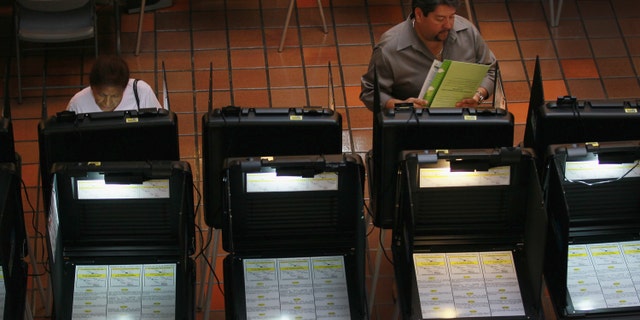 NEWYou can now listen to Fox News articles!
The primary season is getting underway Tuesday, beginning with North Carolina, Ohio, and Indiana.
But it's North Carolina's that most is generating interest beyond its borders.
It is in the Tar Heel State's primary for U.S. Senate that the Tea Party is firmly taking on what its members call "establishment Republicans."
USA Today reports that the contest here – where eight Republicans want to oust the incumbent U.S. Sen. Kay Hagan, a Democrat – is the first of several primaries this month "testing Republican loyalties."
Among the GOP challengers who want to go head-to-head with Hagan in November are a state politics insider backed by Mitt Romney or first-time candidates more aligned with the Tea Party and the Christian right.
Hagan was being challenged in her own party by two lesser-known opponents.
Thom Tillis, the state House speaker and leading fundraiser in the GOP primary, is hoping to avoid a mid-July runoff by securing more than 40 percent of the vote.
Latinos, who have been moving to North Carolina in growing numbers in the last decade or so, make up 1.7 percent – or 113,000 – of the state's 6.6 million registered voters.
"I'm not the one who believes it's certain," Tillis said on election eve. "I believe it's going to depend on turnout."
His leading rivals, obstetrician and Tea Party favorite Greg Brannon and Baptist pastor Mark Harris, want to block Tillis from winning, either now or in the summer.
"We believe that there's more to come," said Harris, whose backers include former Arkansas Gov. Mike Huckabee. "There's a strong possibility or probability of a runoff, and we've realized that we've got to keep going."
As Harris worked with volunteers knocking on doors Monday, Tillis and Brannon tried to use their endorsements to their advantage.
Tillis rolled out his written endorsement from Romney, the 2012 Republican presidential nominee, who called Tillis a "conservative" and a problem-solver in state government. "I am confident he will do the same in Washington," Romney wrote in an email to Tillis' supporters.
Brannon, meanwhile, benefited from a visit to Charlotte by Kentucky Sen. Rand Paul, another tea party favorite.
North Carolina needs "a dragon slayer, and that dragon slayer is Dr. Greg Brannon," Paul told 250 people downtown near the NASCAR Hall of Fame, suggesting Brannon's strong conservative beliefs would shake up the status quo in Washington. "I'm here today because Greg Brannon is a true believer and we need true believers in Congress," Paul added.
The election-eve push was all about inspiring voters in a state that narrowly chose President Barack Obama in 2008 and Romney four years later. Tuesday's balloting is being hotly monitored in a year in which Republicans are six seats away from a Senate majority and determined to put electable candidates on the ballot.
In Ohio, House Speaker John Boehner is expected to win the primary.
But observers will be looking to see by what margin Boehner, who is seen by many conservatives as a Beltway Republican, manages to beat a Tea Party opponent.
"That race has become symbolic nationally," said John Green, director of the Ray C. Bliss Institute for Applied Politics in Akron, Ohio, according to the Christian Science Monitor. "Boehner doesn't want articles to be written saying, 'Well, he won, but he got the lowest margin in 12 years.'"
And in Indiana, Rep. Susan Brooks, a Republican, faces a challenge from two fellow GOP candidates.
In all, May is to have 11 state primaries.
The Associated Press contributed to this story.
Follow us on twitter.com/foxnewslatino
Like us at facebook.com/foxnewslatino