Report: Trump suggests solar panels for border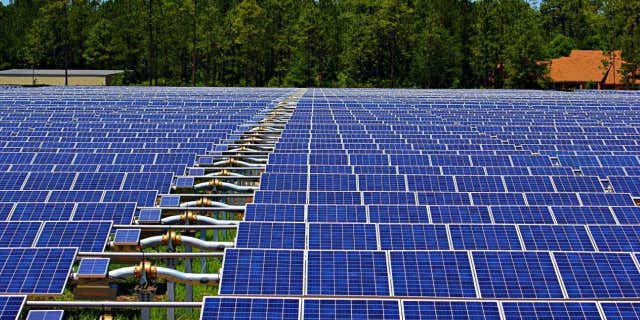 NEWYou can now listen to Fox News articles!
President Trump on Tuesday reportedly suggested that solar panels could offset some of the costs to erect a border wall on the U.S.'s southern border.
Trump made the pitch on Tuesday during a meeting with congressional Republicans, two lawmakers who attended the meeting told The Wall Street Journal.
The details of the plan were still unclear, but the revenue from selling the solar power generated by the panels could help offset some of the construction costs.
"I think it's innovative," House Majority Leader Kevin McCarthy, R-Calif., told the paper. "To authorize it and to appropriate it wouldn't cost as much."
Solar panels and other forms of green energy are popular among those who strongly opposed Trump's decision to withdraw the U.S. from the Paris accord, according to The Wall Street Journal. However, most Democrats have been against Trump's key campaign promise of building a border wall.
"He's been looking at a lot of options and this is a new option that he's been looking at that sounds like its got real promise," House Majority Whip Steve Scalise, R-La., said.
Trump's wall hopes to deter the influx of illegal immigration and drug smuggling. Trump had also promised that Mexico would pay for the wall. But after receiving strong pushback from Mexican officials, Trump suggested the U.S. would pay for it upfront and Mexico would pay later.
As of now, Congress has not allocated any money for the construction of the border wall. Cost estimates range past $20 billion, but the White House had been seeking $1.4 billion as a down payment in the recently passed spending bill in order to start the process. Strong pushback from Congressional leaders on both sides of the aisle has left the wall's future in doubt.
Trump said he would be willing to revisit getting money for the wall in September.
Click for more from The Wall Street Journal.