Reid accuses GOP senator of 'praying' for Obama's death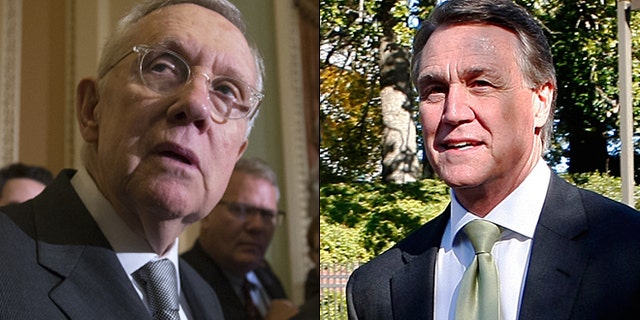 NEWYou can now listen to Fox News articles!
As if the 2016 cycle couldn't get any uglier, a nasty war of words broke out Friday when Senate Democratic Leader Harry Reid accused a Republican senator of "praying" for President Obama's death.
The allegations followed Georgia Sen. David Perdue's remarks Friday to a Faith and Freedom Coalition conference in Washington.
"We are called to pray for our country, for our leaders, and yes, even our president," Perdue said. "I think we should pray for Barack Obama."
He added, "We need to be very specific about how we pray. We should pray like Psalms 109:8 says. It says, 'Let his days be few, and let another have his office.'"
Reid spokeswoman Kristen Orthman let Perdue have it, claiming he had just issued a call to prayer for Obama's demise – as opposed to the end of his term.
"If Republicans are still wondering why Donald Trump is their nominee, look no further than today's Faith and Freedom conference where a sitting Republican Senator left the impression he was praying for the death of President Obama and then the Republican Leader followed him on stage and did not condemn him," she said in a statement.
Perdue's office rejected the allegation.
Megan Whittmore said in a statement: "Senator Perdue said we are called to pray for our country, for our leaders, and for our president. He in no way wishes harm towards our president and everyone in the room understood that. However, we should add the media to our prayer list because they are pushing a narrative to create controversy and that is exactly what the American people are tired of."
Perdue was speaking at the same Washington conference that Donald Trump addressed Friday afternoon.
In the remarks, he made clear he was joking. "In all seriousness, I believe that America is at a moment of crisis," he added.
He did not recite the next lines of Psalm 109, which are: "Let his children be fatherless, and his wife a widow."
Asked later at Friday's briefing whether the senator should apologize, White House Press Secretary Josh Earnest said: "As Senator Perdue considers whether or not an apology is appropriate, there are a variety of other Scripture he might consult."
Fox News' Chad Pergram contributed to this report.