Recording Captures Brown Camp Calling Whitman a 'Whore'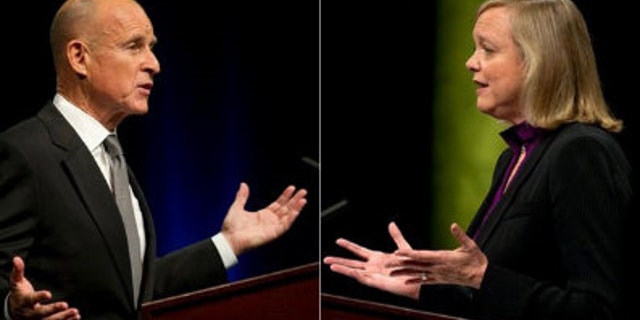 NEWYou can now listen to Fox News articles!
Jerry Brown's campaign apologized Thursday for a private conversation captured on audiotape that has the California Democratic gubernatorial candidate agreeing to an aide's description of Republican rival Meg Whitman as a "whore."
The exchange, inadvertently recorded by a voicemail, discussed Whitman cutting a deal to protect law enforcement pensions as the candidates competed for endorsements from police.
In the garbled audio recording, first reported by The Los Angeles Times, Brown can be heard leaving a voice message for Scott Rate, a union official for the Los Angeles Police Protective League.
After asking Rate for the league's endorsement, Brown says thanks and hangs up the phone, but the call doesn't end.
Instead, the message continues to record and Brown can be heard talking about the situation with his aides.
After Brown discusses his frustration with Whitman potentially cutting a deal for several seconds, another voice appears to interject saying, "What about saying that she's a whore?"
"Well I'm going to use that," Brown replies. "It proves you've cut a secret deal to protect the pensions."
The tape was released by the Los Angeles police union, the newspaper reported.
Brown Campaign Manager Steven Glazer issued an apology.
"This was a jumbled and often inaudible recording of a private conversation. At times our language was salty. We apologize to Ms. Whitman and anyone who may have been offended,"
But Brown campaign spokesman Sterling Clifford, who confirmed the authenticity of the tape to Fox News, noted that Brown didn't use the offensive language and the campaign is not sure who did.
"Our headquarters is basically an open warehouse. There are typically 30 to 50 people in these meetings ... A lot of different people could have said it."

Whitman campaign spokesman Sarah Pompei released a response to reports of the recording late Thursday.
"The use of the term 'whore' is an insult to both Meg Whitman and to the women of California. This is an appalling and unforgivable smear against Meg Whitman. At the very least Mr. Brown tacitly approved this despicable slur and he himself may have used the term at least once on this recording," Pompei said.
Fox News' Jake Gibson contributed to this report.