Rand Paul calls to revoke John Brennan's security clearance, asks if he's 'monetizing' access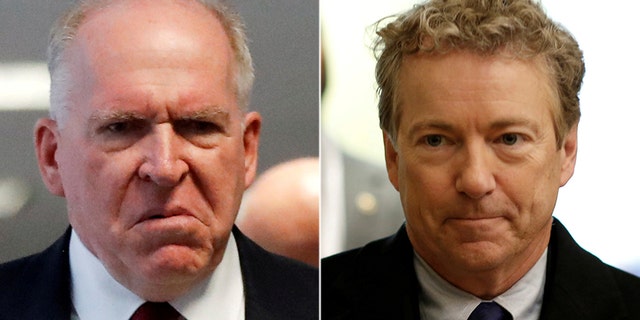 Sen. Rand Paul called Monday for President Trump to revoke former CIA director John Brennan's security clearance, as he questioned whether the Obama-era spy boss was "monetizing" his access to sensitive information in his new role as a pundit.
"Is John Brennan monetizing his security clearance? Is John Brennan making millions of dollars divulging secrets to the mainstream media with his attacks on @realDonaldTrump?" Paul tweeted early Monday.
Brennan joined NBC News and MSNBC in February as a contributor and senior national security and intelligence analyst. A spokesperson for the networks did not immediately respond to Fox News' request for comment on Paul's tweet, which did not list any specific allegations.
The Kentucky Republican, who last week jumped to Trump's defense as the president faced bipartisan criticism over his summit and press conference with Russian President Vladimir Putin, followed up the original tweet by saying:
"Today I will meet with the President and I will ask him to revoke John Brennan's security clearance!"
The White House did not immediately respond to Fox News' request for comment.
Paul's tweets come as fellow congressional Republicans push for Brennan to testify on Capitol Hill regarding the investigation into Russian meddling and potential collusion with Trump campaign associates in the 2016 presidential election.
The former CIA director has been a consistent and harsh critic of the president, blasting his performance with Putin in Helsinki as "nothing short of treasonous."
House Judiciary Committee Chairman Bob Goodlatte, R-Va., said Sunday that his committee was seeking a Brennan interview.
GOODLATTE SAYS HOUSE REPUBLICANS READY TO CALL BRENNAN TO TESTIFY
"We have lots of questions for John Brennan and he will definitely be sought by the committees for an interview," Goodlatte said on "Sunday Morning Futures." "This is an extremely disturbing thing to see both he and [former FBI Director] James Comey, supposedly impartial government officials carrying out their jobs in very important areas in intelligence gathering and law enforcement, express the kind of extreme bias that they've shown—which I think reflects quite accurately what they were doing back in 2016."
Goodlatte was referring to a Wall Street Journal op-ed written by Kimberly Strassel which suggested that Brennan's role in the Russia probe "is in some ways more concerning than the FBI's."
"Mr. Brennan has taken credit for launching the Trump investigation," Strassel wrote, adding that Brennan "took the lead on shaping the narrative that Russia was interfering in the election specifically to help Mr. Trump—which quickly evolved into the Trump-collusion narrative."
Fox Business Network's Matthew Kazin and Fox News' Kristin Brown contributed to this report.