President Makes Impromptu Shopping Trip with Bo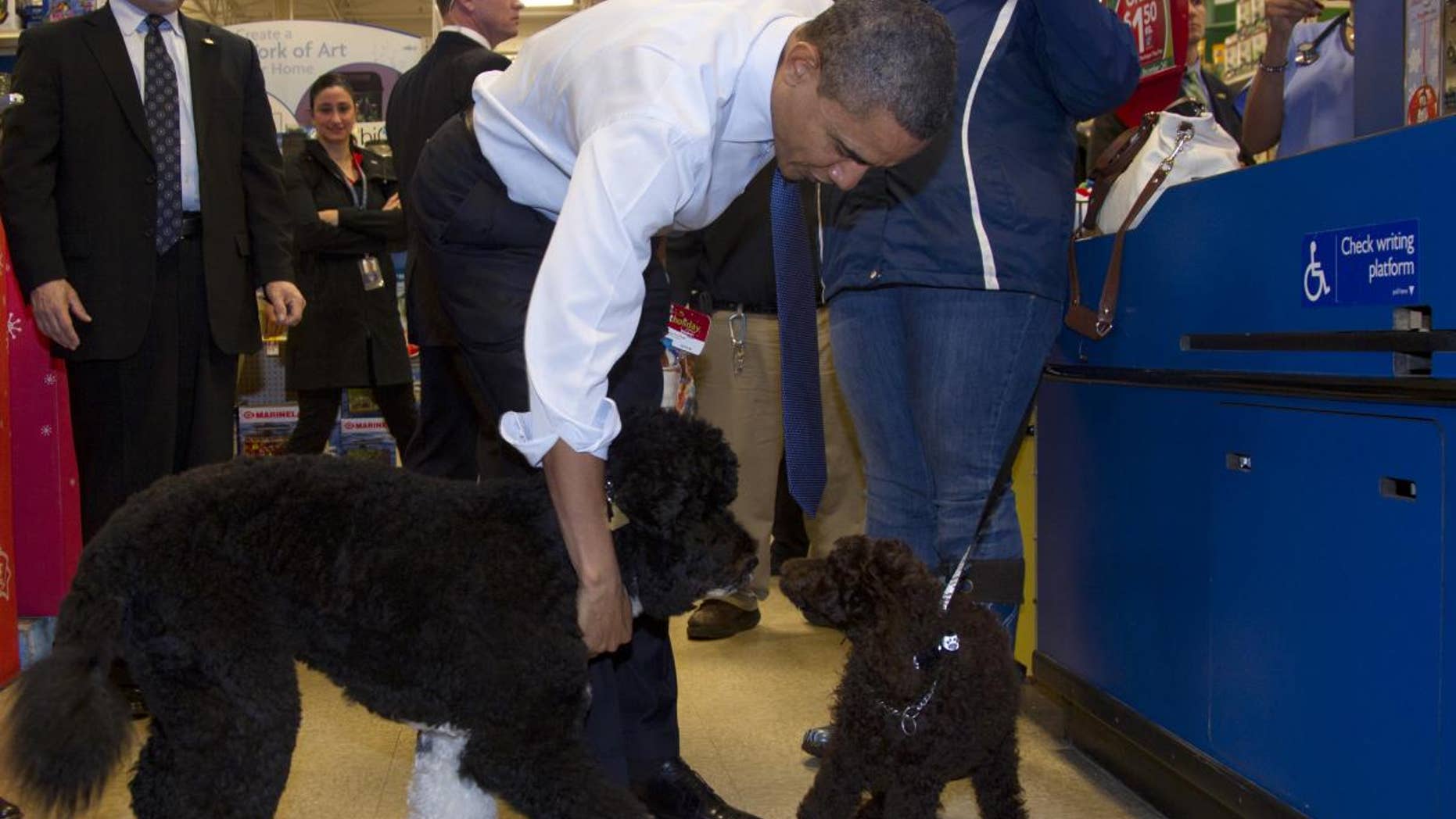 With his wife and daughters in Hawaii for Christmas, President Obama took the smallest member of the first family to do some holiday shopping. Bo! The first dog accompanied Mr. Obama on an impromptu shopping spree in the nearby suburbs.
Doing his part to boost holiday sales, the president dropped some cash at a Pet Smart and Best Buy in northern Virginia. The president selected a pricey $24.99 rubber chew toy for his best friend, shaking hands while Bo sniffed around with other shopping dogs.
At Best Buy Obama picked up one of this season's most popular items for his daughters; Just Dance 3 for the Wii gaming system for his daughters. Obama told reporters they would never see him playing the dance video game.
Also on the president's shopping list, The Sims 3 Pet Special and 2 apple itunes gift cards in the amount of $50 each.
The president paid for the gifts with his personal credit card, joking to the press that he hoped the card still works.
All that shopping must have built up an appetite. Before leaving Virginia, Obama made a final stop at a local pizzeria where Virginia Congressman Jim Moran (D) just happened to be in the area treating his staff to lunch. The president didn't forget his staff either, taking three pizzas back to the White House.
It's unclear if Mr. Obama will deliver the Christmas presents to his daughters in person this holiday. The White House has not said if or when the president would travel to join his family. While his family traveled to Hawaii ahead of the president who expected to have already joined them, he has vowed to stay in Washington until Congress passes a payroll tax cut extension.
Of the president's shopping outing, White House press secretary Jay Carney Wednesday told reporters, "sometimes it's nice to get out of the house."