Poll: Latinos in key states favor Clinton but have growing distrust of Democrats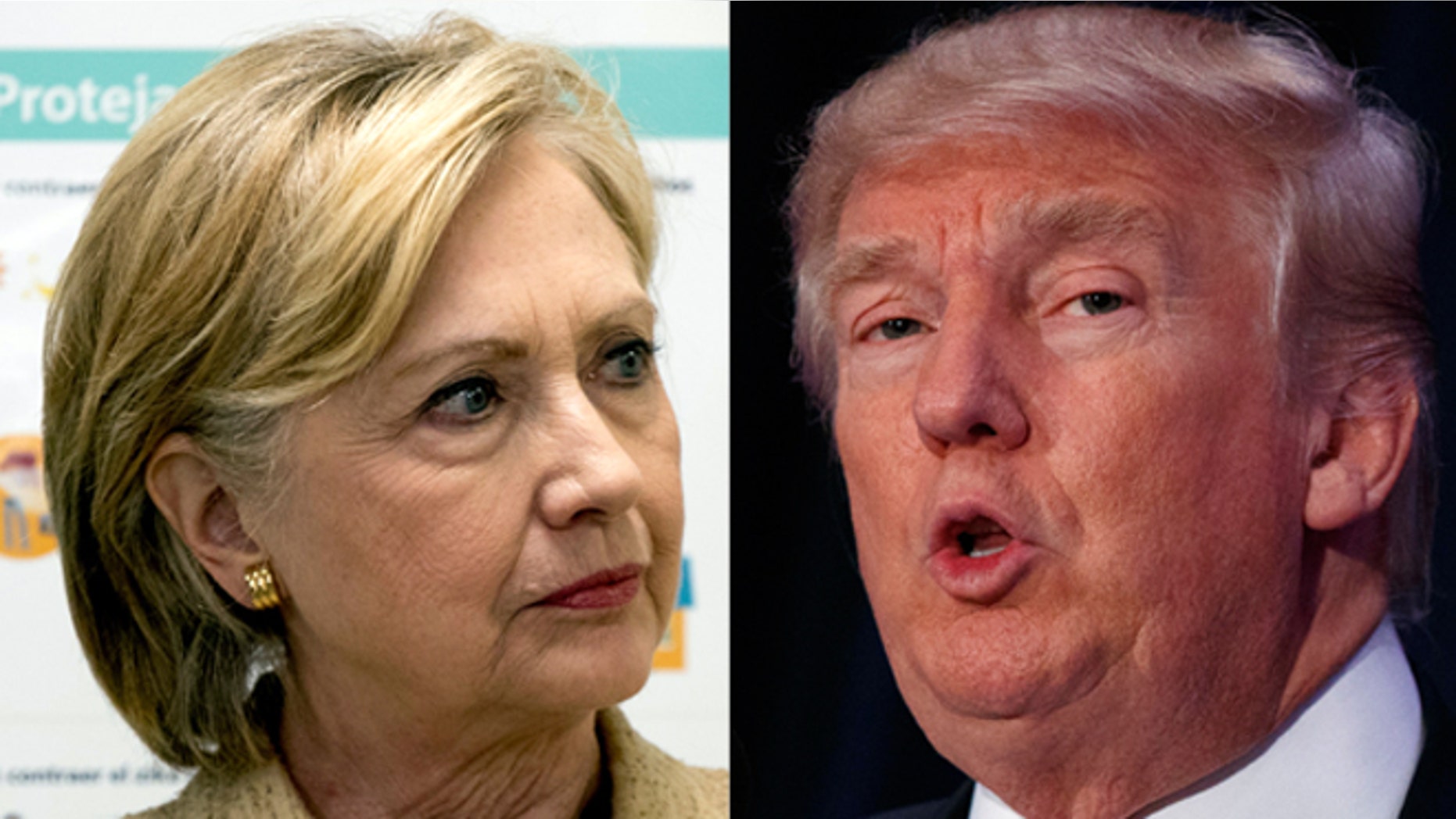 Latino registered voters in four key battleground states have a clear preference for Hillary Clinton over Republican presidential candidate Donald Trump, according to a new poll of Latino registered voters.
But the news isn't all good for the Democrats.
The results of the poll – conducted by Latino Decisions on behalf of the National Association of Latino Elected and Appointed Officials (NALEO) Educational Fund – show that Clinton has a commanding lead over Trump among Latinos in key battleground states, with a majority saying they will vote for her. The poll surveyed 400 Latino registered voters in Florida, Arizona, Nevada and North Carolina.
But nearly a third of them believe Democrats have not done enough to connect with the community, and some 7 percent believe the Democratic Party openly has been hostile to Latinos.
"Latinos feel ignored, taken for granted," said NALEO Educational Fund Executive Director Arturo Vargas in an interview with Fox News Latino. "They don't see a major investment on behalf of the party in California, New York or Texas, and those states alone have more than half of the Latino voters in the country."
Vargas said Democrats should take note of the poll, and not count on Republican candidates to keep alienating Latinos.
More than 60 percent of respondents in each of the four states said they have a favorable view of Clinton, while only roughly 22 percent said the same about Trump.
Even so, 28 percent of the people polled view Clinton negatively, but that pales next to Trump. Florida Latinos had a less unfavorable view of Trump than those in the other states, with 64 percent rather than 70 percent having an unfavorable view of him.
If the election were held today, 65 percent of Hispanics said they would vote for Clinton, while about 20 percent would vote for Trump.
If that level of support holds, Clinton would surpass the margin in Hispanic voters that President Barack Obama received in 2012, experts say, when GOP nominee Mitt Romney received only 27 percent of the Latino vote.
"This may be a historic low for a Republican [presidential] candidate with regard to receiving Latino support in a presidential election," Vargas said.
"This represents a complete erosion of Latino support for the Republican ticket in just 12 years, since George Bush got 44 percent of the vote from Latinos," Vargas went on. "I don't think [Trump] is going to break 20 percent, and many people think even that is high."
After the poor showing for Romney with Latinos, the GOP conducted a so-called autopsy in which party leaders concluded that the party had to change their tone and rhetoric regarding minority groups and improve its outreach efforts.
Many political experts attributed the low support among Hispanics to the hard line on immigration that Romney and other candidates espoused during the GOP primaries.
But four years later, the Latino Decisions poll found that only 15 percent say the GOP does an adequate job of reaching out to Hispanics. About 28 percent say they don't do enough, and nearly 40 percent believe the party is downright hostile to Latinos.
"With the tenor of this campaign, Trump is bringing down the party," Vargas said. "It would take the Republican Party reinventing itself, and the leadership distancing itself from Donald Trump."
"It also means giving leadership roles to Latinos in the Republican Party," he added
Cal Jillson, a political scientist at Southern Methodist University in Texas, told FNL that in normal elections, Latinos lean toward Democrats 2-to-1.
"There are Hispanic business people who stick with the Republican Party thick and thin, and there are social conservatives," Jillson said. "But in this election, it is hard to believe that you don't get more of a tilt for the Democrats than you have traditionally."
Jillson believes Clinton's support among Latinos could reach the mid-70s, percentage-wise.
And that would make it more challenging for Republicans to repair the damaged relationship and win Latino support in future elections, Jillson said.
"For the Republican Party, the lesson is that voting is a learning experience – you develop habits in voting," he said. "The more Hispanics grow accustomed to voting Democrat rather than Republican, the harder it is to turn them around, including for a 'reborn' Republican Party."