Phoenix speech: Trump rallies base on heels of Afghanistan plan, staff shakeups
President Trump returns to his comfort zone behind the podium in Arizona tonight for a campaign-like rally after some of the most challenging weeks of his presidency.
And, while a massive crowd of supporters gathered to cheer on the president at the Phoenix Convention Center -- where the fire marshal has set a capacity of 19,000 -- thousands of protesters converged on the city as well. Police officers formed a line in the middle of one street outside the convention center, separating the protesters and Trump supporters.
Though he has spent most of August at his golf club in New Jersey for a working vacation, the president has been consumed with crises in recent weeks.
That includes the escalation of rhetoric with North Korea, the violence in Charlottesville, Va., and more senior White House staff shakeups.
Trump's Tuesday evening speech at the Phoenix Convention Center also comes just one day after he announced plans to send more troops to Afghanistan – a reversal of his campaign promise to withdraw troops that follows of months of deliberations with advisers.
The president now returns to Phoenix, friendly territory where he held one of his first major campaign rallies in 2015 and wooed conservatives over the issue of illegal immigration. He vowed then to build a wall and have Mexico pay for it -- something that hasn't happened yet.
Sarah Sanders, the White House press secretary, suggested the president might use the rally to build on his Monday night speech on Afghanistan.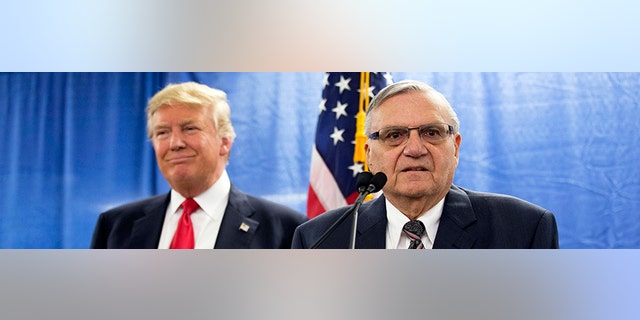 "I think the president always appreciates the opportunity and the ability to talk directly to the American people," she told reporters Tuesday. "I think we saw that last night, and that certainly was a great moment and a positive step forward. And I think that he'll continue to do that."
Up until Tuesday afternoon, it was believed Trump could announce a pardon at the rally for Joe Arpaio, the former sheriff in Maricopa County famous for his tactics in going after illegal immigrants in Arizona. Arpaio, convicted of a misdemeanor charge for not obeying a 2011 order from a judge to stop his anti-immigrant traffic patrols, faces sentencing on Oct. 5.
Trump told Fox News last week Arpaio doesn't "deserve to be treated this way." But during the flight on Air Force One to Arizona on Tuesday, the White House said the president would not be announcing a pardon.
"I can tell you that there will be no discussion of that today at any point, and no action will be taken on that front at any point today," Sanders said.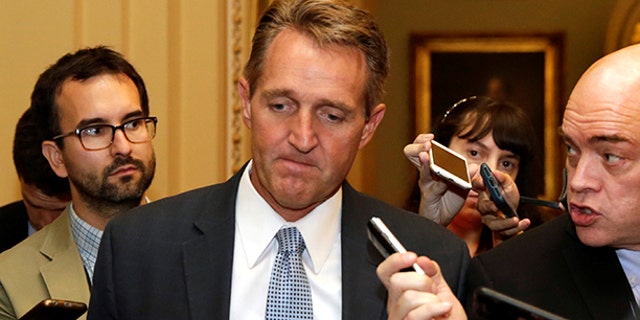 TRUMP WILL NOT PARDON ARPAIO AT PHOENIX RALLY, WHITE HOUSE SAYS
The rally has also attracted attention for other reasons.
Political observers will be watching to see if the president – who is often candid and bombastic at rallies -- attacks the state's two Republican senators, Jeff Flake and John McCain. Going after fellow Republicans could have real political consequences as Congress returns from its August recess and the president hopes to reach deals on tax reform, health care and the debt ceiling with lawmakers.
Flake, who has sparred with Trump on immigration, has been promoting a book that argues the GOP is in "denial" about the president.
In response, the president tweeted a supportive statement last week about Kelli Ward, a former Republican state senator who unsuccessfully ran against McCain in 2016 and is challenging Flake this year in the state's Republican primary.
"Great to see that Dr. Kelli Ward is running against Flake Jeff Flake, who is WEAK on borders, crime and a non-factor in Senate," Trump tweeted. "He's toxic!"
Meanwhile, McCain, a frequent Trump critic who was recently diagnosed with brain cancer, recently irked the president by voting against the Senate's recent plan to repeal and replace ObamaCare.
Trump's appearance is his first rally since the events this month in Charlottesville, where a 32-year-old counter-protestor was killed when authorities say a Nazi sympathizer drove his car into a crowd. The president has faced criticism for blaming "both sides" instead of just white nationalists.
Those events have led cities across the country to consider removing Confederate statues, something Trump has opposed.
The Democratic mayor of Phoenix, Greg Stanton, last week asked Trump to delay his rally.
"I am disappointed that President Trump has chosen to hold a campaign rally as our nation is still healing from the tragic events in Charlottesville," Stanton said. "It is my hope that more sound judgment prevails and that he delays his visit."
The rally also comes just days after Trump parted ways with Steve Bannon, his controversial White House counselor who has returned to leading the combative Breitbart News. Bannon, who kept a white board in his West Wing office of the president's campaign promises, has encouraged the president to keep his promises to the base, especially on immigration.
The Associated Press contributed to this report.