Vice President Mike Pence wrapped up his recent trip to Latin America on Thursday looking perhaps a little presidential.
The five-day tour through Colombia, Argentina, Chile and Panama -- which ended a day early, with the vice president expected to meet with President Trump at Camp David in Maryland on Friday -- was seen as another damage-control mission to help calm allies who may be on edge, similar to recent trips he made to Europe.
The purpose in Latin America was to give "a sign of the high importance [Trump] places on this region," a White House statement said.
"I will build on the good work that has been done throughout President Trump's Administration to bolster our shared economic and security goals," it quoted the vice president as saying.
But Pence also found himself forced to comment on events at home -- including the powder-keg situation in Charlottesville, Va., and the controversial comments that Trump made afterward. The vice president even felt compelled to address Thursday's terror attack in Barcelona.
The way Pence presented himself in Latin America has helped to further fuel rumors that he is poised to make a presidential run in 2020, as the New York Times reported earlier this month. The vice president vehemently denied the claims at the time, but news also surfaced this week that he launched a personal PAC in May, something no other White House second-in-command has done so soon into the job.
This week's trip, and how Pence handled his duties, may be an indication of his ambitions for 2020.
Sunday:
Pence met with Colombian President Juan Manuel Santos in Cartegena, where both commented on the political crisis in neighboring Venezuela.
"I've told Vice President Pence the possibility of military intervention shouldn't even be considered," Santos said during a joint news conference, an apparent reference to President Trump's comment that a "military option" was possible for the U.S. in Venezuela. "The Latin American continent, every country in Latin America, would not favor any form of military intervention and that is why we are saying we are intent on looking into other measures, some of which are already underway and others to be implemented in the future."
Pence weighed in with a measured response, saying the U.S. has "many options" for Venezuela and that the administration would work with its Latin American allies toward "a peaceable solution."
"In Venezuela, we're seeing the tragedy of tyranny play out before our eyes," he said. "Venezuela is sliding into dictatorship, and as President Trump has said, the United States will not stand by as Venezuela crumbles."
The vice president also commented on the situation in Charlottesville, calling out the media for criticizing Trump over comments he made about "both sides" inciting violence. But Pence also called the white nationalists at the rally to task — something the president was slow to do.
"We have no tolerance for hate and violence from white supremacists, neo-Nazis or the KKK," Pence said. "These dangerous fringe groups have no place in American public life and in the American debate, and we condemn them in the strongest possible terms."
Monday:
Pence visited the Calvary Chapel in Cartagena, where he met with faith leaders and Venezuelan families. His wife, Karen Pence, helped lead a prayer circle, where she prayed for "comfort to the Venezuelan refugees."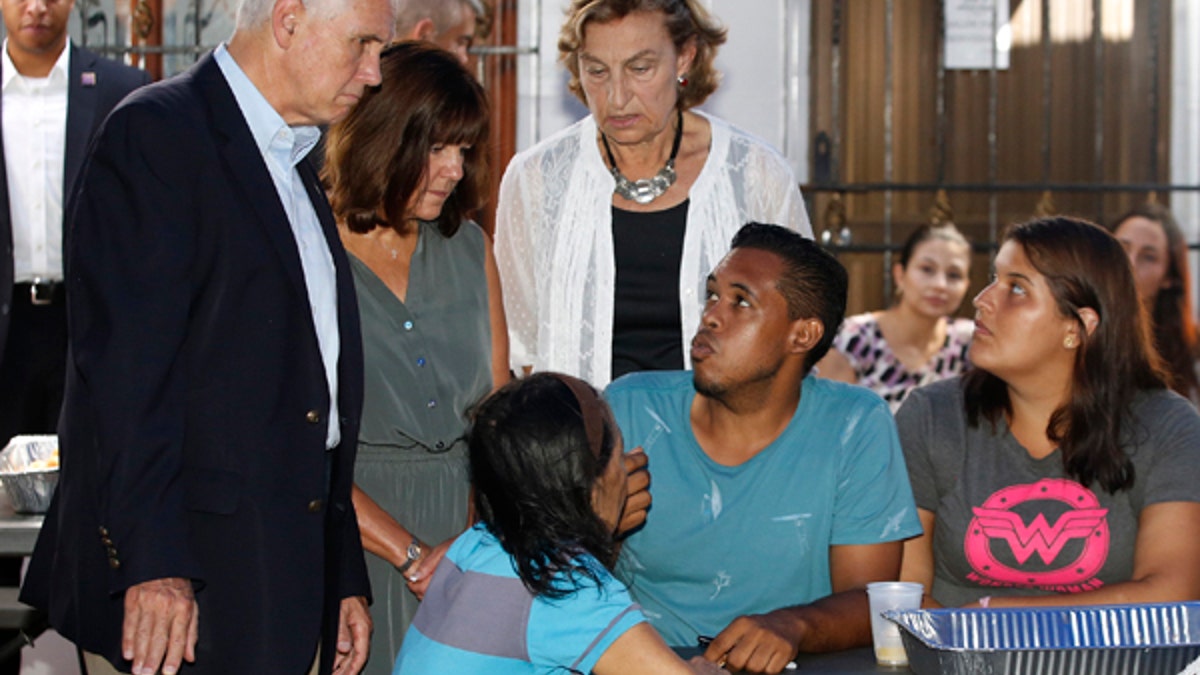 The vice president and his wife also spent time with the migrants, listening to their emotional stories. Reporters were not able to hear their conversations, but watched the vice president comfort several women, including at least one who was seen wiping away tears.
He said he heard "heartbreaking" stories of their struggle for food and doubled down on statements he made the previous day.
"President Trump's made it very clear we will not stand by while Venezuela collapses into dictatorship," Pence said, arguing that "a failed state in Venezuela threatens the security and prosperity of our entire hemispheres and the people of the United States."
Tuesday: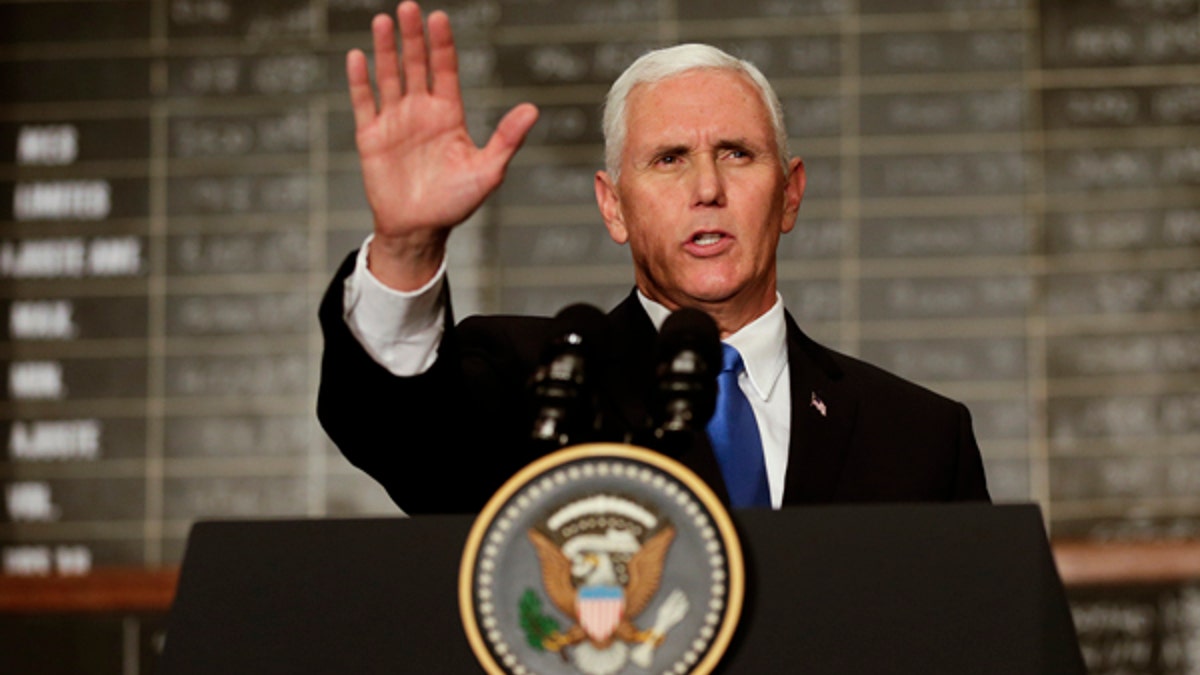 Pence met with Argentine President Mauricio Macri in Buenos Aires and praised the leader for his "bold reform agenda," hailing the country as a model for the region, in contrast to the downward spiral of Venezuela.
While speaking at the city's old stock exchange building, Pence attempted to reassure Argentina that Trump's "America First" policy does not mean "America alone," arguing that a more prosperous Latin America will lead to a more prosperous U.S.
"When Latin America embraces economic reforms, Latin America succeeds and so does the United States," he said.
Wednesday:
Pence headed to Santiago, Chile, for a meeting with President Michelle Bachelet. Although the vice president was not scheduled to take questions from reporters, he came to Trump's defense when asked about comments on Charlottesville that the president made a day earlier at Trump Tower.
When asked whether he agrees with Trump that there were good people among the white supremacists who protested in Charlottesville and whether, as the president said, there was blame on both sides, Pence said, "What happened in Charlottesville was a tragedy." He pointed to comments he'd made Sunday night, saying: "I stand with the president, and I stand by those words."
Earlier in the day, Pence also called on Chile to "break all diplomatic and commercial ties" with North Korea.
The vice president also announced he would cut his trip short by one day, so he can attend a meeting at Camp David on Friday with Trump and the president's national security team.
Thursday:
The vice president made Panama the final stop on his tour. He visited the newly expanded Panama Canal after delivering public remarks in response to the terror attack in Barcelona that killed at least 13 people and left more than 80 wounded.
"Whoever is responsible should know the United States of America, along with our allies, will find and punish those responsible and drive the evil of radical Islamic terror from the face of the Earth," Pence said.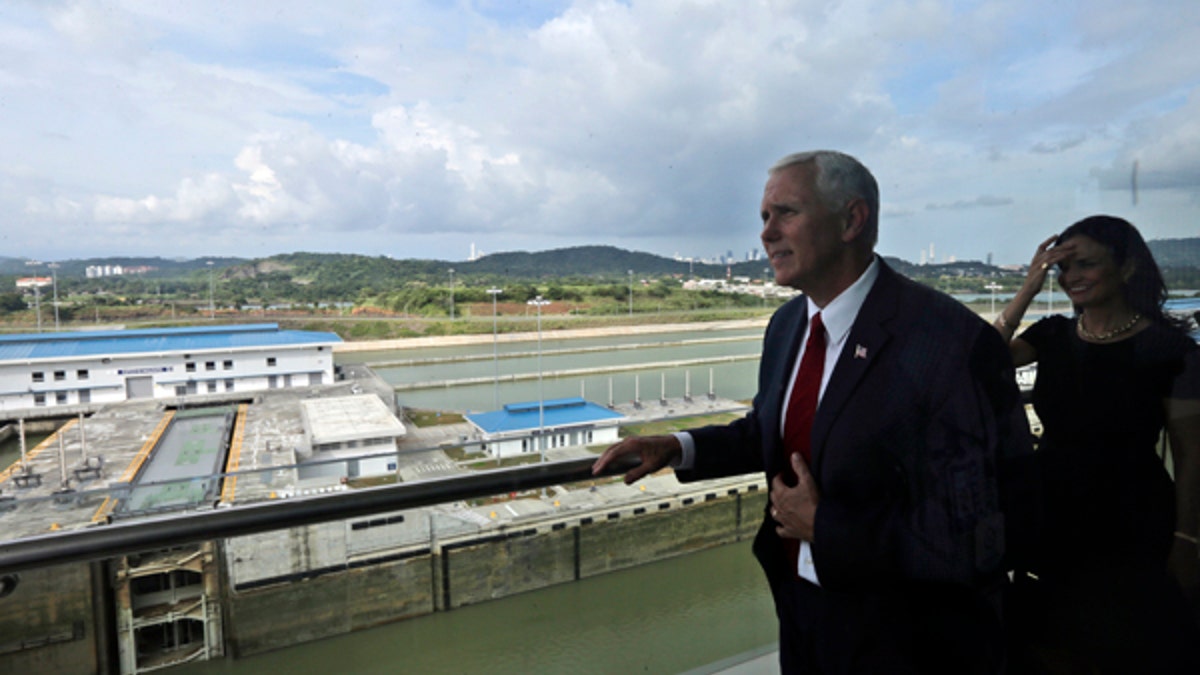 The Associated Press contributed to this story