Pence's conservative history on immigration echoes Trump's hard-line stance on issue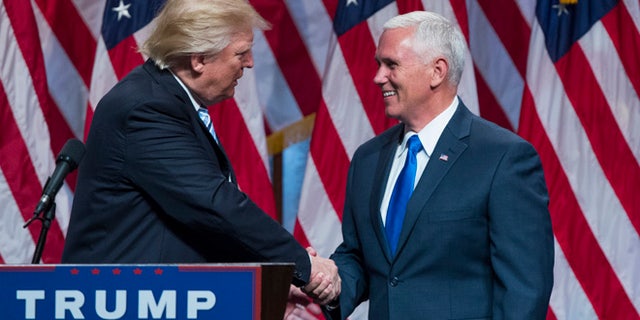 NEWYou can now listen to Fox News articles!
WASHINGTON (AP) – Indiana Gov. Mike Pence's conservative track record on immigration dates to his earliest days in the U.S. House and echoes the hard-line stance of Republican presidential candidate Donald Trump, who chose Pence as his running mate.
During his dozen years in the House, Pence lent his support to numerous bills aimed at overhauling the immigration system, including a limit on the number of visas issued to each country and efforts to allow individual states to stand up border-patrol militias and to define English as the country's official language. And he supported building a border fence nearly a decade before Trump made such a pledge a cornerstone of his campaign for the White House.
In 2005, Pence joined efforts to pass a sweeping immigration bill that was among the first to propose hundreds of miles of fencing along the Mexican border. It also proposed a $3,000 fine for immigrants living in the country illegally who agreed to leave and then stayed. It created punishments for aiding an immigrant living in the country illegally. The proposal was approved by the House, but failed in the Senate.
A year later he supported the successful Secure Fence Act of 2006, a narrower bill focused on border security that ultimately led to the construction of nearly 700 miles of border fencing.
Pence said on Wednesday that he supports Trump's "vision for the country" when asked about Trump's proposal to build a wall at the Mexican border.
"I think as President Ronald Reagan said, a nation without borders is not a nation," Pence said. "I think it's absolutely essential that we have border security and I have strongly supported that throughout my career. We have to get the border under control and I support Donald Trump. I think he's got the right vision for this country."
Pence co-sponsored the Good Fences Make Good Neighbors Act of 2006, a bill to let border states use federal grant money to build "a physical barrier" near the Mexican and Canadian borders to stop illegal immigration.
A year earlier he supported a proposal to let border states launch militias whose members could make arrests.
Pence has also signaled support for a changes to immigration law that would redefine which children born in the United States would automatically become citizens.
He supported a bill in 2007 and again in 2009 that would have limited automatic citizenship to children who have at least one parent who is a U.S. citizen, legal permanent resident or is serving on active duty in the military.
A 2005 version of the bill that he supported called for automatic citizenship for children whose parents were married, so long as one of the parents was a citizen or legal resident. In cases of unmarried parents, the child's mother had to be a citizen or legal resident.