Paul campaign slams CNN, says emails show reporter 'colluding' with Clinton aide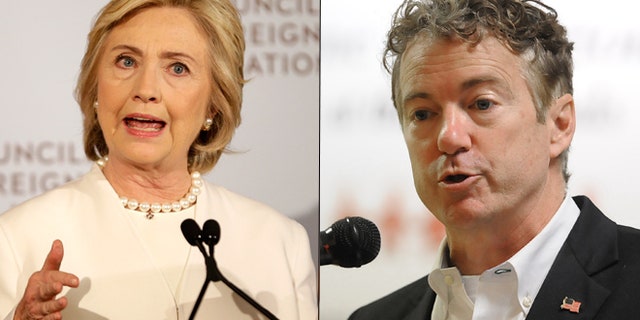 NEWYou can now listen to Fox News articles!
Rand Paul's presidential campaign slammed CNN on Wednesday after emails were released that the campaign claimed showed a reporter "colluding" with a Hillary Clinton aide to "attack" the Kentucky senator.
The CNN global affairs correspondent, Elise Labott, already has been suspended over a separate incident – a tweet last week criticizing a House bill limiting Syrian refugees. But her communications with then-Clinton State Department official Philippe Reines turned up Tuesday in a batch of emails obtained and published by Gawker.
In those January 2013 emails, Reines appears to give Labott suggestions for tweets. Phil Kerpen, president of the conservative American Commitment, first flagged the exchange about Paul.
In it, Labott shares the following tweet, in reference to Clinton's Benghazi committee testimony, with Reines.
Sen Paul most critical on committee of Clinton, but a little late to the #Benghazi game.Not sure he was at many of the 30 previous briefings

— Elise Labott (@eliselabottcnn) January 23, 2013
This was right after she asked Reines whether he was sure Paul wasn't "at any hearings."
The Paul campaign on Wednesday said CNN's correspondent was working with Reines to discredit Paul, and called on the network to "address" the "bias" exhibited – particularly ahead of a CNN-hosted debate next month.
"The liberal media has taken their Clinton sycophancy to a new low. CNN needs to address this bias and lack of journalistic integrity," Doug Stafford, Paul's chief strategist, said in a statement. "This email revelation should give Republicans pause as to their coverage and possibility of fair treatment towards Sen. Paul during the next debate. All eyes will be on CNN's response to their employee colluding with Hillary Clinton in order to attack a prominent U.S. senator on their dime."
The campaign specifically cited a Daily Caller report that said the reporter coordinated with Reines.
A representative with CNN has not responded to a request for comment.
Kerpen said on Twitter, as he posted screenshots of multiple email exchanges, that Labott "Tweets on request!"
Another exchange from Jan. 23 showed Reines telling Labott: "I suggested a good Tweet."
Labott asks what he suggested, and Reines responds, "Pin."
This may have been a reference to a BlackBerry messaging system. Labott tells Reines she put her BlackBerry "near the window" and "will get back to you."
A few minutes later, she writes, "Done."
The tweet sent in that time period was: