Palin rips Michael Moore, PETA at Iowa summit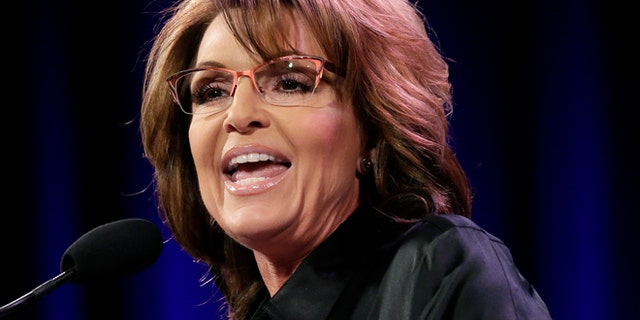 NEWYou can now listen to Fox News articles!
DES MOINES, Iowa – Sarah Palin had choice words Saturday for director Michael Moore following his criticism of the movie "American Sniper" and its subject, the late Navy SEAL Chris Kyle.
At the Iowa Freedom Summit, a gathering of high-profile conservatives in Des Moines, she said the director deserved the backlash he got.
The former Alaska governor recently posed for a photo with Medal of Honor recipient Dakota Meyer who held up a sign that read, "F--- you Michael Moore." Palin, chuckling, told the Iowa audience that "what the poster said is what the rest of us are thinking."
The sign was in response to a tweet in which Moore called snipers cowards: "My uncle killed by sniper in WW2. We were taught snipers were cowards. "
Since then, Moore clarified his comments on his Facebook page and said his comment was in reference to snipers, but that he was not specifically commenting on the film "American Sniper."
Palin also took PETA to task for recent criticism against her for posting a picture of her son stepping on the family's dog to reach the kitchen sink.
"The usual suspects, they just went loco," Palin said. "Barking their tired old death threats against us. And I'm thinking, get in line!"
She referred to the organization as "a bunch of weasels" and joked that at least her son Trig did not eat the family dog.