Obama's Stimulus Visit Results in Lost Payday for Construction Workers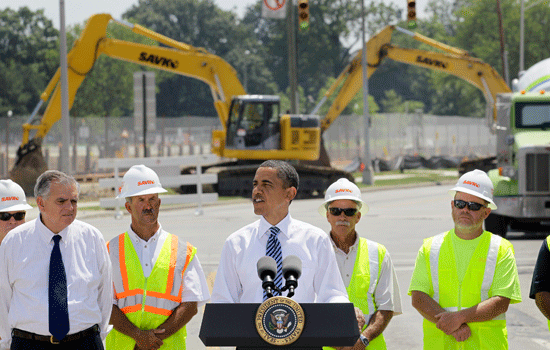 President Obama went to the groundbreaking of a road project in Columbus, Ohio, Friday to show that his massive stimulus package is still churning out jobs -- a "good news" story that was anything but for some construction workers who were trying to figure out how to make up for the payday they lost due to the president's visit.
The workers were told not to report to their construction project at a nearby hospital Friday, because the Secret Service was shutting it down for security reasons. They also were told that they would not get paid for the forced day off.
"We always do our very best to balance the needs of security with the needs and requirements of the venues we're securing," Secret Service spokesman Ed Donovan said in a written statement of FoxNews.com. "Any interruption in activity that we request is not done arbitrarily and only if absolutely necessary."
"The bosses told us we weren't working because the president is coming, and we are wondering why," construction worker George Harrison told WBNS-10TV. "That's $200 we are missing out on. Everybody needs to eat, right?"
One construction worker told the local TV station that he's "glad the president's coming but I sure would like to make that money."
The White House said the workers will get a chance to recoup their losses.
"While security concerns surrounding a presidential visit necessarily cause some disruption, we're heartened by our understanding that, even if delayed by a day, workers will have the opportunity to complete their scheduled work on these projects," White House spokesman Matt Lehrich said in a written statement to FoxNews.com.
Some of the workers reportedly were used to build security barricades along the intersection that served as Obama's stage.
Turner Construction Company, which manages the site that was shut down for the day, didn't respond to requests for comment.
One construction worker focused on the bright side to the president's visit.
"Three-day weekend. I can't complain," Rob Devlin told the station.