Obama's Delay on Troop Request for Afghanistan Stirs Criticism of War Strategy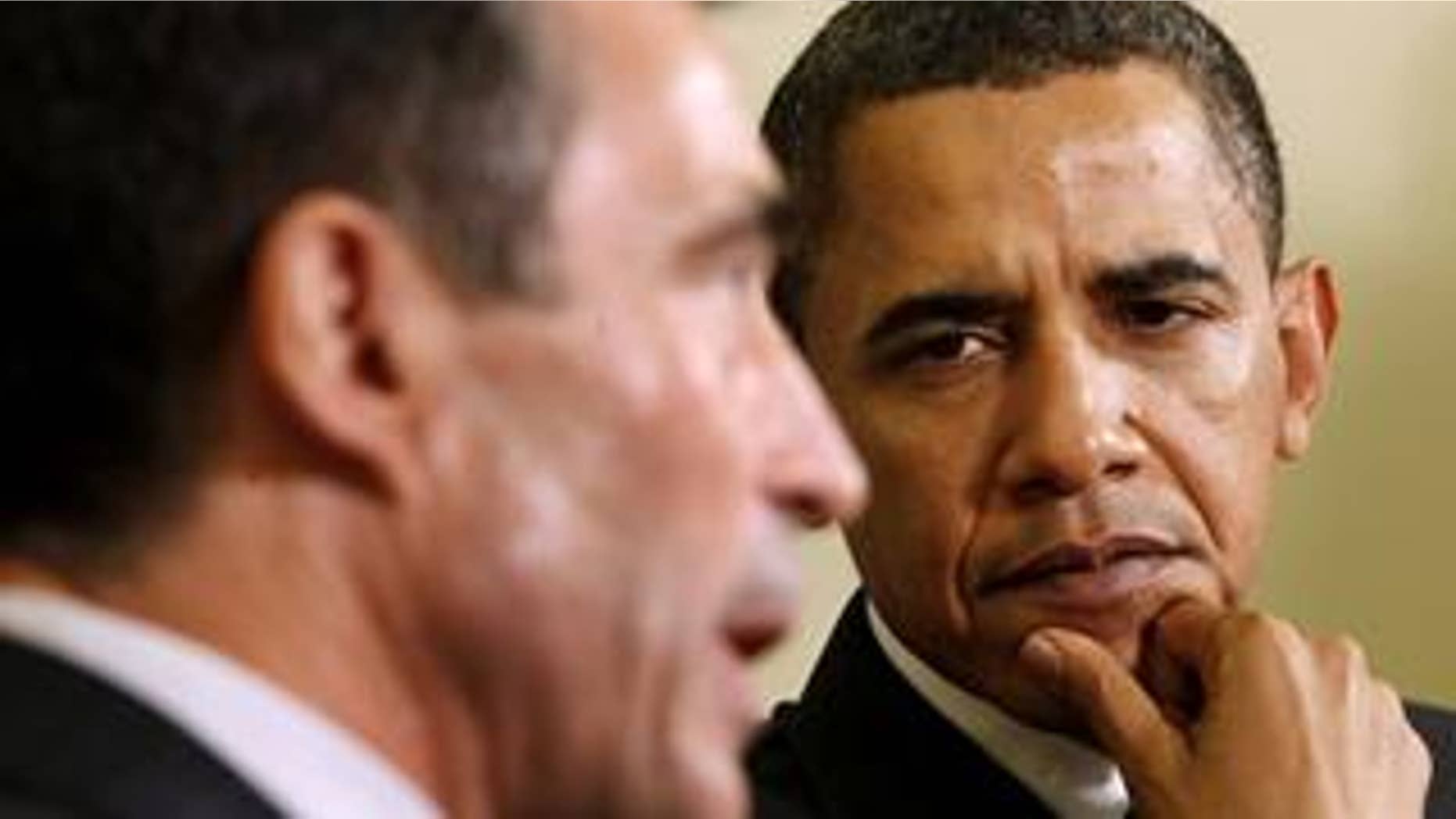 Is this any way to run a war?
Critics are lambasting President Obama for hitting the pause button on the war in Afghanistan, making U.S. commanders seeking thousands more troops there wait for a decision as he tries to get the "strategy right first."
"The commander in chief is the commander in chief, period," said retired Army Lt. Col. James Carafano, a senior fellow at the conservative Heritage Foundation. "You can't fight a war from Washington D.C. There's only one way this works: You have trust and confidence in the leaders on the ground, or you don't."
Some critics are going so far as to ask whether Obama is more concerned with finding a political strategy to ensure his re-election than he is in finding a military strategy to win the eight-year war.
That question has been raised after Gen. Stanley McChrystal, the top general in Afghanistan, revealed Sunday that he has spoken to the president only once since he took command in May.
"It is nutty," said Bing West, a former Marine and defense official in the Reagan administration. "Obama is stuck with his war of necessity yet he can't bring himself to face the fact he doesn't even know his commander in the field!"
McCrystal wants up to 40,000 additional troops to execute a counterinsurgency strategy in Afghanistan, focusing on protecting the population.
In his Aug. 30 classified assessment, McChrystal said that if he doesn't get more troops within the next year, the war in Afghanistan will "likely result in failure."
The White House is not expected to consider McChrystal's request for at least two weeks, after it has decided what strategy to pursue, a senior military official said.
Obama began a series of meetings Tuesday with his national security team to consider what to do about the increasingly unpopular war.
Among those expected to attend a meeting on Wednesday will be Vice President Biden, Defense Secretary Robert Gates, Adm. Mike Mullen, the chairman of the Joint Chiefs of Staff, Secretary of State Hillary Clinton and McChrstal via video teleconference.
Some say Obama's slow-but-steady approach is the right one for this conflict. Anders Fogh Rasmussen, chief of the North Atlantic Treaty Organization, said Tuesday that Obama is right to decide "strategy first and then resources" for Afghanistan.
"The first thing is not numbers," Fogh Rasmussen said. "It is to find and fine-tune the right approach to implement the strategy already laid down." He said leaders have an obligation to think about more than just the numbers McChrystal is requesting.
Gen. Richard Myers, the former chairman of the Joint Chiefs of Staff, told FOX News that the troop request is not the only element Obama and his advisers must consider as part of their strategy.
"Certainly security is a very important element of whatever strategy they finally decide is appropriate in Afghanistan," he said. "But you also have to consider the political diplomatic piece of the strategy, the economic piece of the strategy, and they all have to go hand in hand if we're going to be successful in Afghanistan."
Myers said he wasn't surprised that Obama hasn't spoken to McChrystal more than once.
"The president gets advice not only from Gen. McChrystal but Gen. Petraeus, the Joint Chiefs of Staff, from Secretary Gates, and you have to believe that's going on all the time whether or not he's talking directly to Gen. McChrystal.
"Gen. McChrystal's thoughts and advice is being pushed up to the president through the chain of command. And so I don't find it all that surprising."
White House spokesman Robert Gibbs said Tuesday he doesn't think Obama has spoken to McChrystal since he issued his report on Aug. 30, but he added that Obama reads a daily memo from him and Gen. Ray Odierno in Iraq updating him on both wars, and the president meets regularly with Gates and Mullen.
Gibbs said Obama is obligated to get the policy right first before deciding whether to send additional troops.
"I think he owes that to the men and women in uniform that are there. He owes that to the men and women in uniform that could go, and he owes that to each and every American," Gibbs said.
Asked about the pushback Obama is receiving from some liberal Democrats, Gibbs said, "The president isn't going to make a political decision. The president is going to make a decision that he feels is in the best interest of the United States' national security. The president is happy to hear the back and forth from both sides on this, but he's going to take his time to decide what is right for the American people."
West said he doesn't believe politics is behind Obama's delay.
"I think this White House, like most White Houses, gets in this cocoon and thinks it's smarter than everyone else," he said, asserting his belief that the White House was caught off guard when McCrystal's assessment was leaked.
"Then, instead of moving ahead at a brisk pace, the White House tried to show it's more clever" by saying it wanted to find the right strategy first, West said.
"Just saying you're going to discuss strategy without resources is ridiculous," he said.
Carafano said the White House assertion that it is looking for the right policy is "a really bad statement because it sounds like managing a war rather than winning a war."
"Imagine FDR after Pearl Harbor saying we won't get involved in World War II until we get the strategy right," he said. "How much time do you need? You've been president for (nine) months."
"Every day you delay is a day you're equivocating to Al Qaeda, to the Taliban, to Pakistanis, Afghanis and NATO," he added. "Every day you wait, the problem gets harder."
Senate Minority Leader Mitch McConnell, R-Ky., urged Obama on Tuesday to make a swift decision and explain why he accepts or rejects McChrystal's plan.
"Timing is important," McConnell said on the Senate floor. "A failure to act decisively in response to General McChrystal's strategy, and his anticipated request for additional forces, could serve to undermine some of the good decisions the president has made on national security."
He also called on McChrystal and Petraeus to testify before Congress.
"A counterinsurgency strategy will require a significant investment in time, troops, and resources," McConnell said. "We need an explanation from our generals why that investment is needed."
Sen. John McCain, R-Ariz., said he would talk to McChystal more often if he were president -- just "out of idle curiosity" -- and said he would support McChrstal's request for up to 40,000 troops.
"If we don't, then we are facing disaster as Gen. McChrystal has described," McCain told FOX News on Monday. "We can't do half measures. Time is not on our side."
"I understand the president's dilemma and I sympathize with the fact it's the left base of his party and a lot of other factors politically and otherwise that he has to consider," he added. "But I would absolutely agree with that. And those who are opposing it are the same people that said the surge wouldn't work."