Obama's Adviser: Afghanistan Not In Imminent Danger of Falling to Taliban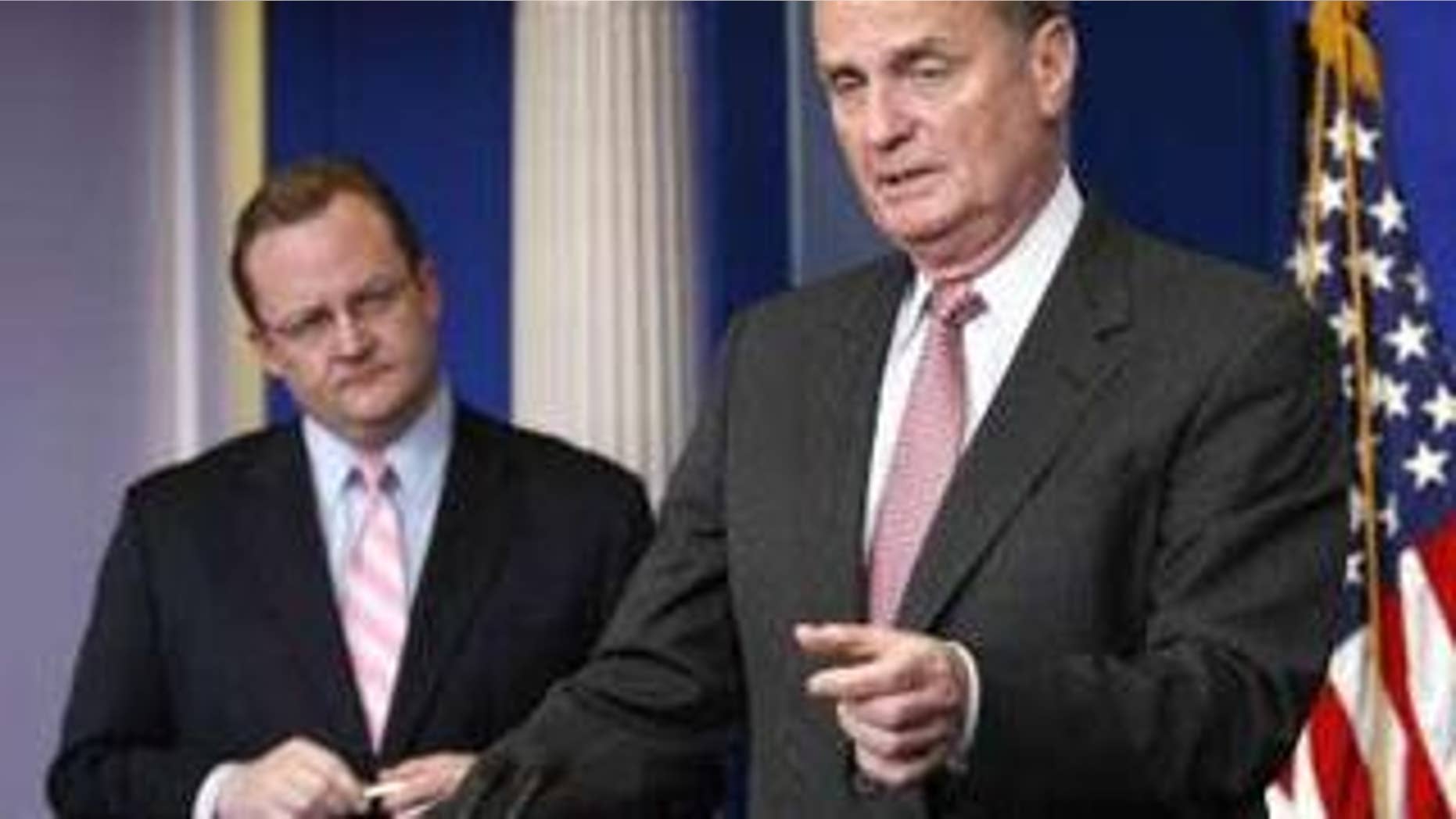 Afghanistan is not in imminent danger of falling to the Taliban, President Obama's national security adviser said Sunday as he downplayed worries that the insurgency could set up a renewed sanctuary for Al Qaeda.
Retired Gen. James Jones made the comments after eight U.S. soldiers were killed near the Pakistan border and as many as seven Afghan forces in one of the fiercest battles of the eight-year war. On Saturday morning, several hundred militant fighters streamed from an Afghan village and a mosque and attacked a pair of remote outposts.
Jones said the government of Afghan President Hamid Karzai must improve and give hope to the people of Afghanistan. He added that he believes the government has a chance to succeed, with the aid of a strong effort by the U.S. to train the Afghan army and police.
"I don't foresee the return of the Taliban. Afghanistan is not in imminent danger of falling," Jones said on CNN's "State of the Union."
"The Al Qaeda presence is very diminished," he said. "The maximum estimate is less than 100 operating in the country, no bases, no ability to launch attacks on either us or our allies."
Jones' view differs from that of the top U.S. commander in Afghanistan. Army Gen. Stanley McChrystal has called for an infusion of thousands more U.S. troops, saying that insurgents are gaining strength in Afghanistan and that the U.S. is in danger of failing if more forces are not sent to the fight.
Senators appearing on "FOX News Sunday" were divided on whether to send more troops.
Sen. Evan Bayh, D-Ind., said he would support a troop increase if it leads to a strong central government and competence Afghan police force.
"But there's a real question, given the lack of history in that country of a strong central government -- it's riddled by corruption and incompetence today -- about whether that ultimate goal is achievable or not," he said.
Sen. Lindsey Graham, R-S.C. said no troop increase would guarantee more violence and instability.
"The one thing I can tell you, if we don't add more troops, you're going to see more of what happened yesterday," he said, referring to the battle that left eight U.S. soldiers dead. "The security situation's going to get worse. And any hope of better governance is lost, and the Taliban will re-emerge."
Jones said the Karzai government must achieve progress on economic development and must show it can govern without corruption and follow the rule of law.
Obama is considering a range of ideas for changing course in Afghanistan, including pulling back, staying put and sending more troops to fight the insurgency.
On a different topic, Jones also weighed in on the difficulties facing the Obama administration to fulfill Obama's deadline to shut down the Guantanamo detention center for suspected terrorists.
But Jones said administration officials are hard at work on it but acknowledged that meeting Obama's deadline to close the facility by Jan. 22 is proving harder than officials first thought.
Jones says it's clear that Guantanamo must close -- because of the symbol it's come to represent.
Jones says Obama has made a commitment to close it and the adviser says he still hopes the administration can meet that deadline.
Senior administration officials have told FOX News that difficulties in completing the lengthy review of detainee files and resolving other tough questions mean the president's promised January deadline may slip.
The Associated Press contributed to this report.