Obama ventures into swamp, and enemy political territory, to deliver Earth Day message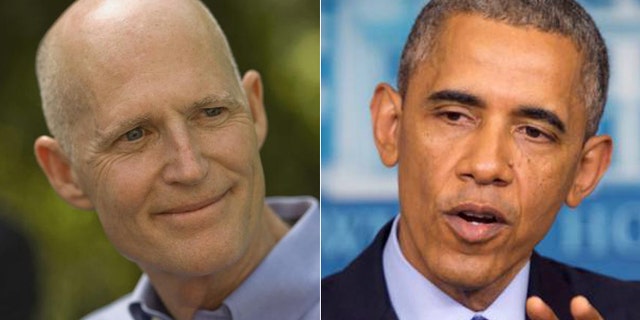 NEWYou can now listen to Fox News articles!
Florida's Everglades provided the backdrop for President Obama's Earth Day message on global warming, but the not-so-subtle choice of the Sunshine State, where Gov. Rick Scott is a well-known climate change skeptic, also meant the warning was sent from the backyard of a high-profile opponent of White House environmental policy.
Speaking from swampy wetlands prowled by alligators, Obama warned Wednesday of the damage he says climate change is already inflicting on the nation's environmental treasures -- and to hammer "deniers" like Scott who he says are doing far too little about it. The trip to Everglades National Park marked an attempt to connect the dots between theoretical arguments about carbon emissions and real-life implications as Obama's climate change agenda is under attack in Washington and courthouses across the U.S.
"We do not have time to deny the effects of climate change."
"We do not have time to deny the effects of climate change," Obama said. "No where is it going to have a bigger impact than here in South Florida."
At an outdoor appearance moved inside due to weather conditions, Obama said Scott's constituents are suffering from man-made global warming.
"Here in the everglades you can see the effect of a changing planet," he said. "This harms freshwater wildlife. The salt water flows in aquifers that flows into the drinking water of 7 million south Floridians."
Scott, one of the more vocal skeptics of man-made global warming and a not-so-subtle target of the address, was nearly 500 miles away, in Florida's capital, his spokesperson said. The Republican governor has attracted national attention over his resistance to acknowledging man-made causes of climate change head-on, and some state employees have charged Scott's administration banned them from using the terms "climate change" and "global warming." Scott has denied any such policy, but Obama made reference to it without mentioning Scott by name.
"Refusing" to say the words "climate change" doesn't mean it's not happening, Obama said.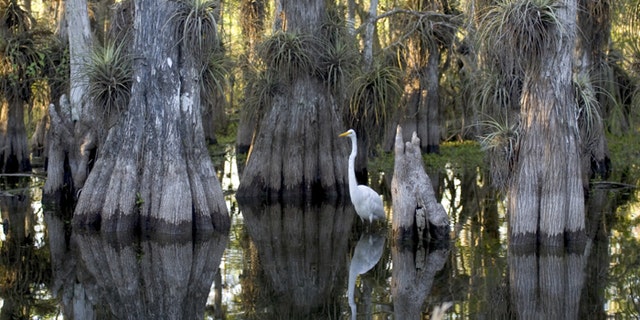 Prior to Obama's visit, Scott sought to put the blame on Washington and Obama in particular for leaving the state on the hook for the Everglades' repair, even though it's Congress -- not Obama -- who controls the federal purse strings.
"Our environment is too important to neglect and it's time for the federal government to focus on real solutions and live up to their promises," he said in a statement.
Unable to persuade Congress to act on climate, Obama has spent much of his second term pursuing executive actions to cut carbon greenhouse gas emissions in the U.S. and abroad. Yet even as Obama looks to his legacy, climate issues are shaping up to take on their own role in the burgeoning 2016 presidential campaign, in which two Florida Republicans -- Sen. Marco Rubio and former Gov. Jeb Bush -- are either running or actively considering it.
The Associated Press contributed to this report