Obama Tees Up New Fight With GOP Over Consumer Bureau Nominee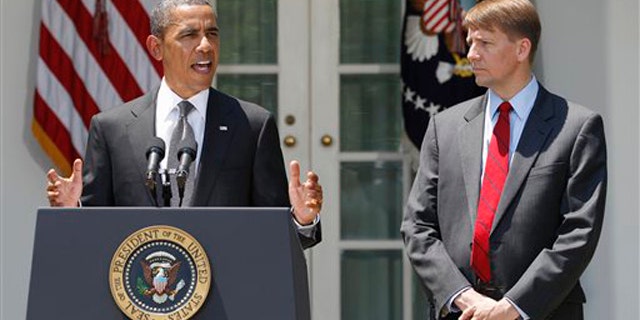 NEWYou can now listen to Fox News articles!
President Obama nominated a long-awaited director Monday for his new consumer protection bureau, teeing up a fight between his administration and Republicans who want that agency fundamentally changed.
"We're not going to go back to a time when our whole economy was vulnerable to a massive financial crisis," Obama said Monday, as he announced his choice. "That's why this bureau matters."
The president tapped former Ohio Attorney General Richard Cordray to head the Consumer Financial Protection Bureau. In doing so, he passed over Treasury adviser Elizabeth Warren, a favorite of the left. But Warren and Obama made clear Monday that Cordray has their full support and called on Republicans to drop their opposition to the new group.
Obama pledged to "fight any effort to repeal or undermine" the bureau.
"This agency still has enemies in Washington, D.C.," Warren wrote on the White House blog. "I remain hopeful that those who want to cripple this consumer bureau will think again and remember that the financial crisis ... began one lousy mortgage at a time."
She called Cordray a "strong leader" for the agency and noted that the bureau will start Thursday putting "cops on the beat" by reaching out to 111 big financial institutions to start monitoring them.
But Republicans were not appeased by Obama's decision to pass over Warren for the top spot.
"Until President Obama addresses our concerns by supporting a few reasonable structural changes, we will not confirm anyone to lead it. No accountability, no confirmation," Sen. Richard Shelby, R-Ala., ranking Republican on the Senate Banking Committee, said in a statement.
Republicans fought fiercely against the creation of the bureau last year and have been trying to place restrictions on the agency. In May, all Senate Republicans joined in a letter to Obama threatening to withhold their support for any nominee to the position if the White House didn't seek significant changes to the agency.
Among the changes would be to replace a single director with a board and to make the bureau's finances subject to congressional approval.
"The White House has not yet addressed the need to bring accountability and transparency to the bureau," Don Stewart, a spokesman for Senate Republican leader Mitch McConnell, said Sunday.
Though Democrats control the Senate, Republicans could block the appointment through a filibuster. Warren warned about this possibility in her blog Monday.
In pushing for changes in financial regulations last year, Obama focused on the popular appeal of a consumer bureau, which he had proposed as an independent agency. It was during that debate that Obama referred to bankers as "fat cats," a characterization he has since abandoned.
The regulatory overhaul was a response to the financial crisis of 2008 that helped plunge the country into a recession.
In a compromise, the consumer agency was placed within the Federal Reserve, but will act autonomously from the central bank.
In his statement, Obama thanked Warren "for her many years of impassioned leadership, and her fierce defense of a simple idea: ordinary people deserve to be treated fairly and honestly in their financial dealings."
Obama also said: "This agency was Elizabeth's idea, and through sheer force of will, intelligence, and a bottomless well of energy, she has made, and will continue to make, a profound and positive difference for our country."
Meanwhile, Warren may be courted to run for Senate in Massachusetts against freshman GOP Sen. Scott Brown. Majority Leader Harry Reid, D-Nev., has reportedly been courting Warren to make a go of it.
The Associated Press contributed to this report.