Obama: Republicans Will Have to Learn to Get Along With Me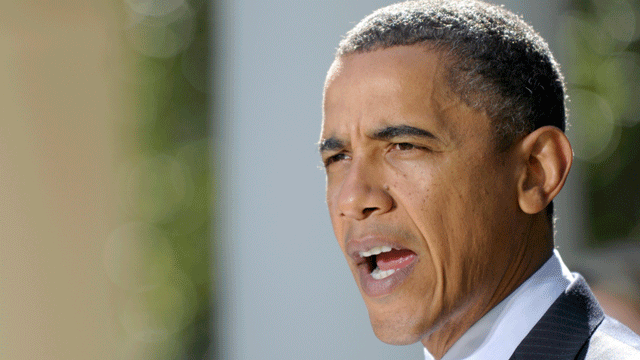 President Obama reveals in a magazine article that he is weighing what to do if Republicans win the House majority next month, and has come up with a novel approach: Make the GOP work with him.
In a seeming twist on the post-1994 midterm calculation made by President Bill Clinton -- when Republicans pummeled Democrats in the congressional election -- Obama said he thinks Republicans will have to move in his direction no matter the outcome of the Nov. 2 vote.
"It may be that regardless of what happens after this election, they feel more responsible," he is quoted saying in the Sunday edition of The New York Times Magazine, "either because they didn't do as well as they anticipated, and so the strategy of just saying no to everything and sitting on the sidelines and throwing bombs didn't work for them, or they did reasonably well, in which case the American people are going to be looking to them to offer serious proposals and work with me in a serious way."
Accusing the public of mistaking his abilities, the president also told the magazine that he's a little taken aback that voters are disappointed with the current turn of events in his administration.
"The mythology has emerged somehow that we ran this flawless campaign, I never made a mistake, that we were master communicators, everything worked in lockstep," Obama is quoted saying. "That's not how I look at stuff, because I remember what the campaign was like. And it was just as messy and just as difficult. And there were all sorts of moments when our supporters lost hope, and it looked like we weren't going to win. And we're going through that same period here."
The inside-the-White-House account of trouble and turmoil in the administration comes 20 days before the midterm election and is sure to deflate Democrats reluctant to hear the president detailing mistakes from his first 20 months in office.
"It's pretty clear to me based on this interview that the president is saying, 'I've given up, You're on your own,'" said Democratic strategist Doug Schoen.
Among the regrets the president said he felt during the 111th Congress is letting Republicans make him out to be "the same old tax-and-spend liberal Democrat."
Obama said he also realized too late that "there is no such thing as shovel-ready projects," a familiar refrain made by the president when he was trying to sell the stimulus package.
"There are almost 100 shovel-ready transportation projects already approved," he said in August 2009. As recently as July of this year, he said, "Shovels will soon be moving earth and trucks will soon be pouring concrete."
White House spokesman Robert Gibbs, who was present during the interview, said Wednesday that he does not think the president was making predictions about the coming election.
"There's no postmortems that are going on here ... People are focused on what we have to do each day," he said.

But Schoen said Democrats fighting for their political lives know they have to keep a distance.
"Right now what I'm hearing from Democrats is the president is only useful for fundraising," he said.
Another regret expressed by the president was his failure to communicate effectively. Obama said he and his team took "perverse pride" in focusing only on policy while ignoring the sales pitch to the public.
He said he realizes now that "you can't be neglecting of marketing and PR and public opinion."
But former Bush White House Press Secretary Ari Fleischer said the message isn't the problem.
"I think he's more out of touch than anybody ever thought if he believes the problems are from marketing and not substance. Cap and trade its not a communication problem it's a substance problem," Fleischer said.
In an interview with Bloomberg News, Vice President Biden is quoted saying Democrats are not running on health care, financial regulatory reform or the stimulus because "it's just too hard to explain" to voters.
The president's comments suggest he agrees, but a Democratic official said if it's a PR campaign Obama must sell, the magazine article isn't helping get the message out for his party's candidates.