Obama Pledges to Restore U.S. Prosperity, Global Prominence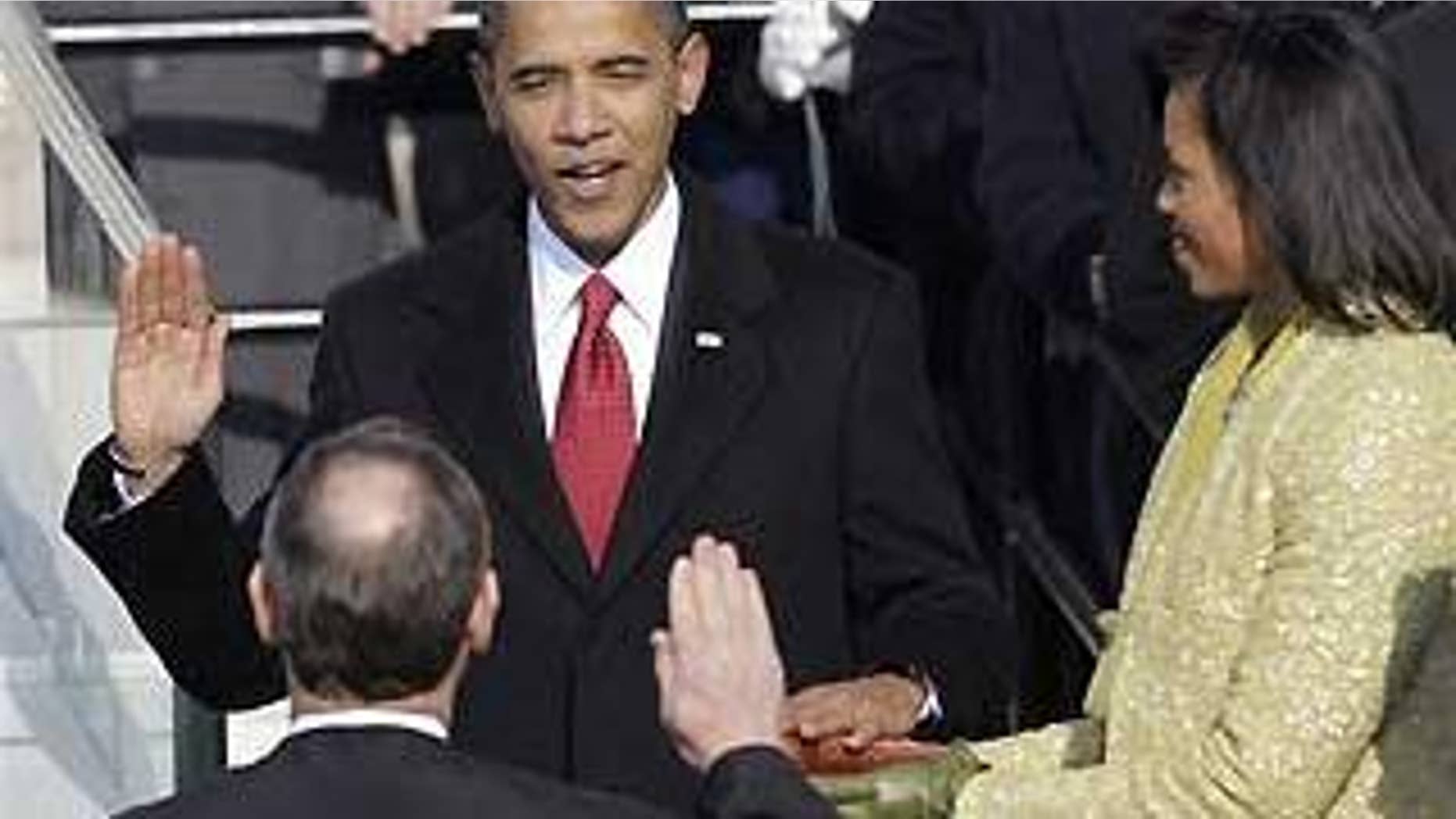 WASHINGTON -- Barack Obama, addressing his fellow Americans for the first time as president of the United States, offered a sobering assessment Tuesday of the challenges facing the nation, saying that despite the many crises the country faces, Americans will use their ingenuity and productivity to advance prosperity both at home and abroad.
In his inauguration speech, the nation's 44th president told a record crowd of 2 million braving Washington's winter and millions more watching on TV screens around the world that the U.S. remains "the most prosperous, powerful nation on Earth," and America will not be cowed by financial, moral, diplomatic or military threats.
"Today I say to you that the challenges we face are real. They are serious and they are many. They will not be met easily or in a short span of time. But know this, America -- they will be met," Obama said to his first round of applause in the speech.
"On this day, we gather because we have chosen hope over fear, unity of purpose over conflict and discord. On this day, we come to proclaim an end to the petty grievances and false promises, the recriminations and worn out dogmas, that for far too long have strangled our politics," he continued.
The new president has a weighty job ahead of him, and he has admitted it will take time to stop the job losses and other hardships. Obama inherits one of the worst economic crises endured by this nation, and on top of that he must face down ongoing terror threats to interests at home and abroad.
His senior staff planned to forego the inaugural luncheon to head straight to the White House to hammer out details of an $825 billion economic recovery and re-investment plan that the new president hopes to get through Congress by the President's Day recess next month.
But the events leading up to the inauguration were all pomp and circumstance Tuesday morning, starting with a trip to St. John's Episcopal Church, known as "The Church of the Presidents," and continuing with a trip to the White House for coffee with former President Bush and inauguration officials before the limousine ride to the West Front Capitol.
Once there, an array of dignitaries walked out ahead the soon-to-be president, with appearances by the living former presidents and vice presidents and their spouses, the Supreme Court justices, elected officials and the occasional celebrity, including Muhammad Ali and Steven Spielberg.
Clearly anxious to get underway, Obama stepped on Chief Justice John Roberts' administration of the oath, starting to repeat the lines before the justice finished his first sentence. But then the roles reversed when Obama detected that Roberts had recited the next line in the 35-word oath in the wrong order.
The phrase is "that I will faithfully execute the office of president of the United States," but Roberts attached "faithfully" after saying "president of the United States."
The slight glitch didn't mar the excitement of the event for the 2 million people who filled the length of the National Mall from the U.S. Capitol to the Lincoln Memorial. Some had arrived the grounds overnight and stood silently to hear Obama's 20-minute speech.
Obama said he had taken the oath of office in the midst of "gathering clouds and raging storms," but he said he sees a way out of the gloom.
"Our workers are no less productive than when this crisis began. Our minds are no less inventive, our goods and services no less needed than they were last week or last month or last year. Our capacity remains undiminished. But our time of standing pat, of protecting narrow interests and putting off unpleasant decisions -- that time has surely passed. Starting today, we must pick ourselves up, dust ourselves off and begin again the work of remaking America," he said.
He noted that homes have been lost, jobs shed, businesses closed, health care denied, schools failed and energy resources wasted. On top of it all, he said, confidence has been shattered and fear of decline nags.
But he said the way forward is to "in the words of Scripture ... set aside childish things" and return "to the God-given promise that all are equal, all are free and all deserve a chance to pursue their full measure of happiness."
America's sense of responsibility is also the source of the nation's confidence, he said, noting, "God calls on us to shape an uncertain destiny."
Obama wasn't the only one to invoke the name of God. Pastor Rick Warren delivered the invocation, where he noted the historic aspect of the nation electing an African-American president. Rev. Joseph Lowery, a peer of Martin Luther King Jr., delivered the benediction and even drew out a call and response with the crowd. At the inaugural luncheon held after the ceremony, Senate Chaplain Barry Black offered a prayer before the meal.
Poet Elizabeth Alexander paid reference to the Biblical principles of loving thy neighbor as thyself. She recited lines that noted the struggles that the entire nation has endured to get to this day.
"In today's sharp sparkle, this winter air, anything can be made, any sentence begun. On the brink, on the brim, on the cusp -- praise song for walking forward in that light," said Alexander, an African-American studies professor from Yale.
And linked to the thanks was recognition of the progress the country has made in terms of race relations. The first African American president said it wasn't that long ago that the thought of a black head of the United States would've been inconceivable, and suggested the day had unfolded because of the country's commitment to responsibility.
"What is required of us now is a new era of responsibility ... This is the source of our confidence: the knowledge that God calls on us to shape an uncertain destiny. This is the meaning of our liberty and our creed, why men and women and children of every race and every faith can join in celebration across this magnificent mall. And why a man whose father less than 60 years ago might not have been served at a local restaurant can now stand before you to take a most sacred oath," he said.
Obama may indeed have to rely more on responsibility than the promise of the sharp sparkle. Aside from domestic issues, the president has made it a priority to remove troops from Iraq, close the Guantanamo prison that has become a lightning rod for nations questioning America's commitment to individual rights, and fortify efforts to abolish Al Qaeda and Taliban elements in Afghanistan.
While Obama has pledged to rebuild America's prosperity, he has stressed that the nation's success is to be shared across the globe. He said common defense does not mean a sacrifice between safety and ideals.
"To all other peoples and governments who are watching today, from the grandest capitals to the small village where my father was born: know that America is a friend of each nation and every man, woman, and child who seeks a future of peace and dignity, and that we are ready to lead once more," he said.
As he has outlined in his stimulus proposal, the president pledged to create jobs through infrastructure projects -- roads and bridges, electric grids and digital lines -- and to restore America's dominance in science and technology, to raise health care's quality and lower its cost and to develop alternative and use renewable fuels to run vehicles and business.
While the president has said that the budget is likely to be in deficit for years, Obama knocked critics who say his plan is too costly.
"Now, there are some who question the scale of our ambitions -- who suggest that our system cannot tolerate too many big plans. What the cynics fail to understand is that the ground has shifted beneath them -- that the stale political arguments that have consumed us for so long no longer apply. The question we ask today is not whether our government is too big or too small, but whether it works."
Obama said government also exists to secure the nation, whose principles and ideals are a force around the world. He pledged to leave Iraq with a responsible government in place and continue to build peace in Afghanistan.
Defense officials confirmed to FOX News that Gen. David Petraeus, the Central Command chief whose jurisdiction includes both nations, was headed to Washington, D.C., to meet with Obama and his national security team on Wednesday. As if to demonstrate the gravity of the national security mission, Defense Secretary Robert Gates, a crossover from the Bush administration to the Obama administration, was designated as the official to ensure the continuity of government by staying away from the inauguration in case of an emergency.
As for his global outlook, Obama said his administration will work with "old friends and former foes" to lessen the nuclear threat and reduce global warming. He also warned those who would try to wreak havoc on the U.S. or elsewhere that they it would be costly to them to try.
"We will not apologize for our way of life, nor will we waver in its defense, and for those who seek to advance their aims by inducing terror and slaughtering innocents, we say to you now that our spirit is stronger and cannot be broken; you cannot outlast us, and we will defeat you," he said.
"To the Muslim world, we seek a new way forward, based on mutual interest and mutual respect. To those leaders around the globe who seek to sow conflict, or blame their society's ills on the West -- know that your people will judge you on what you can build, not what you destroy. To those who cling to power through corruption and deceit and the silencing of dissent, know that you are on the wrong side of history; but that we will extend a hand if you are willing to unclench your fist," Obama added.
Obama said the nation's strength lies in part on its diversity -- a "patchwork heritage." The crowd listening on the Mall certainly appeared to demonstrate that.
He paid tribute to the military that is on duty around the world today and those who died in the fight for the cause of liberty. He also urged Americans to continue to reach out to their neighbors and to continue to rely on faith and determination.
"Our challenges may be new. The instruments with which we meet them may be new. But those values upon which our success depends -- hard work and honesty, courage and fair play, tolerance and curiosity, loyalty and patriotism -- these things are old. These things are true.
"What is required of us now is a new era of responsibility -- a recognition, on the part of every American, that we have duties to ourselves, our nation, and the world, duties that we do not grudgingly accept but rather seize gladly, firm in the knowledge that there is nothing so satisfying to the spirit, so defining of our character, than giving our all to a difficult task."