Obama Extends Hand, But America's Critics Keep Fists Clenched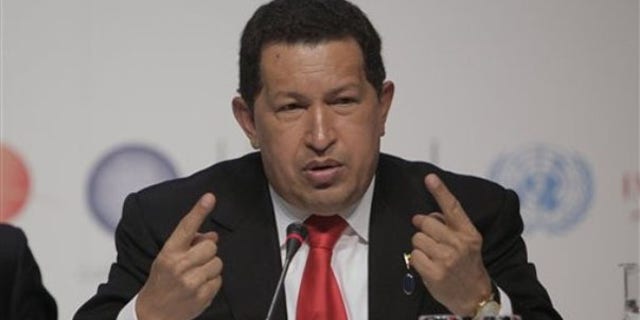 In the realm of diplomacy with America's detractors, President Obama ends his first year in office much as George W. Bush ended his last -- unloved.
Obama appeared to "extend a hand," as he said he would do in his inauguration speech, but he didn't find many "willing to unclench (their) fist" in return.
Again and again, Obama made symbolic and concrete gestures toward some of the countries giving the United States the hardest time -- Cuba, Iran, North Korea and Venezuela.
Occasionally and briefly, recipients reciprocated. But while the intentions of these countries are shrouded and ultimately unclear, the year inarguably ended on a sour note.
In the past two weeks alone, high-ranking officials from Cuba, Iran and Venezuela have personally insulted Obama or rejected U.S. appeals for cooperation. In some cases, they did both. North Korea continues to give forever-shifting signals about its willingness to engage with the rest of the world.
The most boisterous rejection of the Obama administration came out of Iran, where President Mahmoud Ahmadinejad delivered a speech last week to supporters in which he declared, "We don't care" about international deadlines over Iran's nuclear program.
The Obama administration, working with Russia, China, France, England and Germany, set a year's-end deadline for Iran to accept a deal to swap enriched uranium for nuclear fuel. Instead, Ahmadinejad boasted that his country is "not intimidated" and is "10 times stronger than last year."
In response, White House Press Secretary Robert Gibbs warned that the international community has set a "very real deadline" for Iran to cooperate. But the frustrated efforts suggest the short-lived and superficial era of engagement with Iran might take a turn in 2010.
Jim Walsh, an international security analyst at the Massachusetts Institute of Technology, said he expects Obama will "recalibrate" his approach toward Iran and move toward more sanctions in the new year.
But with both North Korea and Iran, Walsh said Obama likely will continue to aim for negotiations, considering those countries' importance. He added that, in his opinion, some of the year-long criticism aimed at Obama's diplomatic approach was unfair.
"It's not Obama's fault that Iran had a disputed election and a meltdown," he said. "They're going into gigantic internal turmoil." He said Iran is at a crossroads -- the turmoil will either force the country to settle the nuclear issue with the West, or encourage its leaders to double down and expand the nuclear program.
The Obama administration has made several diplomatic advances with other countries. It eased the trade embargo against Cuba. Over the summer, both the United States and Venezuela pledged to reinstate ambassadors to each other's capital cities after President Hugo Chavez expelled the U.S. ambassador in September 2008. The U.S. tossed out the Venezuelan ambassador in response.
But Chavez gave Obama the "sulfur treatment" during the Copenhagen climate conference this month, just as he did Bush at the United Nations General Assembly a few years back.
"It still smells like sulfur in the world," Chavez said, reprising a remark from his infamous speech in which he likened Bush to the devil. Chavez, referring to Obama's Nobel Peace Prize, also called the U.S. president the "Nobel Prize of War," criticizing him for ordering 30,000 more troops to Afghanistan to "kill innocent people."
The insults didn't stop there.
Bruno Rodriguez, Cuba's foreign minister, went on a tirade about Obama last week over the Copenhagen conference, calling the U.S. president "imperial," "arrogant" and a liar.
"He lies all the time, deceives with demagogic words, with profound cynicism," Rodriguez reportedly said.
The caustic criticism comes on top of harsh words from President Raul Castro, as well as the Dec. 5 arrest of a U.S. citizen and contractor in Cuba.
Walsh said countries like Cuba and Venezuela will probably fade in importance next year as targets for Obama administration diplomacy.
In an interview with The Associated Press, U.S. Ambassador to the United Nations Susan Rice defended the administration's diplomatic record.
"The change in the nature and tone of our relationships ... is yielding concrete and tangible benefits here at the United Nations -- benefits that advance U.S. interests," Rice said. She cited widely supported sanctions against North Korea following its second nuclear test in May, and she said the world is responding "much more openly" to the United States.
The administration continues to use a carrot-and-stick approach with North Korea. The regime acknowledged this month that Kim Jong Il received a personal letter from Obama reportedly presented by U.S. special envoy Stephen Bosworth on his recent visit to the country. That came after former President Bill Clinton went on a diplomatic mission seeking the release of two U.S. journalists -- a mission that yielded Kim a well-publicized photo op.
Following Bosworth's visit, the foreign ministry said the two countries reached "common understandings" on the need to resume the stalled six-party talks over Pyongyang's nuclear program.
At the same time, North Korea reportedly demanded that U.N. sanctions be lifted, praised the soldiers who nabbed the two journalists at the border and may be preparing for another nuclear test next year, according to a South Korean think tank.